#1113: Don't Stop Now by Love & Sas
Peak Month: August 1992
10 weeks on Vancouver's CKLG Chart
Peak Position ~ #15
Peak Position on Billboard Hot 100 ~ did not chart
YouTube.com: "Don't Stop Now"
Love & Sas was a recording duo comprised of Lovena Fox and Saskia Garel. Lovena B. Fox was born and raised in Vancouver. Her father owned a jazz club on Hastings Street called the Harlem Nocturne. Saskia Garel was born in 1969 in Kingston, Jamaica. She came to Canada in her early childhood, settling in Toronto. After graduating from York University with a Bachelor of Fine Arts Honours Degree, she was awarded the Oscar Peterson Award. While at university, Saskia was part of a Latin and world beat group called Coconut Groove. She also performed at nightclubs across Toronto.
Lovena Fox was a member of the Black and Gold Review at the Arts Club Theatre, and was part of the cast of Ain't Misbehavin' in Vancouver. She was a contestant in the show Star Search in Los Angeles. At the start of the 1990s Fox and Garel met and decided to form Love & Sas.
In 1991 Love & Sas released a studio album titled Call My Name. From the album came four single releases. The first of these was "I Don't Need Yo Kiss", In October 1991 CKLG put "I Don't Need Yo Kiss" on their playlist. However, the single didn't chart on the CKLG Top 40. The next release from their album was "Don't Stop Now".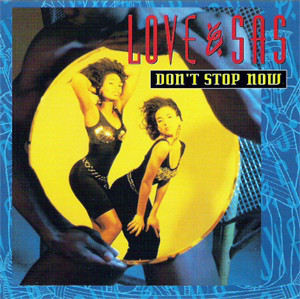 "Don't Stop Now" was written by Larry Sturm. "Don't Stop Now" climbed to #15 in Vancouver (BC).
Another single from the album, the title track "Call My Name", was also released in 1992.
In 1992 Love & Sas won a Juno Award for Best R&B/Soul Recording for Call My Name. They returned to the Juno Awards in 1993 and again won the Best R&B/Soul Recording, this time for the single release "Once In A Lifetime" from Call My Name.
Since Love & Sas split, Saskia Garel has written a number of songs for other recording artists. In 1997 Lovena Fox released her studio album Now Is The Time. The album showcases hip-hop, swing, soul, funk and R&B tunes. She returned to the recording studio in 1999 and released an album titled Holdin' Out.
Lovena starred as Eva Peron in the Arts Club Stanley Theatre's production of Evita in Vancouver. Lovena commenting on one of the highlights of her career, "When I look back over my career and all the opportunities I've been granted, I realize the experience that looms largest due to its importance, began the day I was told I had been given the part of 'Sarah' in the Tony Award winning musical, Ragtime. The sheer magic of performing a lead role in such an incredible story, for a live audience is awesome. Eight shows per week is hard work but, I was living the dream and I still treasure the experience. Ragtime confirmed my belief that every day we should follow our dreams, chase them, catch them…Always create your own magic and…most of all, may you always… BE." In her role as Sarah in Ragtime, Lovena Fox was nominated in 2001 for Best Actress at the National Broadway Theater Awards.
Lovena Fox has appeared in numerous theatrical productions including Jacques Brel, Ain't Misbehavin, Little Shop of Horrors, Black & Gold Revue, The Colored Museum and Sophisticated Ladies.
On her website Lovena Fox reports that she has shared her singing, songwriting and acting skills while working with numerous well known artists like Bon Jovi, Colin James, Jay Leno, Brian MacLeod, Bill Henderson, The Payolas, Ted Danson, Michael J. Fox, Jasmine Guy, William Shatner, Jerry Lewis and David Foster.
Saskia Garel was awarded the role of Mimi, in the Canadian Production of the award winning Broadway show Rent. While on tour with Rent in Vancouver, she was successful in being cast in role of Jasmine on the TV series Nightman. Garel starred as a singer in 10 episodes of their final season. Other highlights of her acting career include playing Nala in a production of The Lion King.
Between 2004 and 2006, she appeared in 13 episodes of the American TV sitcom One on One. She has also appeared in episodes of the Canadian-American comedy-drama Wild Card, the NBC action-adventure show She Spies, the TV drama Platinum, the Canadian children's TV show Spynet, and the Children's show A Tale of Two Bunnies.
June 19, 2021
Ray McGinnis
References:
"Lovena Fox," lovenafox.com.
"Saskia Garel," Wikipedia.org.
"Juno Awards of 1993," Wikipedia.org.
"Juno Awards of 1992," Wikipedia.org.
"Ragtime Tour's Lovena Fox and Stephen Zinnato Sing on Solo Discs," Playbill, March 20, 2000.
"Vancouver's Official Top 40," CKLG 730 AM, Vancouver, BC, August 4, 1992.
For more song reviews visit the Countdown.