#298: Don't Stop The Music by the Bay City Rollers
Peak Month: August 1976
10 weeks on Vancouver's CKLG chart
Peak Position #4
Peak Position on Billboard Hot 100 ~ did not chart
YouTube: "Don't Stop The Music"
Lyrics: "Don't Stop The Music"
Alan Longmuir was born in Edinburgh, Scotland, in 1948. The family was poor and lived in tenement housing with no bath or bathroom. Alan recalls in his memoir, "to have a proper wash we used the Dalry Public Baths in Caledonian Crescent… I remember the Baths had a Brylcreem dispensing machine at a penny squirt." In 1958 Alan went to the Scotia movie cinema to see Jailhouse Rock, starring Elvis Presley. He learned to play acoustic guitar. He had been hanging out with a rough crowd and was known by the teachers at school as a truant. He worked at a dairy, cleaning stables and delivering milk on a horse and cart before he left school in 1963 at the age of 15. He also sang in the Tynecastle School Choir before he quit school. Alan's father worked as an undertaker, going to work in a top hat and long coat. There was often a hearse outside the Longmuir home. Alan recalls that his father "used to come along the street with the hearse and people would wonder who died, but it was just him coming home for his lunch."

When he was 16-years-old, Alan formed a band with his younger brother Derek, who was proficient as a drummer. As well, their cousin Neil Porteous made them a trio of two guitarists and a drummer. Initially named the Ambassadors, then changed it to the Saxons.
There were numerous changes in the lineup, and the band was called the Deadbeats, back to the Saxons. They were just a cover band playing Motown, hits by the Four Seasons, the Kinks, Sam & Dave, "C.C. Rider" in the style of Mitch Ryder and the Detroit Wheels, and "Sweet Talking Guy" and "One Fine Day" by the Chiffons.
Alan Longmuir confided to bandmate Nobby Clark that in the mid-60s he'd stuck his head in a gas oven and turned it on. He had intended to kill himself, but "the meter ran out before it was too late." Derek Longmuir was born in Edinburgh in 1951, and like his older brother was a truant and was often given the belt at school. He quit school when he was 16-years-old, and studied to become a joiner, but ended up in the band.
Wanting a more "American" sounding name, sometime in 1966 the bandmates aimed a dart at a map of the USA. When it landed at an unremarkable name for a town in Arkansas, another dart was tossed at the map. It landed on Bay City, Michigan, the bandmates thought it was a good name for a football team. They thought of calling themselves the Bay City Stompers, and the Bay City Strollers. But, they replaced "Strollers" with "Rollers," and things began to percolate. So the bandmates agreed on to name themselves the Bay City Rollers.
On stage, the Bay City Rollers were suited up wearing a mix of jumpers, tartan-edged trouser suits, shirts, big bow ties, and evidence of plaid in each bandmates attire. A marketing scheme the band's manager, Tom Paton, arranged was to hire a coach to take girls who screamed at the band in Edinburgh to venues elsewhere. He wouldn't charge them to attend the concert and their screaming was contagious. Before too long, girls were showing up at Bay City Rollers concerts all over Scotland screaming their vocal chords' to death.
Early Bay City Rollers bandmate Nobby Clark remembers back in 1968 he "regularly had girls camped outside his family house." Clark says "Sometimes they were there during the night and my mother would make them tea." The fans were outside all the bandmates homes, and Clark says "That was quite amazing without a record, or any TV or radio."
Leslie Richard McKeown was born in 1955 in Edinburgh, Scotland. He joined the Bay City Rollers in 1973 and became the bands' lead singer. Eric Faulkner was born in Edinburgh in 1953. During his childhood, Faulkner learned to play the viola. He was a member of a youth orchestra in the city for awhile. And he also was taught to play the mandolin, violin, bass guitar and keyboards. While Stuart John "Woody" Wood, born in Edinburgh in 1957, was only 14-years-old when he joined the band in 1971. Wood played mandolin, bass guitar, rhythm guitar and piano.
In 1971 the Bay City Rollers released their first single, a cover of the Gentry's 1965 hit "Keep On Dancing". The song was produced by Jonathan "Everyone's Gone To The Moon" King. Said King, "The idea was – as with The Monkees and others – break a teen band with a real hit and then capitalise with the girls continuing to buy future product through teen press/photos and fan base… The point – as a producer and writer – was that you didn't have to produce a real hit every time because image would carry groups through several OK tracks until the next real hit." The Bay City Rollers cover of "Keep On Dancing" made it to #9 on the UK Singles chart. As well, the band had their first appearance on The Top of the Pops.
In December 1971, the Bay City Rollers went with their manager "Tam" Paton to the home of the promotions manager for their record label, Chris Denning. They stayed there for two nights. Nobby Clark remembers that Paton said to the band in front of Denning that "Chris would probably do more for us if one of us slept with him." Clark freaked out and said "It definitely won't be me." He told author Simon Spence years later, "I don't know what else happened that night, but Alan and I slept on the floor with one eye opened."
The next two single releases failed to chart. Then they released a recording of "Saturday Night" with lead singer Nobby Clark. The single failed to chart, and Clark left the band and was replaced by Les McKeown. Nonetheless, the band continued to have a following of screaming girls.
The Bay City Rollers next hit single, "Remember (Sha-La-La-La)", was in 1974. It climbed to #6 on the UK Singles chart that February. An even bigger hit came with "Shang-A-Lang" in April '74, which soared to #2 on the UK charts. The single was covered by the Canadian band Tinker's Moon, who had a #6 hit with "Shang-A-Lang" in Vancouver in August '74.
Meanwhile, the Bay City Rollers kept on racking up Top Ten hits in the UK and Ireland in 1974 with "Summerlove Sensation" and "All of Me Loves All of You". In an interview in 2018, lead singer Les McKeown revealed that when he was 19 in 1974 he "endured" a "horrific date rape."
In 1975 the band had their first number-one hit in the UK, and also in Ireland, with a cover of a Four Seasons tune from 1965 titled "Bye, Bye Baby". It was with this record that the Bay City Rollers gained an international following. The single climbed to #1 in Australia, #3 in Italy, #6 in South Africa, #7 in Norway, #10 in West Germany, #11 in the Netherlands, #13 in Austria and #15 in Belgium.
While "Give A Little Love", also in 1975, became the second number-one hit single for the band in the UK and also in Ireland. The song climbed to #2 in Australia, #4 in Norway, and #11 in Sweden and West Germany. The single was one of the tracks from the Bay City Rollers' third studio album titled Wouldn't You Like It? A second single titled "Don't Stop The Music" was released later in '75.
While the Bay City Rollers were being nurtured as "boys next door" in all the teen magazines, there was a darker side to life in the band. Les McKeown recalls that Tam Paton introduced the band members to drugs. "When we got a wee bit tired, he'd give us amphetamines. He'd keep us awake with speed, black bombers."
Meanwhile, in Vancouver (BC) the Bay City Rollers were becoming a musical sensation the city couldn't get enough of. In November 1975 the band charted "Saturday Night", with McKeown on lead vocals, to number-one for four consecutive weeks in December '75 into January '76. Shortly after, "Money Honey" climbed to number-one on CKLG for three weeks in February '76. While "Money Honey" was still on the charts, "Rock 'N Roll Love Letter" began its chart run up to number-one in Vancouver in April '76.
With a growing fan base for the Bay City Rollers, the DJs at CKLG put "Don't Stop The Music" on the playlist.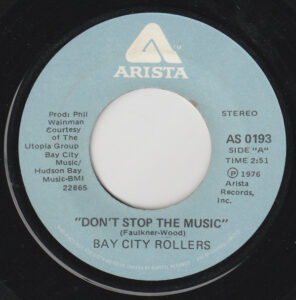 "Don't Stop The Music" was co-written by Bay City Rollers bandmates Eric Faulkner and "Woody" Wood. The song describes a setting where a guy has just met a woman for the first time at a dance club. He wonders "though we just met here tonight," how can he tell her that he really loves her. Thinking to himself as he dances with her, he tries to telegraph to the DJ at the club "Don't stop the music." This is because he doesn't "want to lose her." Especially, now that he's finally found someone where he feels love at first sight. This guy tells us that "many times" he's "tried" to "hold her." This may be poetic license, but, we've been told he just met her for the first time at this dance club. Perhaps he's tried many times to make a move on her, perhaps during a slow dance – dancing real close and tight. Hopefully, the DJ at the club will keep playing songs for the dancers on the dance floor to lengthen the feeling and moment the newly infatuated couple is feeling.
"Don't Stop The Music" peaked at #1 in Ottawa (ON), #4 in Vancouver (BC), an #6 in Toronto. Nationally, the single stalled in Canada at #32 on the RPM Singles chart. While in West Germany the song missed the Top 40, peaking at #42. Elsewhere, the single did not chart.
By the spring of 1976 Alan Longmuir quit the band and was replaced by 17-year-old Ian Mitchell, who was from Ireland. The Bay City Rollers released an album in September 1976 including Mitchell among the personnel. The album included a cover of the 1963 Dusty Springfield song "I Only Want To Be With You", a cover of the Beach Boys "Don't Worry Baby", and their earlier hit singles "Money Honey" and Rock 'N Roll Love Letter".
The first week in September the Bay City Rollers began to chart "I Only Want To Be With You" in Vancouver. The single spent 12 weeks on the CKLG Top 30, peaking for two weeks at #1 in October. Over the course of a 52-week timeframe from mid-November 1975 to mid-November 1976, the Bay City Rollers had a single on the Vancouver pop chart for a total of 46 weeks.
By 1977 Rollermania was on the decline. Ian Mitchell left the band after seven months. However, they managed to place one more song at #1 in Vancouver: "You Made Me Believe In Magic" in August 1977. A final hit single for the band, "The Way I Feel Tonight", climbed to #3 in Ottawa and #5 in Vancouver in early 1978. While the single was on the pop chart, the Bay City Rollers gave an intimate concert at CBC Studios in Vancouver on December 9, 1977.
But Les McKeown left the band in 1978 and was replaced by Duncan Faure. While Alan Longmuir rejoined the band. However, the Bay City Rollers had no more chart success on Top 40 radio. And the albums Strangers in the Wind, Elevator, Voxx and Ricochet were disappointing the record label, the band and their fans. The Bay City Rollers split up by the end of 1981. However, there were reunion tours over the following decades.
The Bay City Rollers, for all their bubblegum, teen boy band hype, were able to chart across Australia, Canada, the United States, and Japan – as well as much of continental Europe. They did this far more successfully then Slade, T. Rex, Gary Glitter or even Sweet. When all is said and done, the Bay City Rollers sold in excess of 120 million records.
Derek Longmuir began working as a nurse in the early 80s. In 2000, Derek Longmuir was sentenced to 300 hours' community service after admitting possessing child pornography. After he was convicted, he was fired from his nursing position at the Infirmary although he was later readmitted to the nursing register. Despite his guilty plea, he maintained that the offending materials did not belong to him but were left behind by an acquaintance. Longmuir said he pleaded guilty in hope of avoiding a "media circus". In an interview in the Sunday Herald in May 2000, Longmuir's foster son, Jorge Loureiro, said that Derek Longmuir was innocent. The foster son stated Longmuir had been framed by an obsessed American fan he had befriended, with discs having been sent to his home anonymously days before he was arrested.
In the 1990s, Eric Faulkner worked as a lead singer of a reformed version of the Bay City Rollers. In 2015, Eric almost died when he contracted Viral Encephalitis. He was left with post Encephalitic Syndrome and has not played in public since August 2015.
Alan Longmuir died in 2018 at the age of 70. In September 2020 Ian Mitchell died at the age of 62. And in April 2021, Les McKeown died at the age of 65. Stuart John "Woody" Wood is the only remaining original member of the Bay City Rollers.
June 9, 2021
Ray McGinnis
References:
Caroline Sullivan, "Alan Longmuir Obituary: Bassist and founding member of the Bay City Rollers, the Band that Hit the Heights of Pop fame in the 1970s," Guardian, July 3, 2018.
Simon Spence, When The Screaming Stops: The Dark History Of The Bay City Rollers, Omnibus Press, 2016.
David Matthews, "Bay City Rollers Singer Les McKeown Dies Suddenly at 65," New York Daily News, April 22, 2021.
Jim Aswad, "Bay City Rollers Bassist Ian Mitchell Dies at 62," Variety, September 2, 2020.
Rebecca Pocklington, "'I Hit Rock Bottom': Bay City Rollers Star's 'Wild' Gay Affairs and Addiction," Startsat60.com, June 1, 2018.
Alan McEwan, "Bay City Rollers Pervert Tam Paton Urged Band to have Sex with Paedophile Radio 1 DJ," Daily Record, Glasgow, Scotland, October 17, 2016.
Matt Bendoris, "Best Pals: Bay City Rollers legend Stuart 'Woody' Wood regrets not getting one last Saturday Night out with Alan Longmuir," Scottish Sun, February 21, 2019.
Robyn Morris, "Where are the Bay City Rollers' members now?," The Sun, London, UK, April 22, 2021.
Alan Longmuir with Martin Knight, I Ran With the Gang, (Luath Press, 2018).
Les McKeown with Lynne Elliott, Shang-A-Lang: My Life With The Bay City Rollers, (Mainstream Publishing, 2019).
"Vancouver's Official Music Survey," CKLG 730 AM, Vancouver, BC, August 17, 1976.
For more song reviews visit the Countdown.