#1352: I Don't Wanna Forget You by Denise McCann
Peak Month: July 1977
6 weeks on CKLG chart
Peak Position #18
Peak Position on Billboard Hot 100 ~ did not chart
YouTube.com link: "I Don't Wanna Forget You"
Denise McCann was born in 1948 in Iowa. Albert Hews McCann Sr., her grandfather, was a cornet player and singer in Shreveport, Louisiana. The McCann Family Orchestra included various children of McCann Sr. and one of his brothers who played with touring vaudeville acts between 1910 and 1930. Denise's family moved to Castro Valley, California, while she was in her youth. During the Summer of Love, Denise moved up to San Francisco's Haight-Ashbury neighborhood where she became a hippie. She got a job with the Magic Mountain Festival on Mount Tamalpais and also at the Monterey Pop Festival. At the festival she became friends with Jimi Hendrix. McCann appears in the D.A. Pennebaker documentary Monterey Pop!
McCann became songwriter and folk singer and performed around San Francisco at appearing often at The Coffee Gallery, The Drinking Gourd and The Holy City Zoo. She headed up the Pacific coast to Canada, and landed in Vancouver. She soon hung out in Vancouver's Kitsilano neighborhood, dubbed "Haight-Ashbury North," and got gigs at clubs like The Commodore Ballroom and Rohan's Rockpile. In the course of her exposure she was introduced to producer, Guy Sobell. He recorded her debut single, "It Still Hurts", a country song, with the B-side, "Tattoo Man" and helped get her a contract with Polydor Records in Montreal.
"I Don't Wanna Forget You" was the follow-up to "Tattoo Man", and featured a four-octave vocal improvisation. The song peaked at #18 on CKLG in July 1977.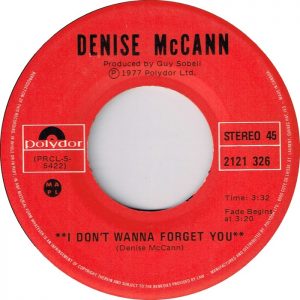 People tell me don't be blue,
they say I will forget you somehow.
They tell me look ahead,
but I swear it is not true,
I will go on loving you like now,
wait and see.

I treasure my memories,
and even though you're no longer with me.
Oh I don't wanna forget you,
I don't wanna forget you in my life.
I don't wanna forget you, baby,
I don't wanna forget you in my life.
People tell me not to dwell,
and I know that they may mean well for me.
But I also know, nothing's lost if something's gained,
though that may not be explained, I see,
and I don't care.
I may have nothin' but memories,
but that's one way I can always keep you with me.

I don't wanna forget you,
I don't wanna forget you in my life,
and I'm not gonna do it baby.
I don't wanna forget you, baby,
I don't wanna forget you in my life.
"I Don't Wanna Forget You" is a song about a person who is single, blue and dwelling on past memories of a relationship with someone who's no longer in their life. Despite encouragement from friends to look ahead and leave the past behind, the recently single person finds solace in the memories and stirring up ongoing feelings of love for someone who has chosen to move on. The uptempo disco-esque tune creates a dissonance with the rather tragic pose taken by the person left on their own by someone they loved who wasn't content to remain with them.
McCann released a third single, "Midnight Madness" on Butterfly Records, and shortly after an album called I Have A Destiny. However, Butterfly Records went bankrupt twice in the midst of McCann trying to get her single and new album properly promoted. In addition, the disco craze was fading and McCann was tagged as a disco recording artist. Just the same, in 1979, McCann was nominated for a Juno Award for Most Promising Female Vocalist.
From the late 70s, for over a decade, McCann was a member of multiple performing acts. These include including the Basil Watson Revue, Denise McCann Band, Denise McCann and the Dead Marines, the Headpins, Mad Ivan and the Hornets and The Night Train Revue. In addition to playing in concert, McCann was a featured guest on The Alan Hamel Show and its replacement The Alan Thicke Show, The Paul Anka Show, the Rene Simard Show and the Wolfman Jack Show.
In the early 1980s Denise McCann was at a Christmas concert charity fundraiser. Also performing was Randy Bachman of the Bachman–Turner Overdrive. The two met and were married in 1983. In 1989 McCann-Bachman took the Oath of Citizenship at a ceremony, as she became a Canadian citizen. In addition to her musical talents, Denise has been a recording engineer, actor, writer, gardener, basket maker, jeweler and glass blower.
In the 1990s she formed The Black Velvet Band with Jo Lundstrom and Harry Warner. They were an Irish traditional folk music group who performed at numbers of folk festivals until they split up in 2000. As Randy Bachman's partner, McCann was heard on his CBC Radio program Vinyl Tap, between 2005 and 2011. Vinyl Tap was her "idea and creation." In a comment below this article she writes " I did all the research on songs and bands, and wrote the scripts that Randy read on air." Denise also read listener mail during the broadcasts. Vinyl Tap is the CBC radio show that replaced Finkelman's 45's hosted by Danny Finkelman, who retired from the CBC in 2005.
In 2011 Randy Bachman and Denise McCann-Bachman separated. She moved for two years to London, UK. Next, in 2013, she moved to Santa Monica, California, to be near her son, "Demian Gordon, who is head of the Motion Capture department for Dreamworks." In 2017 Denise gave her support on Facebook to the #GrabYourWallet campaign boycotting U.S. President Donald Trump's products sold by U.S. retailers, including Amazon.
July 18, 2017
Ray McGinnis
References:
Denise McCann, Canadian Bands.com
Sarah Halzack, "Grab Your Wallet: The Woman who Began Boycott of Trump Products in US Retailers," Independent, London, UK, February 14, 2017.
Vinyl Tap, CBC, 2005-2011 (Denise McCann co-host with Randy Bachman).
"Vancouver's Official Music Survey," CKLG 730 AM, Vancouver, BC, July 19, 1977.
For more song reviews visit the Countdown