#915: (Don't Wanna) Live For A Living by Chilliwack
Peak Month: July 1982
9 weeks on Vancouver's CFUN chart
Peak Position #12
Peak Position on Billboard Hot 100 ~ did not chart
YouTube.com: "(Don't Wanna) Live For A Living"
Lyrics: "(Don't Wanna) Live For A Living"
Bill Henderson was born in Vancouver in 1944. He learned guitar and became the guitarist for the Panarama Trio that performed at the Panarama Roof dance club on the 15th Floor of the Hotel Vancouver. He formed the psychedelic pop-rock Vancouver band, The Collectors, in 1966. The band had a string of local hits, including "Fisherwoman" and "Lydia Purple", with Howie Vickers as lead vocalist. After Vickers left the band in 1969, Bill Henderson was featured on one of the Collectors last hits, "I Must Have Been Blind", in 1970. Henderson (vocals, guitar), Claire Lawrence (saxophone, keyboards), Ross Turney (drums) and Glenn Miller (bass) were all Collectors remaining bandmates. They soon changed their name to Chilliwack. The name was a Salish First Nations name that means "going back up" and is the name of a city in the Fraser Valley in British Columbia.
In a letter to me local Vancouver music critic Richard Skelly (Richmond Review, Radio West.ca, RPM Magazine) writes, "The Collectors… had spent almost two years recording in California and working the psychedelic circuit up and down the Pacific coast. They did get back to Vancouver, but were stateside weeks or even months at a time. This put strains on marriages and finances. Perhaps it wasn't that alluring to be offered money-losing tours when fellow Vancouverites, the Poppy Family, (were) selling truckloads of records without (hardly) ever leaving home. In interviews, Bill (Henderson) reflected that, unlike the Collectors, Chilliwack felt it made more sense to succeed first in Canada and then tackle the USA…. (In 1970) the band had to honour commitments to perform concerts at the Osaka World Expo in Japan. As the Collectors, they'd been commissioned to create and record background music for the Canadian Pavilion. For that government-assisted Asian trip, they expanded to a five piece with Rick Kilburn on bass and Robbie King on keyboards."
Chilliwack appeared in concert at the Agrodome on August 6, 1971. They had their first Top Ten hit in Vancouver with "Lonesome Mary" in 1971. According to Skelly, Chilliwack's record company, A&M, "fumbled by wasting "Ridin'" as the flip side to "Lonesome Mary". An ode to train travel, it had a jangly Byrds meets CS&N vibe. Unfortunately, "Ridin'" was the only obvious followup single. Likely, realizing the mistake, A&M supposedly flew the band down to whip off a pair of straight up rockers: "Hit Him With Another Egg" and "Rock n Roll Music". I never heard the finished but never-released product." Skelly writes that later re-recorded versions of these songs ended up as tracks on a subsequent album, All Over You, but these were not as good as their first recordings.
Chilliwack released three albums between All Over You, Riding High and Rockerbox between December 1972 and December 1975. Aside from "Crazy Talk", from the Riding High album, their single releases received minor attention outside of radio markets in BC.
In January 1977 the band recorded their sixth studio album, Dreams, Dreams, Dreams. At the time the band members were all involved with Scientology and there was a dedication to the founder of the Church of Scientology, Ron L. Hubbard, on the back of the album. By 1977 the bands musicians consisted of Henderson, Turney, Miller and Howard Froese on guitar, vocals, solina and piano. The album included several successful single releases in the Canadian market that included "Fly At Night", "California Girl" and "Baby Blue".
In the summer of 1978 Chilliwack released Light From the Valley, and had a Top Ten hit in Vancouver with "Arms Of Mary".
But it was the band's ninth album release in 1981, Wanna Be A Star, that took them to the pinnacle of their success. The single "My Girl (Gone, Gone, Gone)", went Top 30 on the Billboard Hot 100, #3 nationally in Canada and #1 in Vancouver. Nonetheless, several follow-up singles and albums failed to keep the band on the radar of American listening audiences. One of these was "(Don't Wanna) Live For A Living", a track from Wanna Be A Star which was the third single release from the album.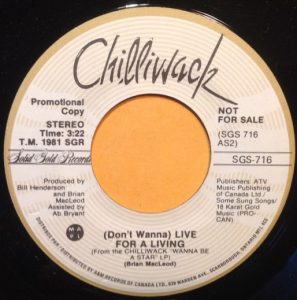 In "(Don't Wanna) Live For A Living" Chilliwack is singing about the rat race, where people are trying to get ahead financially, only to find that after paying for rent and groceries they have nothing left. The singer is working nine to five, doing double shifts, working day shifts and night shifts. The stress of trying to pay bills is likely a source of stress and tension that results in arguments at home. With a constant focus on working to pay the bills members of the working class have little time for a social life and pursuing romance. A lot of people could relate to the song in Vancouver. And since 1982, the challenge of trying to make a living and "make ends meet" in Vancouver (and elsewhere) has become harder for most people. Behind the specifics of the rat race of trying to pay monthly bills, the song asks what are we living for? Is it just to pay bills? Is there more to life than the weekly grind? "(Don't Wanna) Live For A Living" climbed to #12 in Vancouver, #11 in Moose Jaw, Saskatchewan, and #10 in Winnipeg.
Skelly writes: "(Don't Wanna) Live For A Living" was written and mainly sung by the late Brian MacLeod. Nicknamed "Too Loud," Brian "Too Loud" MacLeod became only the second Chilliwack member, other than Bill Henderson, to ever get an A-side single…. Brian MacLeod sang two album tracks on Chilliwack's ill-starred Lights From The Valley in 1978. Wanna Be A Star, recorded at Waterstreet Studios in Vancouver, was something of a concept album, interspersing songs of love (My Girl, I Believe) with us-against-them musings of an Any Band tormented by the lousy contracts, capricious whims and litigious nature of record-industry sharks. The album emerged after 18 months of lawsuits involving Chilliwack and the owners and creditors of Mushroom Records which financially collapsed just as the band's Breakdown In Paradise album came out in late 1979. Two lines in "(Don't Wanna) Live For A Living" seem to reference costly court woes: "Get prosecuted, fight the judge; End up paying twice as much."
Regarding the studio production of Wanna Be A Star, Skelly adds, "Rather than running up huge studio costs, Bill and Brian wrote songs at sea, aboard MacLeod's cherished Grand Marnier. Bill took the tapes home and roughed out arrangements. In the studio, Ab stuck to bass while Bill and Brian handled all other instruments plus vocals. Brian, in particular laid down drum bed tracks and then joined Bill in hopping from guitars to keys to vocal microphones. They used the same approach for the followup album, Opus X, which spawned "Whatcha Gonna Do", the last Chilliwack single to chart on the Billboard Hot 100."
In the early 80's there were other songs concerning obstacles posed in a working life. Dolly Parton in her song, "9 to 5", sang about an empowered (if challenged) working woman that include these lyrics: Workin' 9 to 5, what a way to make a livin'/Barely gettin' by, it's all takin' and no given'/They just use your mind and they never give you credit/It's enough to drive you crazy if you let it. Meanwhile, in the song "9 to 5 (Morning Train)" Sheena Easton sang about a passive, love-struck woman waiting around at home all day for her lover to return from his job.
By 1984 Chilliwack was without a recording contract. Chilliwack has continued to perform over the decades with various line-ups. Earlier this decade Chilliwack appeared at Ambleside Park in West Vancouver as part of a summer series of concerts. At the performance Henderson's daughters sang vocals on "Baby Blue".
January 10, 2018
Ray McGinnis
References:
Chilliwack bio ~ thecanadianencyclopedia.ca
Bill Henderson bio ~ gonegonegone.com
"9 to 5," Dolly Parton ~ YouTube.com
"9 to 5 (Morning Train)," Sheena Easton ~ YouTube.com
Richard Skelly, letter to Ray McGinnis (vancouversignaturesounds.com)
"CFUN Top 30," CFUN 1410 AM, Vancouver, BC, July 10, 1982.
For more song reviews visit the Countdown.