#1060: Doowutchyalike by Digital Underground
Peak Month: September 1990
9 weeks on Vancouver's CKLG chart
Peak Position #11
Peak Position on Billboard Hot 100 ~ did not chart
YouTube: "Doowutchyalike"
Lyrics: "Doowutchyalike"
In 1987, Digital Underground formed in Oakland, California. The frontman for the group is Gregory Jacobs who is billed as Shock G. Jacobs was born in 1963 in Brooklyn, New York, and spent most of his childhood in Tampa, Florida. But after his parents divorce when he was age 12, he moved back to Brooklyn. At that time he discovered turntabling: the manipulation of phonograph records and needles and a mixer by a DJ. At that time he used the nickname MC Starchild. His nickname changed to Shah-G when his cousin, Shah-T gave him the name. It shifted in time from Shah-G to Shock G. Moving back to Tampa and then to Oakland, Shock G got work as a clerk in a music store. He met up with Chopmaster J and Kenny-K. The trio became Digital Underground.
In 1989, the group released "Doowutchyalike".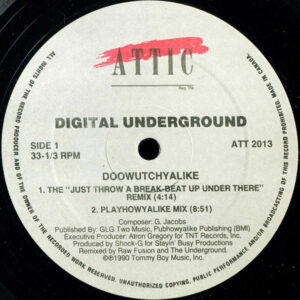 "Doowutchyalike" was written by Shock G. Jacobs. It is about people getting together, regardless of their financial status or class background. The singers invite people to eat whatever they like: crackers with cheddar cheese, a "neck bone," a "big bowl of cereal, icy cold milk…ice cream." The lyrics shift to people doing what they like, including taking off their clothes and jumping naked into a pool. If a "girl" sees a guy she likes, the DJ advises that she "grab 'im in the biscuits!" Now that you can see others in their birthday suits, "red, white, black, tan, yellow, or brown," even ditch diggers and governors can "get down" and do what they like. And while they are rapping about everybody doing what they like, and people being naked together, the DJ sings "sometimes we bite, even though you don't think it's right. Yo, I like to bite." In this underground world, people are invited to "Do what you like. Talk how you like. Drink what you like. Grab who you like. Feel what you like. Eat what you like. Scratch where you like. Itch if you like."
During this hip-hop song there are announcements interspersed with the rap. One example is this: "Now if you wear corrective shoes and you got big bunions, toenails smell and look like onions. Don't doowutchyalike – Go see a foot doctor tonight!" The song continues with shout outs to people who live in Connecticut, Louisiana, Santa Ana, and Atlanta. Digital Underground keeps on partying as the song nears its end: "From a lime to a lemon, a lemon to a lime, come on, young ladies, let's have good times."
The single sampled "Good Times" by Chic, tracks by Parliament, Prince, K.C. and the Sunshine Band and others. In the video there are a lot of closeups of the singers lips and mouths as they sing "doowutchyalike." And there are lots of closeups of young women's bums, guys in bubble baths, girls in bikinis jumping into pools, and shirtless guys being tackled in a motel hallway. Three minutes into the song there is a 33 second jazz piano interlude.
Later in the song there is more dialogue when someone makes "A brief announcement to all radio DJ's: If this record is currently being played at your station, we will provide the following time for you to announce your station identification… We'd also like to add that we've now reached the three-and-a-half minute mark of this song. Radio stations may begin your fade here. For those that would like help, we will start your fade for you."
"Doowutchyalike" climbed to #19 on the Billboard Rap Singles chart. On Top 40 AM radio, CKLG in Vancouver was about the only Top 40 AM radio station that charted "Doowutchyalike" where it peaked at #11.
In 1990, Digital Underground's followup single, "Humpty Dance," made it to #11 on the Billboard Hot 100, #1 on the Rap Singles chart and #7 on the Billboard R&B chart. In the song's video a young Tupac Shakur is visible. Shakur began as part of the group's crew as a roadie and then a back-up dancer. Digital Underground released an album, Sex Packets, which accompanied the single's release.
In January 1991, Digital Underground released This Is an EP Release. The EP consisted of six tracks. Two of these, "Tie The Knot" and "Same Song", appeared in the film, Nothing But Trouble.
In 1991, Dan Aykroyd directed and starred in the horror-comedy film Nothing But Trouble. The cast included Chevy Chase, Demi Moore, John Candy and Taylor Negron. The film concerns a group of yuppies who get lost and captured in the village of Valkenvania. Imprisoned in the basement of a 106-year old judge, they hear the judge execute a bunch of drunk drivers. Later, the judge holds the hip-hop group, Digital Underground, on speeding charges. However, he frees them after the group does an impromptu rap performance which pleases the judge. Digital Underground performs "Same Song" for the judge. The film was described in the Los Angeles Times as a cross between Alfred Hitchcock's Psycho and Abbott and Costello Meet Frankenstein.
In 1991, Tupac Shakur (born 1971) had a #3 rap hit in the USA titled "Brenda's Got A Baby"/"If My Homie Calls". In 1993, he had a crossover hit on the Billboard Hot 100, "I Get Around." The single was produced by Shock G and climbed to #11 on the Hot 100 and #5 on the Billboard R&B singles chart. In December 1993, his single titled "Keep Your Head Up," spent 3 weeks at #2 on the Billboard Rap Singles chart. In 1995, Tupac had his first Top Ten hit on the Billboard Hot 100 with "Dear Mama." The single topped the Billboard Rap Singles chart for five weeks. In July 1996, Tupac topped the Billboard R&B and Hot 100 charts with a double-sided single release: "How Do You Want It"/"California Love". The single peaked at #1 for eight non-consecutive weeks on the Billboard Rap Singles chart in June, July, September and October. He was murdered in a drive-by shooting on September 13, 1996. He was 25 years old.
Tupac Shakur's parents were involved active with the Black Panther Party. The party platform was articulated in the Black Panther Party Newspaper. It included: the "power to determine the destiny of (the) black community," "full employment," "…education that teaches us our true history…," "decent housing," "… an immediate end to POLICE BRUTALITY and MURDER of black people," and to exempt "all black men" from "military service." Tupac experienced life in the ghetto. He understood injustice and his songs were described as visionary. "To Live and Die in L.A" made the Top Ten in the UK and New Zealand in 1997. "Do For Love" climbed to #2 on the Billboard Rap Singles chart later that year. In 1998, "Changes" became an international hit, making #1 in several countries and the Top Ten pop charts in Australia, New Zealand, the Netherlands, Germany, Sweden, Switzerland and the UK. He had another posthumous chart-topper in 2005 in a duet with Elton John titled "Ghetto Gospel". Since his death, Tupac Shakur has sold over 75 million records. The Library of Congress added "Dear Mama" to the National Recording Registry in 2009.
Digital Underground had only one Top 40 hit after the release of "Same Song". "Kiss You Back" made it to #13 on the Billboard Rap Singles chart in 1991. While Tupac Shakur sailed up the charts, Digital Underground faded from view.
Money-B contributed, edited the script and acted as himself for the Digital Underground scenes in the 2017 Tupac Shakur biopic All Eyez On Me. Shock G has been a producer or many albums and songs by other hip-hop and rap artists. He's been a guest on numerous recordings.
March 6, 2021
Ray McGinnis
References:
Alan Light, Tupac Shakur biography, 2pac.com.
Peter Rainer, "MOVIE REVIEW : Aykroyd No Triple Threat in 'Trouble'," Los Angeles Times, February 18, 1991.
Alice Price-Styles, "Digital Underground Frontman Shock G Went from Music-store Clerk to Rap Superstar/Alter Ego Humpty Hump," Wax Poetics, January 28, 2014.
Billy X Jennings, "Remembering the Black Panther Party Newspaper," Summerof.love.
"CKLG Top 40," CKLG 730 AM, Vancouver, BC, 17, 1990.
For more song reviews visit the Countdown.