#497: Down By The River by Joey Gregorash
Peak Month: October 1971
10 weeks on Vancouver's CKLG chart
Peak Position #5
Peak Position on Billboard Hot 100 ~ did not chart
YouTube.com: "Down By The River"
Lyrics: "Down By The River"
Joey Gregorash was born in Winnipeg, Manitoba. His dad played the violin and young Joey took an interest in learning the instrument. In February 1964 Gregorash saw the Beatles perform on the The Ed Sullivan Show and was turned onto rock 'n roll. He learned how to play the drums and formed a band called The Mongrels in 1965 with childhood friend John Nykon. Later Gregorash went solo and won a 1972 Juno Award in 1972 for Outstanding Performance-Male for his hit single "Down By the River". For over a decade Gregorash pursued other interests until in 1987 his single, "Together (The New Wedding Song)," became a hit in Canada.
The Mongrels were a huge hit in the Winnipeg music scene from the mid to late 60s. In addition to Gregorash and Nykon, the groups' other members were Duncan Wilson, Larry Rasmussen and Garth Nosworthy. They performed onstage with headliners visiting "The Peg" like Paul Revere and the Raiders, Neil Diamond, the Boxtops, the Kingsmen and Tommy James & the Shondells. After several singles they released their first album. This was followed in 1969 with several singles including a song written by Randy Bachman called "Funny Day". The song was mentioned by Dick Clark on American Bandstand.
Meanwhile, in 1968 Joey Gregorash became host to a local Winnipeg TV show called Young As You Are. This was the first of three TV shows he hosted, the other two were Teen Dance Party and Joey and the Hits. After leaving the Mongrels in 1969, Gregorash got a record deal and in 1971 recorded his first album called North Country Funk. The album featured his first solo single, "Jodie" that became a Top Ten hit in Canada as well as having solid chart runs in Australia, Germany and Japan. Several singles later his cover version of a Neil Young song, "Down By The River", became his first hit to get some record sales in the USA.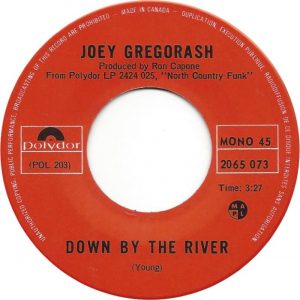 "Down By The River" is a song written by Neil Young. When Young gave a concert in New Orleans on September 27, 1984, he gave this introduction to the song. "I'd like to sing you a song about a guy who had a lot of trouble controlling himself. He let the dark side side come thru a little too bright. One afternoon he took a little stroll down thru a field and thru a forest, 'til he could hear the water running along there. And he met his woman down there. And he told her she'd been cheatin' on him one too many times. And he reached down in his pocket and he pulled a little revolver out. Said "honey I hate to do this but you pushed me too far". By the time he got back to town he knew he had to answer to somebody pretty quick. He went back to his house and he sat down on his front porch. About two hours later the sheriff's car pulled up out front. It started sinkin' in on him what he'd done. The sheriff walked up the sidewalk, he said "come with me son, I want to ask you a few questions".
According to Neil Young's introduction in New Orleans at a concert in 1984, the song's lyrics would be set in part on the beach where the man encounters his "baby". He tells her there's no reason for her to hide. And, according to Neil Young's later commentary, she'd be hiding on her man because he found out she'd been cheating on him. He finds it hard staying all alone, presumably while she's having an affair on the side, and away from their home. He suspects she's taking him for a ride, in other words deceiving him. He also experiences emotional highs with her: "she could take me over the rainbow." Perhaps he finds it hard to cope with the emotional highs in combination with his emotionally volatile life, which includes anger and violence. He owns a gun and, as he shoots her dead, has no reservation in firing its bullets. Perhaps in the man's jail cell, or police station, he confesses to the sheriff, "down by the river, I shot my baby."
Writing in Psychology Today Aaron Ben-Ze'ev asks "Why Do (Some) Men Murder the Wives They Love?" He comments "Globally, about 40 percent of all female murder victims (and just 6 percent of male murder victims) die at the hands of a former or present spouse or lover. The home becomes a dangerous place for women (as well as for children). … almost all cases of homicides committed by males against their female partners occurred after the female ended the relationship or announced her intention to do so…" In "Down By The River" Neil Young has commented that the guy in the song was mad because his woman was cheating on him one too many times. When someone is cheating on their spouse or lover, it is a signal that they may be intending to bolt the relationship. And so, for some men, the solution is to kill their lover. They think "if I can't have her, no one can (she' can't have anyone else)."
Ben-Ze'ev rejects the commonly held assumption that "the murder stems from masculine possessiveness, it is the embodiment of the murderer's personality, and sexual jealousy and anger are two emotions that trigger it." He notes that while four to five women in one thousand in the USA are victims of domestic abuse, only about one in a hundred thousand is murdered. As the incidence of homicide is 420 times smaller, he asks what else is going on? Why do the other men who are physically and sexually abusive not also commit murder? He concludes that there are conditions of risk that are warning signs that the man a woman is in relationship could become her murderer.
The man perceives the woman to be his whole world, so he feels that any separation from her entails a loss of his own identity.
The man's life lacks other sources of meaning and reasons for living.
The man's traditional perception of masculinity, which dictates that the male has full power, honor, and control, runs counter to his dependency upon his wife, making that reliance appear evidence of his weakness and humiliation, and an affront to masculine honor.
The man's personal behavior is rigid and uncompromising.
The man's prevailing beliefs about love appear to justify the sacrifice of his wife on the one hand and of persistence on the other. In this case, the ideology behind love provides legitimacy for terrible crimes.
The man who murders his female partner has fused a romantic ideal of love with the need for the pair to be together all the time. In the 1963 song "Hey Paula" by Paul and Paula, the duo sing "true love means planning a life for two, being together the whole day through…" Any separation is a sign of threat. Any attempt by the woman to be independent, to be strong, to have her own career, her own friends, her own hobbies – separate from the man – becomes a sign of a lack of loyalty to the boyfriend/husband. In this world of love-making, the woman and the man must be together the whole day through. He life, her social circle, her contact with the wider world must become smaller in order for him to feel secure about their relationship. Consequently, Aaron Ben-Ze'ev observes, the woman becomes a "hostage to the man's life." The potential murderer will proceed with the killing her not out of his own strength, but his weakness.
"Down By The River" features guitar from Bobby Manuel, a member of the back-up band for Isaac Hayes. The single peaked at #3 in Vancouver (BC), #5 in Chilliwack (BC), #9 in Wausau (WI), #10 in Toronto and #11 in Hamilton (ON). It made the top 30 in Seattle and Spokane (WA). And would have made the Top Ten in Winnipeg, but I can't confirm the peak position.
In 1972 Joey Gregorash received a Juno Award for Outstanding Male Vocal Performance. Gregorash's second album was Tell the People and featured the single "My Love Sings" which was a Top 10 hit in Canada in 1972.
A cross-Canada tour ensued for the next year and he also included several bookings in the USA. Near the end of the 1970s Gregorash turned his talents to becoming a writer of radio commercials. In the late 1970s and into the 1980s he won a string of fourteen national and international awards for radio jingles and advertising campaigns. In the 1980s Joey Gregorash hosted several morning radio shows in Winnipeg. Than in 1986 he was picked to host S'Kiddle Bits, a children's noon hour variety TV show. This resulted in the release of a children's album called S'Kiddle Bits Bop N' Rock. The show continued into the early 90s.
While hosting S'Kiddle Bits Joey Gregorash returned to the recording studio to make his first album for the adult market since 1972. The single from Together was the title track "Together (The New Wedding Song)". It became a big seller in Canada and has since been a staple among songs that couples include at weddings and wedding receptions.
After the success of the Together album, and the S'Kiddle Bits TV show, Joey Gregorash added another thread to his tapestry of talents. He became host of a TV show called Hi Noon HI NOON. The show was all about the country fad, living in the country, country dance steps and country music. While the show was on the air Gregorash hosted many guests including Jann Arden and Garth Brooks.
January 22, 2020
Ray McGinnis
References:
Joey Gregorash, Joey Gregorash bio, Canadian Bands.com.
Joey Gregorash bio, Joey Gregorash.com.
The Mongrels 1968, Manitoba Museum.com.
"Down By The River Introduction by Neil Young, September 27, 1984" Thrashers Wheat.org.
Nigel Williamson, Neil Young: Journey Through the Past: The Stories Behind the Classic Songs of Neil Young, (Backbeat, 2003) 27-29.


Aaron Ben-Ze'ev, "

Why Do (Some) Men Murder the Wives They Love? Is Killing Out of Love Possible?," Psychology Today, September 22, 2014.
"CKLG 'Thirty'," CKLG 730 AM, Vancouver, BC, October 15, 1971.For more song reviews visit the Countdown.