#603: Dreams Are Ten A Penny by Kincade
Peak Month: July 1973
10 weeks on CKLG's Vancouver Chart
Peak Position ~ #7
Peak Position on Billboard Hot 100 ~ did not chart
YouTube.com: "Dreams Are Ten A Penny"
Lyrics: "Dreams Are Ten A Penny"
John Nicholas Shakespeare was born in 1942 in Birmingham, UK. He formed a skiffle band around 1957. In 1961 he co-founded a duo named Carter-Lewis and the Southerners. Jimmy Page, later of the Yardbirds and then Led Zeppelin, played guitar on a three of their non-hit singles recorded in 1963 and 1964. From 1964 to 1966 Carter was a member of a backing vocal session trio named The Ivy League. They backed The Who on "I Can't Explain". In 1965 The Ivy League had two Top Ten hits on the UK singles chart, "Funny How Love Can Be" and "Tossing And Turning". The latter tune was not a cover of the 1961 Bobby Lewis hit stateside.
In 1966 John Carter shifted to managing the Ivy League. During this time Carter also penned Brenda Lee's "Is It True?" in 1964 and "Can't You Feel My Heartbeat" for Herman's Hermits in 1965. In 1966 John Carter became a member of the New Vaudeville Band, singing the lead vocals on the #1 hit "Winchester Cathedral". And in 1967 John Carter co-wrote with Ken Lewis "A Little Bit 'O Soul" for the Music Explosion, who had a #2 hit in the USA with the tune and on CKLG in Vancouver. In 1970 Mary Hopkin had a #2 hit single in the UK with Carter's "Knock, Knock Who's There".
In 1972 John Carter assembled a band called Kincade. He wrote the songs, sang vocals and played guitar.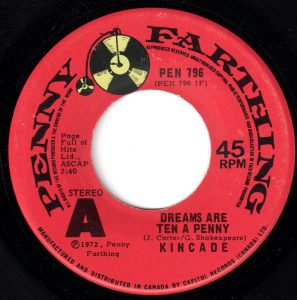 After "Dreams Are Ten A Penny" became a hit in the UK, Australia, South Africa, the Netherlands, Scandanavia and a few radio markets in Canada, a band was formed to tour as Kincade. The band, fronted by John Knowles, didn't even have John Carter in the band since Carter was reluctant to tour.
"Dreams Are Ten A Penny" peaked at #7 in Vancouver, #15 in Summerside, Prince Edward Island, and #20 in Calgary, Alberta.
"Dreams Are Ten A Penny" is a song about Jenny who pretends and dreams whenever times are hard. As a child she builds a treehouse in her back yard, but then the tree dies. She dreams of heroes in shining armor, but all she has are the ordinary guys that surround her. While she focuses on her dreams, she doesn't notice that one of these ordinary guys dreams of her. The song lyrics urge Jenny to "get your feet back on the ground."
In his article "If You Want to Live the Life or Your Dreams, You Need to Stop These 7 Behaviors," Steve Spring writes about sabotaging living your dreams. He advises people who are dreaming their life away to 1) Stop running from your purpose. This means stop distracting yourself with activities that are not on target with where you want to be going with your life. 2) Stop Being Paralyzed by Fear. Fear is never a path to success. So set aside your limiting beliefs. 3) Stop Settling for Being Mediocre. Spring states, "Most people will remain average. They will never do what it takes to be extraordinary. But it doesn't have to be this way. Deciding to follow your dreams is a choice." 4) Stop Waiting for Permission. Spring reminds readers that as adults we don't have to wait for permission to follow our bliss. 5) Stop Doubting Yourself. Self-doubt will only get in the way of making your dreams come true. 6) Stop Spending Time with Toxic People. Spring reminds us that toxic people aren't about to change and likely to bring you down. 7) Stop Focusing on the Past.
In the song "Dreams Are Ten A Penny" it seems that Jenny isn't focused on her purpose. She uses dreaming as a way to cope with difficulties. As a result, her dreams are a way of distracting herself from the challenges she faces. But, she is not "grounded" in her reality. Consequently, she can't see who is in front of her, or apply herself to the task of moving through the obstacles she faces.
In 1974, John Carter penned "Beach Baby" for First Class. The song climbed to #2 on CKLG in Vancouver that October. Later in the '70's, John Cater wrote and sang commercials for Rowntree's, British Caldonian airlines and Vauxhall Motor car company.
Over the past four decades John Carter has worked in publishing and recording, as well as serving for awhile on the Council for the British Academy of Composers and Songwriters. John Carter was reclusive and when in the Ivy League always wore sunglasses. There are very few public photos of him.
May 27, 2019
Ray McGinnis
References:
"Can't You Hear My Heartbeat", by Herman's Hermits, Wikipedia.org.
"Winchester Cathedral", Wikipedia.org.
"The Ivy League," Birmingham Music Archive.com.
"Beach Baby", by First Class, Wikipedia.org.
Steve Spring, "If You Want To Live The Life Of Your Dreams, You Need To Stop These 7 Behaviors," The Ascent, August 19, 2018.
"CKLG 'Thirty'," CKLG 730 AM, Vancouver, BC, July 27, 1973.
For more song reviews visit the Countdown.