#1171: Dreams Of The Everyday Housewife ~ Glen Campbell/Wayne Newton
Peak Month: August 1968
6 weeks on Vancouver's CKLG chart
Peak Position #6
Peak Position on Billboard Hot 100 ~ #32 (Campbell)/#60 (Newton)
YouTube.com: "Dreams Of The Everyday Housewife" Glen Campbell
YouTube.com: "Dreams Of The Everyday Housewife" Wayne Newton
Lyrics: "Dreams Of The Everyday Housewife"
Glen Travis Campbell was born in 1936 in the village of Billstown, Arkansas. His dad was a sharecropper. He moved to Albuquerque, New Mexico, and at the age of 18 joined his uncle's band, Dick Bills and the Sandia Mountain Boys. Campbell also had guest spots on a local KOB children's TV show, K Circle B Time. In 1958, Campbell formed the Western Wranglers. In 1960 he moved to LA and joined The Champs of "Tequila" fame. Campbell also became a session musician in a group that would become known as The Wrecking Crew. During this time Glen Campbell played on recordings for Bobby Darin, Ricky Nelson, Dean Martin, Nat King Cole, The Monkees, Nancy Sinatra, Merle Haggard, Jan and Dean, Elvis Presley, Frank Sinatra and others. He recorded his first single in 1961 titled "Turn Around Look At Me". In the mid-60's Campbell appeared as a regular on Shindig! and Hollywood Jamboree. He also was a studio musician for The Beach Boys 1966 album, Pet Sounds, and for four months was a member of The Beach Boys and went on tour with them when Brian Wilson was ill. That same year Campbell was part of a backing band for Rick Nelson on a tour of the Far East.
By 1967 Glen Campbell had his first song climb into the Top 30 of the Billboard Hot 100, "By The Time I Get To Phoenix", which peaked at #26. He won several Grammy Awards in 1968 for the song: Best Contemporary Male Solo Vocal Performance and Best Vocal Performance, Male. In addition, he won two Grammy Awards for "Gentle On My Mind". These Grammy's were for Best Country & Western Solo Vocal Performance, Male, and Best Country & Western Recording. With a handful of Grammy Awards Glen Campbell's next and twelfth album, Witchita Lineman, was highly anticipated. It included the title track and "Dreams Of The Everyday Housewife".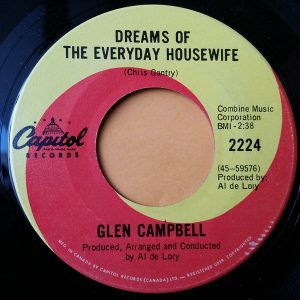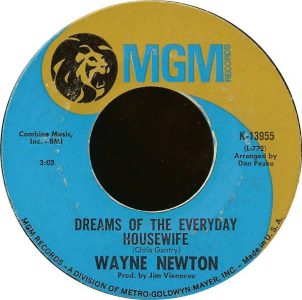 "Dreams Of The Everyday Housewife" by Glen Campbell was a #1 single on the RPM Country charts in Canada, and a #3 single on the Billboard Country charts in the USA. As a pop single it stalled at #32 on the Billboard Hot 100. Wayne Newton quickly did a cover of Campbell's tune that was rising on the country charts. Newton managed to get to #60 on the Billboard Hot 100. In Vancouver the song spent several weeks in the Top Ten on CKLG, climbing to #6 with both versions of the song listed on the chart.
"Dreams Of The Everyday Housewife" was written by Chris Gantry. It is a reverie in which a husband senses the past loves and carefree youth his wife silently mourns — "The photograph album she takes from the closet and slowly turns the page / And carefully picks up the crumbling flower, the first one he gave her now withered with age." The husband is the narrator of a song about "the everyday housewife who gave up the good life for me." The lyrics offer the possibility that the marriage isn't entirely happy, as the housewife in the song recalls other suitors from the past. Her focus and dreams are not about the life she is living with her husband. It's plausible she feels she's settled for the life she has now and thinks about if only or what if. "The good life" the housewife used to have still preoccupies her thoughts as the present life she has isn't good enough to stop her from contemplating dreams about past suitors. The song struck a chord with young American women growing restless trying to fill the dinner's-on-the-table mold of June Cleaver in the TV show Leave It To Beaver. Gantry wrote about deep emotional twists that occur in people's lives. Reflecting in his 2013 memoir, Gypsy Dreamers In The Alley, Gantry notes, "That's what we did. You hear it in 'Dreams of the Everyday Housewife.' We wrote about the torment of lust, and the celebration of love. We wrote about life in a way that hadn't been done in pop culture before." This was not material that Roy Acuff, Webb Pierce, Flatt and Scruggs, George Jones, Chet Atkins, Marty Robbins or Faron Young were touching.
When Chris Gantry came to Nashville in 1963, nursery-rhyme-simple-verse still ruled the day in country music. An example of country lyrics in the early 60's is "Don't Let Me Cross Over" by Carl and Pearl Butler:
…I'm tempted, my darling,
to steal you away.
Don't let me cross over,
stay out of my way.
You know that I love you,
and I'm not the stealing kind.
But I'm faced with heartaches,
at love's cheating line.
Don't let me cross over,
love's cheating line.
You belong to another,
and could never be mine.
I know one step closer,
would be heaven divine.
Don't let me cross over,
love's cheating line….
Among Chris Gantry's cohort, challenging the status quo in the Grand Ole Opry, were Merle Haggard and Loretta Lynn. Haggard's first #1 country hit in 1966 was titled "I'm A Lonesome Fugitive". The song drew upon Haggard's relatively recent prison term for burglary. Here, Haggard fills the shoes of an escaped convict, trying to live life on the run from the authorities. As a fugitive, he knows that trying to settle down or start a relationship is too risky. Either his new friends would tip off the authorities or would slow him down as the authorities catch up. The lonesome fugitive in the song is resigned to living a lonely life on the road as a rolling stone: "Down every road, there's always one more city/I'm on the run, the highway is my home." A subsequent #1 country hit for Merle Haggard in 1967, "Branded Man", was about an ex-convict's fear of not being accepted by the outside world after being paroled. Meanwhile, in 1966, Loretta Lynn had her first #1 hit on the country charts with "Don't Come Home A-Drinkin (With Loving On Your Mind)". The song was about an angry wife fed up with her husband coming home late every night, very drunk, and wanting to have sex. The song was based on Lynn's personal life as her husband was known to have been a heavy drinker. Chris Gantry's "Dreams Of The Everyday Housewife" was part of this new sound in country music where the lyrics took people to places that were discomforting to contemplate, even if the melody was reassuring.
Chris Gantry showcased his talents at local gigs as a high-schooler, inspired to play after first hearing a country and western radio station in New York City in 1958. Soon, he and a classmate had a short-lived record deal. They recorded as an act under the name "Tom and Jerry," after Simon and Garfunkel had stopped billing themselves by that name. At the age of twenty-one, Gantry arrived in Nashville in 1963 battered and bruised at the hands of his father. The two exchanged blows for "several minutes" in front of the antique shop his father ran in Queens, New York, over the path the younger Gantry's life should take. It was a fight of love, he would later say — his father's attempt to dispel the dream that lured Hank, Patsy, Faron and thousands of others to Music City and potential destruction. Once in Nashville Gantry soon met Kris Kristofferson who became a lifelong friend. Chris Gantry played the guitar and harmonica. Major influences on Gantry, in addition to country music, was the poetry of beat poet Alan Ginsberg and the album The Freewheelin' Bob Dylan.
Gantry has composed over a thousand songs and had some of these recorded by Johnny Cash, Reba McEntire and Roy Clark among others. Today, Gantry writes songs for Cool Vibe Music Group. He also mentors young artists who are, for now, undiscovered. Almost fifty years later, "Dreams Of The Everyday Housewife" is viewed by country music critics as part of a handful of songs that elevated the language of country music with more lyrically sophisticated content. One of Kris Kristofferson's earlier album tracks is a song called "The Pilgrim, Chapter 33". Kristopherson once stated the song was inspired by Chris Gantry (Johnny Cash, Jerry Jeff Walker and others). The lyrics include these lines: "He's a poet, he's a picker, he's a prophet, he's a pusher / He's a pilgrim and a preacher, and a problem when he's stoned / He's a walking contradiction, partly truth and partly fiction / Taking every wrong direction on his lonely way back home."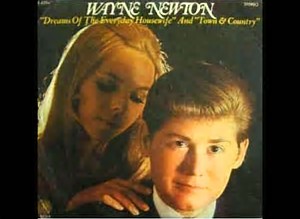 Carson Wayne Newton was born in 1942 in Norfolk, Virginia. He began to learn guitar, steel guitar and piano from the age of six. With his brother, Jerry, they performed at country fairs and clubs as the Rascals in Rhythm. They had several guest spots with the Grand Ole Opry roadshows and on ABC-TV's Ozark Jubilee. They also gave a performance for President Eisenhower. From 1958 to 1962 the brothers performed six days a week on the Lew King Rangers Show. Further success awaited them with their first of twelve guest appearances on The Jackie Gleason Show on September 29, 1962. Newton had his first Top 20 hit in 1963 titled "Danke Schoen". Success on the pop charts was only occasional for Newton. He had a Top 30 hit in 1965 with "Red Roses For A Blue Lady" and in 1972 had his only Top Ten hit in the USA with "Daddy Don't You Walk So Fast". Newton's recording of "Dreams Of The Everyday Housewife" was the only other charting version of the song besides Glen Campbell's. Newton went on to have a successful career performing in Las Vegas and also as an entrepreneur who owned hotels in "sin city," including the Aladdin. "Dreams Of The Everyday Housewife" was included in a January 4, 1969 episode of the TV show Petticoat Junction.
In the years after he recorded "Dreams Of The Everyday Housewife," Glen Campbell gained more fame as both a country and pop singer. The pinnacle of his career was his #1 hit in 1975 called "Rhinestone Cowboy".
Update: The day after this original review was posted on August, 7, 2017, Glen Campbell died on August 8th, at the age of 81 after being diagnosed with Alzheimer's disease since 2011.
August 7, 2017
Ray McGinnis
References:
Petticoat Junction, CBS, January 4, 1969.
Skip Anderson, "Singer-Songwriter Chris Gantry Remains a Living Link to Music City's Raggedy and Rowdy Bohemian Heyday," Nashville Scene, Nashville, TN, January 9, 2014.
Dave Laing, "Glen Campbell Obituary," Guardian, August 8, 2017.
Jeff Gage, "Flashback: Watch Glen Campbell's Nimble Medley of Beach Boys Hits: Country Great Blazes Through "Good Vibrations," "Surfin USA," "California Girls" and more," Rolling Stone, August 9, 2017.
Ed Koch, Wayne Newton Owned the Strip: 'Mr. Las Vegas' Will go Down as Entertainer, but also Owned the Aladdin, Las Vegas Sun, May 15, 2008.
"Boss 30," CKLG 730 AM, Vancouver, BC, August 22, 1968.
For more song reviews visit the Countdown.