#14: Ebony Eyes by Bob Welch
Peak Month: April-May 1978
Peak Position #1
16 weeks on Vancouver's CFUN chart
Peak Position on Billboard Hot 100 ~ #14
YouTube.com: "Ebony Eyes"
Lyrics: "Ebony Eyes"
Robert Lawrence Welch Jr. was born in Hollywood, California, in 1945. His father was a producer and screenwriter who produced the 25th Academy Awards in 1953. His mother, Templeton Fox, was an actress who worked with Orson Welles Mercury Theatre in Chicago. Welch learned to play the clarinet during his childhood, and picked up guitar in his teens. From 1964 o 1969, Welch was part of an L.A. band called The Seven Souls. From 1969 to 1971, he headed up a band in Paris, France, named Head West. In 1971, he joined Fleetwood Mac. After touring and contributing to five Fleetwood Mac studio albums, Welch left the band in December 1974. He formed a band called Paris, which released two albums. When that band dissolved later in 1976, Bob Welch went solo.
In September 1977, Welch released his debut album French Kiss. The first single release from the album was "Sentimental Lady", which peaked at #5 in Vancouver and #8 on the Billboard Hot 100. His second release from the album was "Ebony Eyes".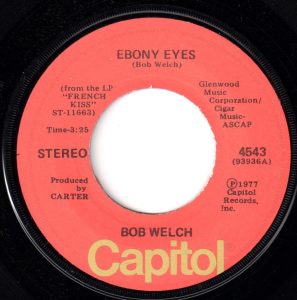 Bob Welch wrote "Ebony Eyes". The song concerns the chemistry between a guy who walks into a scene and spies a woman who is "the same as a hundred ladies," except she is keeping "a secret fire." The way she looks with her ebony eyes has this guy dreaming, and hoping she'll spend the night with him.
"Ebony Eyes" peaked at #1 in Vancouver (BC), Dayton (OH), Denver, La Crosse (WI), San Bernardino (CA), #2 in Seattle, Lansing (MI), San Diego, Bismarck (ND), Tampa (FL), and Portland (OR), #3 in Hamilton (ON), Tucson (AZ), Allentown (PA), #4 in Corpus Christi (TX), Atlanta, Bangor (ME), Fort Wayne (IN), Burbank (CA), Saskatoon (SK), Easton (PA), Boston, Eugene (OR), and San Antonio, #5 in Los Angeles, Springfield (MA), Billings (MT), and Syracuse (NY), #6 in Houston, New York City, Oklahoma City, Toronto, Milwaukee (WI), Harrisburg (PA), and Buffalo, #7 in Palm Springs (CA), Minneapolis/St. Paul, Sarasota (FL), and Fresno (CA), #8 in Akron (OH), Flint (MI), Baltimore, Bakersfield (ON), Richmond (VA), and Ottawa (ON), #9 in Windsor (ON), #10 in Pittsburgh, Chicago, Washington DC, and Springfield (IL).
Internationally, "Ebony Eyes" peaked at #2 in Australia, #7 in Canada, and #9 in New Zealand. The song had backing vocals by Juice Newton. While French Kiss peaked at #12 on the Billboard 200 Album chart.
In 1979, Bob Welch released the album Three Hearts. A single from the album, "Precious Love", peaked at #19 on the Billboard Hot 100. Three Hearts peaked at #20 on the Billboard 200 Album chart. A third solo album, The Other One, was released late in 1979 and was less successful, failing to crack the Top 100 album threshold. A fourth studio album, Man Overboard, stalled at #162 on the Billboard 200 Album chart. A fifth studio album, the self-titled Bob Welch, failed in 1981 to crack the Billboard 200 Album chart. As well, the single release "Two to Do", stalled at #107 as it bubbled below the Billboard Hot 100. Finally, Bob Welch released his sixth studio album in six years titled Eye Contact. Though Welch experimented with both new wave and synthpop in an attempt to keep pace with changing musical styles, Eye Contact also failed to crack the Billboard 200 Album chart.
In 1983, Bob Welch retired from the music business. In an interview years later, Welch recalled he did a lot of partying with Guns 'N Roses bandmates. During this time Welch got addicted to both cocaine and heroin. He went to a detox treatment centre and met his second wife who he married in 1985. In 1999 he returned to release his seventh studio album titled Bob Welch Looks at Bop. The album featured his treatment of the Rogers and Hart tune "My Funny Valentine" and Miles Davis' jazz tune "Milestones". As well, Welch covered the 1931 Billy Strayhorn pop standard "Lush Life", the Gershwin tune "I Got Rhythm", and James Moody's "Moody's Mood For Love".
In 2003 Welch recorded His Fleetwood Mac Years & Beyond, and in 2006 His Fleetwood Mac Years & Beyond Vol. 2. Both albums were a collection of new recordings of old Fleetwood Mac songs, and a mix of Welch's own compositions.
Over the years Bob Welch had his songs recorded by the Pointer Sisters, Kenny Rogers,
In March 2012, Welch underwent spinal surgery. Despite the surgery, doctors told him his prognosis for recovery was poor, and he would eventually become an invalid. Three months later, in June 2012, Bob Welch died of a gunshot wound dying by suicide at the age of 66.
June 21, 2023
Ray McGinnis
References:
"Dick Clark Interviews Bob Welch," American Bandstand, February 27, 1982.
David Fricke, "Bob Welch's Missing Music: The Fleetwood Mac Years," Rolling Stone, June 21, 2012.
"Police: Musician Bob Welch kills self," CNN, June 8, 2012.
"Bob Welch, Fleetwood Mac guiarist, 'just wanted to make the music he loved'," Christian Science Monitor, June 8, 2012.
Ray Chelstowski, "Bob Welch's French Kiss: Sentimental Favorite," Psaudio.com, February 6, 2021.
"C-FUN Top Thirty," CFUN 1410 AM, Vancouver, BC, May 6, 1978.
For more song reviews visit the Countdown.