#1135: Do It To 'Em by B.T.B. – 4
Peak Month: June 1967
8 weeks on Vancouver's CFUN chart
Peak Position #12
Peak Position on Billboard Hot 100 ~ did not chart
6 additional weeks on the CFUN All-Canadian Top Ten
YouTube.com: "Do It To 'Em"
Toronto singer Tommy Graham joined his first band in 1958 and managed to work his way through the Toronto club scene with Kay Taylor And The Regents at the legendary Club Bluenote. Following this, he took one year away from the business, traveled to Los Angeles to hone his musical skills and developed contacts there. Returning to Canada he, and some others, formed the group Big Town Boys. The group gained prominence as backing musicians for vocalist Shirley Matthews on Tamarac Records. The band broke out on its own with after being signed to RCA/Victor under the name Tommy Graham & The Big Town Boys for one single called "Put You Down" in 1965. The tune climbed to number 40 on CHUM radio in Toronto.

The Big Town Boys were signed by Capitol Records and recorded for several more singles through 1965 and 1966. In 1967 they switched labels signing with Yorkville records as Big Town Boys 4. The group toured across Canada many times. In 1967 were the B.T.B. 4's were the host band on CTV's After Four television show. Also during that time they made sojourns to New York City where they became favourites in several clubs, playing with some soon-to-be giants in the business such as Jimi Hendrix.
Their first and biggest single with Yorkville Records was "Do It To Em". It seems it only charted in Vancouver. Though the band was from Toronto, this single missed the CHUM 1050 AM charts. Instead, it was their follow up single, "Jack Rabbit", that charted on CHUM but not in Vancouver. "Do It To Em" was an R&B influenced tune with blasts of horns, vocals shouts giving a solid nod to soul by this six man white male group.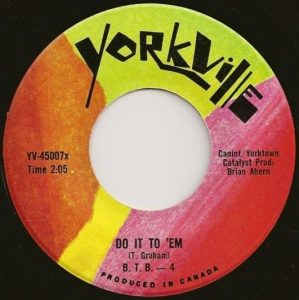 Hey now, hear, won't you gather around.
Hey now, hear, were sparking out a sound.
I'm not jiving, no, I'm not that kind.
That's the groove now,
I'm gonna do it to your mind.
What's wrong with feeling good baby?
Baby now we're gonna do it to ya, baby now listen.
Hey now, hear, won't you stand in line.
It's gonna take about three hours time.
Don't you worry baby, baby can't you see?
We're just talking about the way it used to be.
What's wrong with feeling good baby?
Hey now we're gonna do it to ya, baby now listen.
We're gonna do it, do it , do it, do it…
The song was a simple subscription to the benefits of feeling good while dancing to a great live band. The invitation to get a good sound on the floor and dance was echoed in other songs on AM pop radio in Vancouver in the spring of 1967. Otis Redding invited listeners to "Shake", James and Bobby Purify invited people "Shake A Tail Feather", Arthur Conley celebrated "Sweet Soul Music" and the Bar Kays grooved with "Soul Finger".
By 1968 The Big Town Boys (also known as BTB4) had run its course. Graham would find success as a solo artist back on Capitol Records. He was a session musician on Anne Murray's Top Ten hit in 1970 called "Snowbird". Graham also had a minor hit that got airplay in Toronto and Regina with the Neil Young composition, "After the Gold Rush". In 1974, Tommy Graham tried to cash in on the oldies revival by covering the old Frankie Ford hit from 1959 called "Sea Cruise". But the single release got next to no airplay. Graham also was a session musician for Bruce Cockburn's 1975 album, Joy Will Find A Way. Over the past 25 years Tommy Graham has continued to produce and record new music. In 2008, a group named Amorphous Androgynous included Tommy Graham's recording of Brent Titcomb's song, Sahajiya, on their album A Monstrous Psychedelic Bubble Exploding in Your Mind: Volume 1.
March 24, 2017
Ray McGinnis
References:
Tommy Graham, Wikipedia.org
Tommy Graham credits, Discogs.com.
"C-FUNTASTIC FIFTY," CFUN 1410 AM, Vancouver, BC, June 24, 1967.
For more song reviews on this site visit the Countdown.