#1125: Enamorado by Keith Colley
Peak Month: October 1963
9 weeks on CFUN chart
Peak Position #11
Peak Position on Billboard Hot 100 ~ #66
YouTube: "Enamorado"
Lyrics: "Enamorado"
Born in Spokane, Washington, Jarrell Keith Colley grew up in the wheat farming countryside. He attended the University of Washington. While he was there he made a demo of the hit by Dion & The Belmont's, "A Teenager In Love." Colley's version got some airplay locally and was heard by Jerry Dennon or Jerden Records. Dennon got young Keith a record contract that was transferred over to Era Records. In 1961 Colley released "Zing Went The Strings Of My Heart" which got some airplay in Boston. His next single at the end of the year, "Put 'Em Down", got some airplay in Spokane and Seattle, while the flip side, "(And Her Name Is) Scarlet" got him on the Top 40 in San Bernardino, California.
Colley next moved on to Unical Records. His firist single release with the Unical label was called "Enamorado". There is a story, online, that the song was first composed in English. But the lyrics were judged to a little thin. So Unical suggested Colley record the song in Spanish. Colley barely knew any Spanish. However, Colley's rendition of the song evoked an exotic feeling for his largely English speaking audience on pop radio in 1963 in North Ameica. And if his enunciation of Spanish at times was not quite on the mark, his radio audience was none the wiser. The song was a regional hit in San Bernardino (#2), Seattle (#5), Tucson (#7) and Los Angeles (#4). In Vancouver the song climbed to #11 on the CFUN charts and went to #66 on the Billboard Hot 100.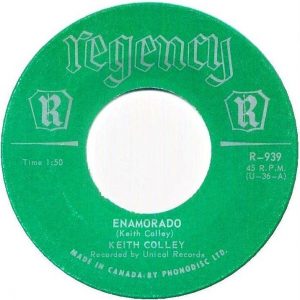 "Enamorado" is a song about someone who falls in love with someone else who never notices the love they express. The singer describes the love they have as the greatest love. The song they are singing has inhabited them completely, and they will look until the end of time in hopes of being near the object of their affection. For the time being, they will settle for being just a friend. The song's pretty melody and Colley's Spanish sounded enchanting on first hearing. Better to not know the actual lyrics and the guy who was impossibly hung up on someone who would never notice them. Although, the following year, Stan Getz and Astrud Gilberto's song "The Girl From Ipanema" also concerned the object of someone's affections who also doesn't notice the stir they are causing as they walk by.
Unical, was eager to repeat Colley's Spanish language fortune. So they got Colley to record several more Spanish language singles. His follow up to "Enamorado" was "Queridita Mia", a Spanish version of the Diamonds big seller in 1957, "Little Darlin'". The song climbed into the Top 20 in Sacrament0, California, and Tucson, Arizona. It was also a Top 40 hit in Vancouver. His third attempt at a Spanish hit single, "Cuando la Luna" only got initial airplay in San Bernadino. It was his Spanish title and cover of the Dean Martin song "That's Amore".
Colley moved on from Unical Records to Vee Jay Records and his single release there in the mid-60s was a flop. Following this detour, Colley got a contract with Four Star Music Publishing as a house writer. Four Star Music Publishing had a record label, Challenge Records. And Colley recorded a song in English called "Tonight, I'm Telling You." In 1966, it climbed into the Top 20 in Richland, back in Colley's home state of Washington. A follow up single failed to chart anywhere.
Colley turned his attention to songwriting. Numbers of his songs were recorded in the 60s including Bobby Bare, Ricky Nelson, the Newbeats, the Knickerbockers, the Standells, the Sandpipers, Jackie DeShannon, Skeeter Davis, the New Christy Minstrels, Gene Vincent and Lenny Welch. Jazz trumpet legend, Chet Baker, did a cover version of "Enamorado". In 1968 Colley wrote "Shame Shame" and his Columbia Records single climbed to #11 in Pueblo, Colorado, but had little notice elsewhere. It was covered by the Magic Lanterns and became a #1 hit in Vancouver in 1969. In 1969, Colley penned a Top Ten hit in Vancouver titled "Playgirl" for Thee Prophets.
In the space of just eight years Keith Colley had been signed as a recording artists with Jerden Records, Era Records, Unical Records, Vee Jay Records, Challenge Records and Columbia Records. Aside from "Enamorado" his record sales success had been fleeting. Meanwhile, he'd done respectably with pop singers recording his compositions. By the end of the decade Colley gave his attention to the business side of the music industry. He took a promotion working as an Artist & Repertoire representative for Four Star. In this role he signed and developed talent for the publishers record label. After awhile, Colley was promoted to be part Four Star Music Publishing's more senior administration. In 2005 an album released by Rev-Ola called, Bird Doggin', included thirteen demos Colley recorded during the 60s. In 2014 Vinyl Vic Records released a CD titled Keith Colley – Forgotten Teen Idol.
April 4, 2017
Ray McGinnis
References:
Michael Shelley, Interview of Keith Colley, Podcast, April 8, 2017.
Keith Colley discography/Writing & Arrangement – Credits, Discogs.com.
Joe Knapp, New Oldies: Tonight I'm Telling You by Keith Colley, Music Master Oldies.com, April 18, 2013.
George O'Leary, Keith Colley – Forgotten Teen Idol, Amazon.com, March 3, 2015.
Keith Colley Top Songs as a Writer, Music VF.com.
"C-FUNTASTIC FIFTY," CFUN 1410 AM, Vancouver, BC, October 5, 1963.
For more song reviews visit the Countdown.