#943: Enid by Barenaked Ladies
Peak Month: September 1992
9 weeks on Vancouver's CKLG chart
Peak Position #9
Peak Position on Billboard Hot 100 ~ did not chart
YouTube.com: "Enid"
Lyrics: "Enid"
Lloyd Edward Elwyn "Ed" Robertson was born in Scarborough, Ontario, in 1970. He began to play guitar when he was in grade five. Steven Jay Page was also born in Scarborough in 1970. He took piano lessons for ten years and was a member of the Toronto Mendelssohn Youth Choir. Page and Robertson crossed paths in elementary school. But they didn't become friends until 1988 when they found themselves co-counsellors at a summer Scarborough Schools Music Camp. Later that year there was a charity and Robertson asked Page to join him in a performance. The duo named themselves the Barenaked Ladies.
In 1990 Andrew Burnett "Andy" Creeggan and brother James Raymond Creeggan joined the Barenaked Ladies. Both brothers were born in Scarborough, Jim in 1970 and Andy in 1972. Jim learned piano from his mother and played double bass from grade school. Tyler Joseph Stewart was born in 1967 in Toronto. In 1990 he met Steven Page, Ed Robertson and Jim Creeggan at the Waterloo Busker Carnival. They asked Stewart to join the band while Andy Creeggan was on a trip in South America. Andy had been playing congas in the band and wound up moving to keyboard when he returned.
On New Year's Eve in 1991 the band was banned from performing at Nathan Philips Square at Toronto's city hall. Mayor June Rowlands declared that the band's name, was politically incorrect. In 1992 the band got a record contract and released their debut album, Gordon. The album fostered the release of six singles that all appeared on the Canadian RPM singles chart over 1992-93. These included "Be My Yoko Ono", "Enid" and "Grade 9".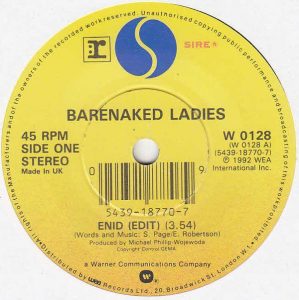 "Enid" is a song written about Steven Page's first girlfriend when he was fifteen years old. The actual name of the girlfriend is not in the song's title. The inspiration for the song title was a consequence of the Barenaked Ladies dining out while on tour in New Brunswick. As Elizabeth Fraser of the CBC reports, Enid "Egers was a waitress at Spanky's Pub in Moncton and served Barenaked Ladies band members, who turned her name into a sing along sensation." The waitress learned about the Barenaked Ladies song from a cousin she bumped into at a Kmart. Then she was shocked when she saw an interview with the band on Much Music. "They said, 'Oh, she was a waitress in Moncton, New Brunswick.' At the time I think I was the only Enid in Moncton, probably the only waitress with that name."
"Enid" climbed to #2 on the Canadian RPM singles chart and to #9 on CKLG in Vancouver. The song is about a dating relationship that ended when Steven Page was fifteen. The lyrics tell "I took a beating when you wrote those letters." And so it seems the relationship ended in a series of regular mail correspondence and a phone message, and not in a face-to-face meeting. The letters revealed that she felt she was never "respected" and felt he never "believed" she was "a person." It took Page until he was eighteen to get over the breakup. Page confides "there were times that I wanted to hurt you" and "there were times that I thought I would kill you." Now that he's a few years older he considers his new adult capacity. He can cut the lawn, cut his hair, work overtime and work in a mine. For the right person he's do it all for them and more. But in the case of Enid, he has no interest. Looking back he's discovered, "Enid we never really knew each other anyway."
Not feeling respected or being treated like "a person" were deal-breakers for the girlfriend in "Enid". In an article by Laken Howard titled "9 Signs Your Partner Doesn't Respect You Enough," nine indicators are described. 1) They Don't Listen To You. When you're in relationship with someone who doesn't know how to give you their undivided attention, this is a red flag. 2) You've Caught Them In A Lie. Dishonesty, even about little things, is a sign of disrespect and undercuts the foundation of trust between two people. 3) You're Not A Priority. If your partner doesn't make plans with you in mind or show up to engagements on time, they aren't respecting your time. 4) They Give You The Silent Treatment. Larken Howard points out that when couples have disagreements that the silent treatment is a manipulative way of throwing up roadblocks to communication. 5) They Give Sexual or Romantic Attention to Others. Unless you're up for a threesome, or wondering you left their long black hair in the bathtub drain, this is a deal breaker. 6) They Purposely Hurt Your Feelings. There is nothing loving about making hurtful remarks. And pretending that you aren't when you are is disrespectful. 7) They Refuse To Spend Time With Your Family. A lack of support for your family is a red flag and calls into question how much your relationship matters. 8) They Ignore Your Boundaries. When couples let others know what they are uncomfortable with, and that is ignored, it is another sign of disrespect. 9) They Have Personal Habits That Are Inconsiderate. Over time if your partner never cleans the kitchen countertop, leaves dishes in the sink, belches or other behaviors that you let them know you find inconsiderate, it indicates a lack of respect or regard for you.
In early 1993 the Barenaked Ladies charted "If I Had $1000000" to #2 in Vancouver. Later that year the Barenaked Ladies won the Juno Award for Group of the Year and were nominated for Entertainer of the Year. Their album, Gordon, was nominated for Album of the Year, while their single "Enid", was nominated for Single of the Year.
The band followed up with the albums Maybe You Should Drive (1994) and Born On A Pirate Ship (1996). The former album included the singles "Jane" and "Alternative Girlfriend". The latter featured "Shoe Box" and "The Old Apartment", which marked their first appearance on the Billboard Hot 100. In 1996 Andy Creeggan left the band and was replaced by Kevin Hearn. The band went on to their greatest success with the release in 1998 of their album Stunt. The album included "One Week", a song that peaked at #1 on the Billboard Hot 100 on October 17, 1998. Followup singles from the album, "It's All Been Done" and "Call And Answer" both made the Top Ten on the Canadian RPM singles chart. The Barenaked Ladies "Brian Wilson" enjoyed a resurgence in some radio markets in the USA in 1998. In both Chicago and Bethesda, Maryland, it was listed in the Top 100 year-end songs on alternate music radio stations, including #26 for the year on WKQX in Chicago.
Their last significant success came in 2000 with the release of their album Maroon and the single "Pinch Me". In September 2000 the Barenaked Ladies were given a key to the city of Toronto and welcomed back to play at city hall. By 2004 the band returned to recording their albums independently. Among the albums that followed, their 2008 release, Snacktime, was a children's album.
In 2008 Steven page was arrested for possession of cocaine and in 2009 he left the band. In 2010 Page released a debut album titled Page One. On August 27, 2011, Steven Page performed the Leonard cohen song "Hallelujah" at the state funeral service for Jack Layton.
Since the departure of Steven Page, the Barenaked Ladies have released four more studio albums, for a total of sixteen to date. One of these is a collaborative album in 2015 with the Brooklyn based a cappella group the Persuasions.
In May 2017 Steven Page arranged to meet Enid Egers in Moncton when he was in town for a Heart and Truth Gala at Moncton' Casino New Brunswick. This was the first time since he and his former bandmates were served a meal by Enid back in 1992.
In 2017 the Barenaked Ladies performed in 81 concerts. In 2018 they headlined 52 concerts. Between May 30 and September 13, 2019, the Barenaked Ladies will be appearing at 48 concert dates. They will perform across twenty-eight states: Alabama, South Carolina, North Carolina, Tennessee, Pennsylvania, Connecticut, Illinois, Iowa, Wisconsin, Minnesota, Indiana, Michigan, New York, Maryland, Massachusetts, New Hampshire, New Jersey, Virginia, Ohio, Arkansas, Missouri, Colorado, California, Nevada, Arizona, Texas, Florida and Georgia. They will also perform in concert in Toronto, Ontario. Additional dates in 2019 are to be announced. Their current lineup remains a quartet with Ed Robertson, Jim Creeggan, Kevin Hearn and Tyler Stewart.
April 29, 2019
Ray McGinnis
References:
"Barenaked Ladies Biography," Barenaked Ladies.com.
James Rusk, "Still Bare, but There: Band Arrives," Globe and Mail, September 22, 2000.
Yasmine Shemesh, "Barenaked Ladies tell us about the time they met Trump," On the A Side.com, November 7, 2017.
"Band Interview: Barenaked Ladies," Columbus Underground, Columbus (OH), July 10, 2018.
Mark Medley, "Steven Page Interview: 'Wow, I'm not a Barenaked Lady Anymore'," Vancouver Sun, February 26, 2009.
Curtis Sindrey, "Interview: Barenaked Ladies' Ed Robertson Talks "Fake Nudes", 30th Anniversary, and What He's Listening To," Aesthetic Magazine, Toronto, November 26, 2017.
Lindsey Dunn, "Toronto proclaims Oct. 1 'Barenaked Ladies Day'," City News, Toronto (ON), October 1, 2018.
Elizabeth Fraser, "From Spanky's Pub to Barenaked Ladies Songbook: Enid Egers Enjoys Claim to Fame," CBC, May 6, 2017.
Laken Howard, "9 Signs Your Partner Doesn't Respect You Enough," Bustle.com, December 21, 2017.
"Vancouver's Official Top 40," CKLG 730 AM, Vancouver, BC, September 28, 1992.
For more song reviews visit the Countdown.