#1123: Every Bit of Love by Ken Tobias
Peak Month: December 1975
10 weeks on CKLG chart
Peak Position #19
Peak Position on Billboard Hot 100 ~ did not chart
YouTube.com: "Every Bit Of Love"
Lyrics: "Every Bit Of Love"
In 1945 Ken Tobias was born in Saint John, New Brunswick. His family's home was filled with music and young Ken was featured in a number of tap dancing performances. Though he dreamed of becoming a draftsman, out of high school he and his brother Tony formed the folk group The Ramblers. By the mid-60s Tobias lived in Halifax and was a staple in the roster of performers on CBC TV's afternoon show, Music Hop. This led to his appearing several years later on Singalong Jubilee with other Canadian music stars Anne Murray, Gene MacLellan.
Though he played as a drummer in a Halifax band called The Badd Cedes, the experience led Ken Tobias to choose a solo path. After a time in Toronto and than Montreal, he moved to LA. When Tobias relocated to Los Angeles, he became a writer for Bill Medley of the Righteous Brothers. By coincidence, Bill Medley had composed Ken Tobias' first single in 1969, on Bell Records, called "You're Note Even Going To The Fair". It was a Top 30 hit in Fredericton, New Brunswick that year. Following this single release he received a BMI Award for Outstanding Airplay in Canada. Through Bill Medley word got spread around about his Canadian songwriter from New Brunswick. Tobias' songs were subsequently recorded by The Beach Boys, The Everly Brothers, Anne Murray, Rick Nelson and The King Sisters.
He next released a record on Coburt Records called "I'd Like to Know" which charted in Sarasota, Florida. Ken Tobias also write the four million seller, "Stay Awhile," for the Montreal group, The Bells. In 1971 the song climbed to #7 on Billboard Hot 100 and #1 in Vancouver and across Canada. With the buzz around "Stay Awhile," Tobias got a record contract with MGM/Verve. His debut album, Dream #2, was recorded in Los Angeles. The title track became a Top Ten hit in Vancouver. It was followed by "I Just Want To Make Music", a song that peaked at #8 in Vancouver in January 1973. During 1973-74, Ken Tobias found himself almost constantly on tour. across North America.
In 1973 Tobias was based in both Los Angeles and Montreal. He released an album called The Magic's In The Music. The album was recorded in London, England at George Martin's Air Studios. The album featured the track "Fly Me High" which became a Top 20 hit in Tobias' home town of Saint John, New Brunswick.
In the mid-70s Ken Tobias relocated to Toronto and changed from MGM to Attic Records. His first album with Attic was Every Bit of Love. The title track climbed into the Top 20 in Toronto and Vancouver and #8 in Peterborough, Ontario.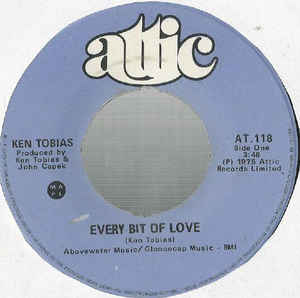 "Every Bit of Love" is a song recognizing that the current new relationship is exceptional in every way. Two people: one from Cincinnati with a pocket full of troubles, meets someone else who is finding no direction in their life. However, the two click and their lives are changed for the better.
Tobias' follow up single from the album was "Give A Little Love." It made the Top 20 on CHUM 1050 in Toronto. In 1977, Tobias' single "Dancer", made it into the Top 20 on Vancouver's CKLG. But his chart successes were waning. In 1978 Ken Tobias travelled to Rome and became part of the crew for "Sella Argento" (Silver Saddle in English), one of many Western movies made in Italy. The movie was directed by Lucio Fulci who already had a couple of spaghetti Westerns in his resume. To promote the film, the theme song Ken Tobias wrote, "Silver Saddle", was released in Europe. Awhile later, the tune became a hit in Kamloops, British Columbia.
Ken Tobias took the next five years off. In 1983 he wrote a song called "Here You Are Today" as a tribute to his birthplace, Saint John, New Brunswick, which was celebrating it's bi-centennial. That same year he wrote and prodded a TV commercial for Tourism New Brunswick. In recognition of his effort, the Canadian Historical Society gave him an award.
The following year Tobias recorded a new album called Gallery, produced with the CBC. He also recorded a children's album called Friends. The album included a teacher/parent guide to help spark conversations with children about some of the songs on the album, both in classroom settings and in family households.
In the mid-80s Ken Tobias began developing his talent as a painter. In time he had more than several hundred paintings on exhibit displayed at numbers of galleries across North America. Many private collectors purchased his paintings. In 1987 Tobias scored the soundtrack for Shelley Saywell's award winning documentary Shahira. And in 1988 Tobias scored the documentary Toronto: Struggle For Neighbourhood, a year later. By the end of the 1990s Ken Tobias left Toronto and moved back to his native Saint John, New Brunswick. In 2011 he released his ninth album, Secrets. In 2017, Tobias was inducted into the Casino Nova Scotia Music Hall of Fame.
April 6, 2017
Ray McGinnis
References:
Ken Tobias – Bio, Ken Tobias.ca.
Singalong Jubilee, Wikipedia.org.
The Bells, "Stay Awhile," Polydor Records, 1971.
Jean Peake, Casino Nova Scotia Music Hall of Fame, The Daily Musician.com, April 21, 2017.
"CKLG 'Thirty'," CKLG 730 AM, Vancouver, BC, December 2, 1975.
For more song reviews visit the Countdown.