#562: Everyday by Bobby Lee
Peak Month: May 1961
9 weeks on Vancouver's CFUN's chart
Peak Position #3
Peak Position on Billboard Hot 100 ~ did not chart
YouTube.com: "Everyday"
Lyrics: "Everyday"
Robert L. "Bobby Lee" Viehmeyer, Jr. was born in Peoria, Illinois, in 1941. Between the ages 4 to 10, Robert was plagued with illnesses. He recorded under the name of Bobby Lee on the Decca record label. Perhaps the choice to bill his name this way was that is sounded like the name of teen pop star Bobby Vee. And Lee's studio recordings resembled Bobby Vee's "Devil Or Angel" and numerous Buddy Holly recordings. Bobby Lee's first single release with Decca was "Sugar Love" in 1961, penned by country star Webb Pierce. In this case he sounded a bit like Elvis Presley. Lee recorded several rock 'n' roll hits, including a song by Webb Pierce titled "Just Beginning", in the spring of '61. The B-side was an old Buddy Holly song titled "Everyday". This was the side of the disc that DJ's in Vancouver played on the radio starting in May '61.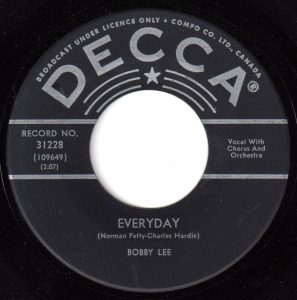 "Everyday" was co-written by Norman Petty and Charles Hardin. Petty was born in Clovis, New Mexico, in 1927. After serving in the United States Army in from 1945-48, Petty worked as a recording engineer in a studio in Dallas. In 1954 he teamed up with his wife Vi, and guitarist Jack Vaughan, to record "Mood Indigo". The single sold over half a million copies and climbed to #14 on the Hit Parade in 1954. Meanwhile, he began to build his own recording studio that year which opened in 1957. He recorded sessions for Roy Orbison, Buddy Knox, Waylon Jennings, Jimmy Gilmer & The Fireballs, Jimmy Bowen, Trini Lopez and "Wheels" by the String-A-Longs. Petty also co-wrote several songs recorded by Buddy Holly. In addition to "Everyday", Petty co-wrote "That'll Be The Day", "Oh Boy!", "Not Fade Away", "It's So Easy", "Heartbeat", "I'm Gonna Love You Too", "Rave On", "Maybe Baby", "Peggy Sue" and "True Love Ways". Buddy Holly was born Charles Hardin Holley. On numbers of his recordings he used his first and middle name for credits on single releases and tracks on his albums.
"Everyday" is a song about a romantic attraction that grows and grows. In the song the guy has let others know he's attracted to a female, and his friends tell him "go ahead and ask her" out. While they're dating their love is "growing stronger" and the speed of the magnetic pull toward each other is "goin' faster than a roller coaster." He wonders as things develop "do you ever long for true love from me?" The romantic pair are sticking like glue to each other. Only time will tell if it's strong enough to last.
"Everyday" by Bobby Lee was listed on the Fabulous Fifty on KJR in Seattle the week of April 24, 1961. CFUN debuted the single beginning on April 29. While the song stalled at #48 in Seattle, it climbed to #3 in Vancouver (BC). It appeared on the record survey in San Francisco, but that was it. Decca Records either didn't promote the single, or DJ's at other radio stations decided not to chart the tune. As a result, Vancouver ended up being the only radio market in Canada or the USA where the song was a notable hit. (The one caveat is Bobby Lee may have had a hit with "Everyday" in his hometown of Peoria, Illinois. But I can't find any information to confirm this. The song did not chart on either WLS or WJJD in Chicago).
"Everyday" was a regional hit for Buddy Holly in 1957. The song climbed to #2 in Toronto, #4 in Ottawa, La Crosse (WI) and Houston, #6 in Albany (NY), #9 in Worcester (MA) and #10 in Charleston (WV). Though the song didn't crack the Billboard pop chart, in 2011 the song was ranked at #238 on Rolling Stone's "500 Greatest Songs of All Time".
"Everyday" was covered in 1965 by the Rogues, a group from California that included Bruce Johnston. The single peaked at #14 on CFUN in Vancouver in April, the same month that Johnston joined the Beach Boys.
In 1961 Bobby Lee headlined at the Heart of Illinois Fair before playing on Dick Clark's American Bandstand. He even tried some television appearances in Hollywood, but the L.A. scene that mixed sex, drugs and rock 'n' roll quickly lost its appeal. His son, Steven Viehmeyer, said "He didn't violate a lot of his beliefs or a lot of things he stood for, and therefore he did not last in that arena."
"Bobby Lee" Viehmeyer Jr. settled back in Peoria in 1963 with his wife and a new son. He continued singing around town and became active in the Knights of Columbus. He also co-owned and operated a music publishing company, Vee-John Publishing.
One contributor on a YouTube thread beneath Bobby Lee's recording of "Sugar Love" said "Bobby Lee Viehmeyer was too handsome for his own good. And the girls in Peoria would approach me thinking I was him. I would say I was not Bobby Lee, and they insisted that I was, so they got an autograph. That was in late sixty-one. He was one great performer but didn't buy into the lifestyle. Too bad he died at such a young age."
Diabetes restricted his amount of activity during his final eleven years. "Bobby Lee" Viehmeyer Jr. had a kidney transplant in 1992 and frequent trips for dialysis. Before that, he played with the Rockin' R's, a local rock band. He died in 2002 at the age of 61.
References:
Daniel Schack, "'60s singer Bobby Lee dies — Diabetic's hit songs were 'Sugar Love' and 'Just Beginning'," Peoria Journal Star, September 13, 2002.
Jim Liddane, "Norman Petty Interview," International Songwriters Association, UK.
"Song #238: Buddy Holly And The Crickets, 'Everyday'," Rolling Stone, April 7, 2011.
"C-FUN-Tastic 50," CFUN 1410 AM, Vancouver, BC, May 27, 1961.
For more song reviews visit the Countdown.