#1046: Everyone's A Winner by Bootsauce
Peak Month: April 1991
9 weeks on Vancouver's CKLG chart
Peak Position #14
Peak Position on Billboard Hot 100 ~ did not chart
YouTube.com: "Everyone's A Winner"
Lyrics: "Everyone's A Winner"
Sonny Greenwich Jr. was born on January 1, 1962, in Toronto. In his childhood his family moved to the south shore of Montreal and went to high school in the suburb of Longueuil. He got his first guitar on the occasion of his sixteenth birthday and formed a band that became named Dogstar. At a Montreal area Christmas party in 1988, Greenwich met singer Drew Ling (born Drew Thorpe) and guitarist Perry Johnson (who was later billed as Pere Fume). They instantly hit it off and found they shared musical interests. Soon they were playing with each other and formed a band.
They added bass player Al Baculis Jr. Baculis was influenced by his father, Al Baculis Sr., who in 1976 composed, arranged and performed the theme for the closing ceremonies of the Montreal Olympics. His son Al chuckles, "I remember there was a streaker running around in the background while he conducted. I've never had a gig like that!" Al also remembers that his father "made a good living writing full time for television and the National Film Board." Al Baculis Sr. also taught music composition at both Vanier College and McGill throughout much of the '80s.
And Bootsauce added drummer Rob Kazenel to the band as they completed their formation in Montreal in 1989. He was gone before they recorded in the studio, and eventually replaced by John "Fatboy" Lalley (aka Johnny Frappe). Bootsauce performed in clubs in Montreal, Ottawa, Toronto and elsewhere. They got a record deal in 1990 with Vertigo Records. A debut release titled The Brown Album accompanied the single release of "Scratching The Whole". The single went Top Ten in Lynn, Massachusetts, in the summer of 1990. Bootsauce performed two shows in Vancouver (BC) in October 1990.
A second single was released from the album in early 1991. It was a cover of the Hot Chocolate Top Ten hit single from 1978, "Every 1's a Winner". But in the case of Bootsauce, the song title was rendered "Everyone's A Winner".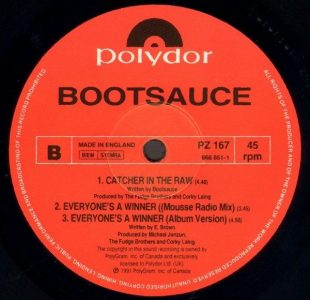 "Everyone's A Winner" is a song written by the front man for Hot Chocolate, Errol Brown. He was born in 1943 in Jamaica. In 1969 Brown revised the lyrics to "Give Peace A Chance" and sent it to Apple Records in London. John Lennon loved the version Brown sent and his group was named The Hot Chocolate Band, later shortened to Hot Chocolate. Brown wrote the song "Brother Louie" in 1973 and Hot Chocolate had a Top Ten hit with the single that year. It was covered by The Stories later that year who had a number one hit with the song in the USA. Next Errol Brown wrote "Emma" which climbed in April 1975 to #8 on the Billboard Hot 100 and #1 in Vancouver (BC). In 1975 Errol Brown wrote "You Sexy Thing", which climbed into the Top Ten across ten countries over the following year.
"Everyone's A Winner" is a song about sexual connection and satisfaction: "Making love with you is such a thrill…. Just one touch of you and I'm aflame." He believes that his baby is "a star", and clearly a star in the bedroom. With this kind of sexual connection everyone is a winner, at least the couple involved in the magnetic attraction. Such is the thrill of making love, they want to do it again, and again and again.
"Everyone's A Winner" climbed to #1 in Hamilton (ON) and #14 in Vancouver (BC). Bootsauce was nominated for a Juno Award in 1991 for Most Promising New Group of the Year. But they lost the nomination to the folk group Leslie Spit Trio. However, in 1992 Bootsauce won a Juno Award for Best Dance Recording for "Everyone's A Winner".
A third single from The Brown Album, "Play With Me", made the Top 30 on CKOC in Hamilton (ON) in the summer of 1991. Meanwhile, Rob Kazenel was replaced on drums by Marc Villeneuve. The band traveled to Europe and were the opening act for a tour with The Cult. This included playing at Wembly Stadium in London, UK.
In 1992 Bootsauce released their second album titled Bull. In an article by Marc Villeneuve, on Canadianbands.com, he notes that poor promotion of the bands single releases was a disappointment. "Love Monkey #9" made #60 on the alternate rock station CFNY in Toronto for their year-end 1992 chart.
By 1992 John "Fatboy" Lalley replaced Marc Villeneuve on drums. (On Canadianbands.com Villeneuve is with the band on Bull, while on discogs.com Johnny Frappe (John "Fatboy" Lalley) is credited as the drummer on Bull).
A third album titled Sleeping Bootie failed to get its deserved promotion by Vertigo Records. However, in support of the album, Bootsauce played Vancouver (BC) at the Commodore Ballroom on February 4, 1994.
In 1994 Sonny Greenwich Jr. released a solo contemporary jazz album titled Hymn To The Earth. And in 1995 Al Baculis played bass and Sonny Greenwich Jr. played guitar in the jazz-rock-funk album Welcome Mother Earth by Meantime. In 1994 Perry Johnson did a remix for Jann Arden with her hit "Could I Be Your Girl".
A 1995 self-titled album was Bootsauce's final trip to the recording studio. The band split up in early 1996 after releasing a compilation album of their best recordings. Sonny Greenwich Jr. moved to Ireland. From 2009 to the present Sonny has been playing with a cover band in Ireland called Crazy Chester.
Al Baculis has been an occasional session musician for a number of Quebec recording artists. These include the pop album Prends-moi by Patrick Fiori in 1998 and Canadian–Belgian singer Lara Fabian's Live album in 1999. Live climbed to number one on the album charts for both Belgium and France. In 2002 Al Baculis was contributed guitar to the studio contemporary jazz album of the Quebecois recording artist Yannick Rieu. And in 2003, Baculis played as a session musician for the freestyle jazz and experimental Quebec band Noma. John "Fatboy" Lalley (Johnny Frappe) has been teaching drumming for the past several decades.
November 17, 2019
Ray McGinnis
References:
Steve Newton, "20 Years Ago Today: Bootsauce Plays its First Gig at the Commodore; Anyone Remember Bootsauce?," Georgia Straight, Vancouver, BC, February 4, 2014.
Marc Villeneuve, "Bootsauce," Canadian Bands.com.
Steve Newton, "Sonny Greenwich Jr. Thinks that Bootsauce's Baculis is a Better Bassist than Flea," Georgia Straight, October 4, 1990.
"In Memoriam: Al Baculis Sr.," Vanier College.qc.ca.
"Errol Brown Biography," errolbrown.com.
"One Year On YouTube – A Brief History Of Me," Sonny Greenwich Jr.
"CKLG Top 40," CKLG 730 AM, Vancouver, BC, April 15, 1991.
For more song reviews visit the Countdown.