#150: Everything In My Heart by Corey Hart
Peak Month: December 1985
16 weeks on Vancouver's CKLG chart
Peak Position ~ #3
Peak Position on Billboard Hot 100 ~ #30
YouTube: "Everything In My Heart"
Lyrics: "Everything In My Heart"
Corey Hart was born in 1962 in Montreal, Quebec. He is best known for his international Top Ten hits "Sunglasses at Night" (#7 Billboard Hot 100) and "Never Surrender" (#3 Billboard Hot 100). Hart is known as one of Canada's most successful singer-songwriters. He's sold over 16 million records worldwide. On the Billboard Hot 100 Hart scored 9 consecutive Top 40 Hits. Back in Canada he succeeded in charting 30 top 40 singles (including 11 Top 10 singles during his career). Hart is a Grammy Nominated, ASCAP & multiple Juno and ADISQ award winner. He has also written and produced several songs for fellow Quebec recording star Celine Dion.
Though he was born in Montreal, Hart grew up variously in Key Biscayne, Florida, Mexico City and Spain. During his childhood he became fluent in English, French and Spanish. His first time as a performer was in front of UK singer Tom Jones, when eleven year-old Hart sang the Michael Jackson tune "Ben". In 1980 Hart was one of Canada's entries at the World Popular Song Festival in Tokyo. While there he met fellow Canadian entry, Dan Hill, along with American recording artist Christopher Cross ("Sailing").
In 1981, Corey Hart heard Billy Joel in concert in Montreal and contacted Joel. Joel was impressed with Hart's virtuosity on drums, guitar, vocals, piano and as well as a songwriter. Hart went to Long Island to record some demos at Joel's recording studio in Oyster Bay. In 1982 Hart recorded his debut album, First Offense, in the UK. Hart had the humbling experience of Canadian listeners only being interested in his music if he could break into the US record market.
In 1984 "Sunglasses At Night" peaked at #7 on the Billboard Hot 100. It only climbed to #24 on the Canadian RPM charts, #11 in Montreal, #13 in Toronto and got airplay, but no chart run, in Vancouver. (The latter was a big surprise to this writer). The song became a Top 20 hit in Australia, New Zealand and Germany. With international fame, Canadians warmed up to Hart as one of their own. Suddenly, things changed and Hart was a pop star. He later recalled:
"In retrospect, I was totally unprepared for the fan adulation. I really couldn't go out anywhere without being mobbed or chased by my fans. The transformation from unknown artist to rock star was surreal and overwhelming. The power of video certainly played a key role. It was the same for many artists of that decade like Cyndi Lauper, Madonna and George Michael to name but a few."
In 1984 Corey Hart was nominated for Best Male Vocalist of the Year, Composer of the Year ("Sunglasses At Night"), Single of the Year ("Sunglasses At Night"), and won a Juno for Best Video ("Sunglasses At Night").
On August 6, 1985, Corey Hart gave a concert in Vancouver at the Pacific Coliseum.
Hart's second album was titled Boy in a Box. His first single release from the album was "Never Surrender." The next single releases from the album were "Boy In A Box" and "Everything In My Heart".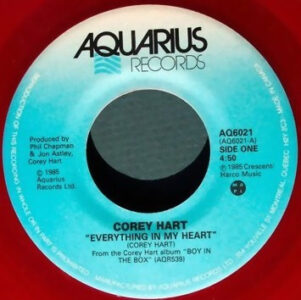 "Corey Hart wrote "Everything In My Heart". This is a song about the tough patches in a relationship. The singer remembers when love was new and he promised to give everything in his heart. But now, he knows what it is like when his "heart is so cold, and you cut me out and you're so hard to hold." Nonetheless, there is a promise of enduring potential: "I want to break through to you, again and again." Moreover, he'd do it again, and promise to give everything in his heart.
In Psychology Today, Marisa T. Cohen PhD writes about resilience in relationships. She observes "an easy temperament and high intelligence, though not necessary for one to be resilient, can certainly help. In addition, high self-esteem, self-efficacy, and a sense of hope and personal control have been shown to be beneficial." In any given year the news of the world is filled with headlines describing violence, upheaval, hardship and adversity. Couples in relationships are impacted by economic downturns, stressors in the wider society, cultural and political shifts that can add tension between families and strain friendships. Any given couple can face trauma, whether due to family of origin background faced due to ethnicity, racial prejudice, migration, war, famine and abuse. Summoning resilience as one individual in a relationship helps sustain the drive to reach out again, and again to your partner; To be present when they move toward you, and when they are hard to hold.
At the 1985 Juno Awards Corey Hart was nominated for Best Male Vocalist of the Year, Composer of the Year ("Never Surrender"), Album of the Year (Boy in the Box) and Best Video ("Never Surrender"). He won a Juno Award for Best Selling Single ("Never Surrender"). And in 1986 Hart was nominated for a Juno Award in the categories of Composer of the Year and Best Selling Single ("Everything In My Heart").
"Everything In My Heart" peaked at #1 in Calgary (AB), Des Moines (IA), and Edmonton (AB), #2 in Montreal, Lloydminster (AB), Minneapolis/St. Paul, Washington D.C., and Lethbridge (AB), #3 in Vancouver, #4 in Toronto, Austin (TX), and Medicine Hat (AB), #5 in Moose Jaw (SK), Dallas, and Regina (SK), #6 in Ottawa (ON), and Buffalo, #8 in Laramie (WY), #11 in Hartford (CT), #13 in Nashville, and #15 in New Orleans.
His fourth was "Eurasian Eyes", a track that made it's way onto the Soundtrack to the 1986 film 9 1/2 Weeks, starring Kim Basinger and Mickey Rourke.
That year Hart released his studio album Fields of Fire. The lead single was titled "I Am By Your Side".
In 1987 Hart was up for more Juno nominations: Best Male Vocalist of the Year, Best Album Graphics (Erika Gagnon for Fields Of Fire), and Single of the Year ("Can't Help Falling in Love").
Next Hart also released his third album, Fields Of Fire. In the midst of these releases came a non-album synth-pop single titled "2 Good 2 Be Enough".
Corey Hart had several more big hits in the next ten years. His next single release was "In Your Soul", a track on his 1988 album Young Man Running.
His subsequent hits of note include "A Little Love" in 1990 from his album Bang!, "Baby When I Call Your Name" in 1992 from his album Attitude & Virtue, "Black Cloud Rain" in 1996 from his self-titled album, and from his 2018 album Dreaming Time Again Hart had a #9 hit on the Canadian singles chart with "Another December". He kept receiving Juno Award nominations in the 1990s and the 2000s. These included nominations for Best Male Vocalist of the Year in 1993, 1997 and 1999; Best Producer in 1997 and 1998; And a Juno nomination in 2003 for Dance Recording of the Year.
Hart moved with his spouse Julie Masse, and their four children, to the Bahamas in 1999. Between 1998 and 2014 Hart didn't release any new solo singles or albums. In 2003, Hart became involved in a joint venture record label business which he named Siena Records. It was headed by Seymour Stein, the CEO of Sire Records, and Steve Kane, Warner Music Canada's President.
On June 3, 2014, after a 12 year break from live performance, Corey Hart took to the stage playing before a sold out audience at the Montreal Bell Centre Arena. It was billed as "One Night – Three Decades Of Music." Hart also released his autobiography entitled Chasing The Sun the same night. On June 25, 2019, Corey Hart appeared in concert in Vancouver at the Rogers Arena.
June 20, 2022
Ray McGinnis
References:
Corey Hart bio, Corey Hart.com
Karen Bliss, "Corey Hart On Crying At His Retirement Concert He Quit and What He'll Do Next," Huffington Post, June 16, 2014.
Marisa T. Cohen, PhD, "Resilience and Relationships: Supportive relationships help people to overcome adversity and thrive," Psychology Today, January 30, 2020.
Corey Hart, Chasing The Sun – My Life In Music, (Warner Books, 2014).
"Corey Hart Concerts – Canada," setlist.fm.
"CKLG Top Thirty," CKLG 730 AM, Vancouver, BC, December 25, 1985.
For more song reviews visit the Countdown.