#448: Fancy by Bobbie Gentry
Peak Month: February 1970
10 weeks on Vancouver's CKLG
1 week Hit Bound
Peak Position #3
Peak Position on Billboard Hot 100 ~ #31
YouTube: "Fancy"
Lyrics: "Fancy"
Bobbie Gentry was born in 1942 and named Roberta Lee Streeter at birth. She was born and raised in Woodland, Mississippi, about 80 miles from the Tallahatchie Bridge in Money, Mississippi. When she was 13 she moved to be with her mom in Arcadia, California. After graduating from high school in 1960, she chose her stage name from the 1952 film Ruby Gentry, about a heroine born into poverty but determined to make a success of her life. Bobbie Gentry started performing at local country clubs. She was introduced to Bob Hope who helped make some connections and she performed in a revue at Les Folies Bergeres nightclub of Las Vegas.
Gentry then moved to Los Angeles to enroll at UCLA with a major in philosophy. She supported herself with clerical jobs, occasionally performing at nightclubs. In 1962 she also worked as a fashion model.
She switched her studies to fine arts at the Los Angeles Conservatory of Music to hone her aptitude in composition and performance. In 1966, she made her first recording in two duets – "Stranger in the Mirror" and "Requiem for Love" – with rockabilly singer Jody Reynolds, whose "Endless Sleep" was a Top Ten hit in 1958. "Stranger In The Mirror" was a Top 40 hit in Santa Barbara, El Centro and San Bernardino (CA).
In early 1967 she sent a demo of "Mississippi Delta" and "Ode To Billy Joe" to Capitol Records. She sang and accompanied herself on acoustic guitar. Jimmy Haskell at Capitol decided to add strings to 'Ode' and the song was released on July 10, 1967.
Asked about the meaning of the song, Bobbie Gentry said at the time, "This boy's death did not get his neighbors involved," the song was about indifference and the "unconscious cruelty" of the family when discussing the reported suicide. The bridge became the focal point of people wanting to take their lives by jumping off the Tallahatchie Bridge. But the bridge was only 20 feet high, and no sure bet for ending one's life. Furthermore, the bridge collapsed in 1972.
Both her single and the album, Ode To Billy Joe, topped the charts in September '67. Gentry won three Grammy Awards in 1968 for Best New Artist, Best Vocal Performance – Female, and Best Contemporary Female Solo Vocal Performance.
In August 2017, Rolling Stone magazine celebrated the 50 year anniversary of Bobbie Gentry climbing into the number one spot on the Billboard Hot 100. Writer Tara Murtha described the scenario. "In July of 1967, Capitol Records released "Ode to Billie Joe," a spooky wisp of a song by an unknown artist named Bobbie Gentry. Industry wisdom said "Ode" was too dark, too long, too different to get played on the radio. It was a smash hit. With no special promotion, the song unexpectedly climbed up the charts past the Doors, Aretha Franklin and the Beatles, ultimately knocking "All You Need is Love" out of the Number One spot. By August, the mysterious tale of Billie Joe McAllister jumping off the Tallahatchie Bridge was ubiquitous, the inescapable sound of the darkening days of the so-called Summer of Love."
Despite all her accolades, her followup album in early 1968, The Delta Sweete, stalled at #132 on the Billboard Album chart. Nonetheless, Cashbox magazine's February 17 review of the album was effusive: "It must have been difficult for Bobbie Gentry to keep her head amidst the adulation and fame that were showered upon her as a result of her million-selling single, "Ode to Billie Joe", but she has survived the storm and her second album is better than her first. Eight of the songs on the set are her own compositions, and they show her to be an effective ballad writer as well as a skillful portrayer of the life of the Mississippi Delta country." Her second single from the album was "Louisiana Man".
Her two duets with Glen Campbell – "Let It Be Me" and "All I Have To Do It Dream" kept her voice on the Top 40. The latter climbed to #6 on the Billboard Country chart and the #18 song on the Country charts for 1969. Between 1967 and 1971 Bobbie Gentry released six solo studio albums and one album with Glen Campbell.
In 1968-69 Bobbie Gentry had her own variety show on the BBC in the UK. The show was rebroadcast in Germany, the Netherlands and Australia. In the late 60's and early '70's she appeared on shows hosted by Glen Campbell, Tom Jones and Bobby Darin.
Of the 26 singles Bobbie Gentry released as a solo artist after "Ode To Billy Joe", only one reached the Top 40 on the Billboard Hot 100, "Fancy" at #31 in 1970.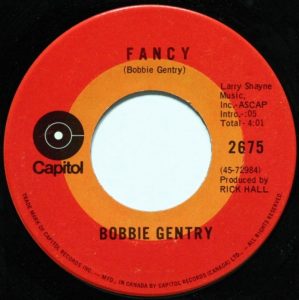 "Fancy" was written by Bobbie Gentry. Born "poor white trash," the beautiful Fancy is groomed to be a hooker by her impoverished sickly mother. In the end Fancy ends up with an "elegant Georgia mansion" and "a New York townhouse flat"—no shame and no regrets. In a 1974 interview with After Dark Magazine she said "Fancy is my strongest statement for women's lib, if you really listen to it. I agree wholeheartedly with that movement and all the serious issues that [it stands] for—equality, equal pay, day care centers, and abortion rights."
"Fancy" offers one plausible outcome of a daughter who during "the summer I turned eighteen" takes to being a Lady of the Night, and quickly learns the ropes without any mishaps. That red velvet-trimmed, satin, dancing dress gets her lots of attention. She is fancied by a "benevolent man" who takes her off the streets and she moves in with him in his "five roomed penthouse suite." From there, Fancy "charms" a "king, a congressman and an occasional aristocrat." Now that she has her mansion in Georgia, Fancy has been free of financial worries for over fifteen years. But in other circumstances, daughters who go into prostitution to make money for their mothers don't end up like Fancy.
A story in CNN in 2013 described the life of 12-year-old Kieu, a Cambodian daughter of Neuong. Kieu's parents sold her into sex slavery for $500. This would be a huge sum of money in a nation where many make less than $3 a day. But, Neuong borrowed $200 from a loan shark. By the time she got the $500 for selling her daughter, Neuong owed the loan shark around $9,000. So after her daughter returned from her weekend at a brothel, her mother sold her services again to another brothel. They told me when the client is there, I have to wear short shorts and a skimpy top," says Kieu. "But I didn't want to wear them and then I got blamed." Her clients were Thai and Cambodian men, who, she says, knew she was very young. Kieu's father got tuberculosis and was unable to work. This was the catalyst for Neuong's desperation to make money from her daughter.
Brenda Myers-Powell grew up on the west side of Chicago. Her sixteen-year-old mother died when Brenda was six months old. As a child, Brenda was sexually molested on numerous occasions by men that came to her grandmother's home. By the time she was 14 years-old she had given birth to two baby girls fathered by two different boys in the community. She decided to work the streets, but got kidnapped by some pimps who held her hostage until Brenda agreed to work for them. Looking back on her years as a prostitute Brenda said "when people describe prostitution as being something that is glamorous, elegant, like in the story of Pretty Woman, well that doesn't come close to it. A prostitute might sleep with five strangers a day. Across a year, that's more than 1,800 men she's having sexual intercourse or oral sex with. These are not relationships, no-one's bringing me any flowers here, trust me on that. They're using my body like a toilet. And the johns – the clients – are violent. I've been shot five times, stabbed 13 times."
Brenda Myers-Powell left prostitution after 25 years on the street. She went on to do outreach for hookers. She observes that being a hooker may work for a young woman putting herself through a law degree, it isn't the same for a girl who was molested and needs to get money to eat.
"Fancy" climbed to #1 in Fresno (CA), Louisville (KY), Tulsa (OK), Columbus (OH), Dayton (OH) and Hannibal (MO), #2 in Birmingham (AL) and Edmonton (AB), #3 in Vancouver (BC), #4 in Buffalo (NY), #5 in Lincoln (NE), #6 in Tucson and Lethbridge (AB), #7 in Orlando, #8 in Boise (ID) and San Antonio (TX), and #9 in San Bernardino (CA), Toronto and Kansas City (MO).
In the summer of 1974, Gentry hosted a summer replacement variety show on CBS called The Bobbie Gentry Happiness Hour.
In 1976 the film adaptation of "Ode To Billy Joe", Ode To Billy Joe was released. The film portrayed Billy Joe McAllister as in love with Bobbie Lee Hartley and conflicted about having had sex with another man in a brothel while he was very drunk. In the film, what Billy Joe McAllister and Bobbie Lee Hartley throw off the Tallahatchie Bridge into the river, is Bobbie Lee's rag doll. This event is symbolic of her throwing away her childhood and innocence, becoming an adult.
Bobbie Gentry has been married and divorced three times. The first lasted for five months, the second lasted 23 months, ending in August 1978. She married singer Jim Stafford in October 1978. Stafford and Gentry had a very small wedding in 1978, but they did allow a reporter from the Memphis Commercial Appeal to attend the ceremony on their 120-acre horse farm in Somerville, about 45 miles east of the city. The marriage lasted 11 months and she divorced him in September 1980, just prior to the birth of their son.
Rolling Stone reported in 2017 that "In 1983, Bobbie Gentry, for the first time in her career, canceled a show – a gig she was scheduled to perform with Mac Davis. A self-declared workaholic, Bobbie Gentry worked through broken bones, broken hearts, and sheer exhaustion. Aside from a few industry events, Bobbie Gentry never appeared in public as a performer again. She simply hung up her heels and vanished…"
According to a biography about her by Tara Murtha, Ode To Billy Joe (2015), Bobbie Gentry lived in Savannah, Georgia, for awhile in the 1990's. A reporter for the Washington Post contacted Bobbie Gentry by phone at her home in Memphis in 2016. She hung up on him after he told her who he was. Gentry continues to live far from the spotlight, having turned her back on a music industry that disappointed her.
May 15, 2020
Ray McGinnis
References:
References: Tara Murtha, "The Secret Life of Bobbie Gentry, Pioneering Artist Behind 'Ode to Billie Joe': How the Singer-songwriter who Knocked the Beatles out of the Number One Spot 50 Years ago Quietly Revolutionized Country Music," Rolling Stone, August 21, 2017.
"The Mystery of Bobbie Gentry, Iconic Country Star Turned Recluse,"
Neely Tucker, "Whatever happened to Bobbie Gentry? In Search of Country Music's Great Vanished Star," Washington Post, June 2, 2016.
Tim Hume, Lisa Cohen and Mira Sorvino, "The Women Who Sold Their Daughter's Into Sex Slavery," CNN, December, 2013.
"My 25 Years as a Prostitute," BBC, June 30, 2015.
"Boss 30," CKLG 730 AM, Vancouver, BC, February 6, 1970.
For more song reviews visit the Countdown.