#159: Fire And Ice by Pat Benatar
Peak Month: August 1981
10 weeks on Vancouver's CFUN chart
Peak Position #2
Peak Position on Billboard Hot 100 ~ #17
YouTube: "Fire And Ice"
Lyrics: "Fire And Ice"
Patricia Mae Andrzejewski was born in Greenpoint, Brooklyn, New York City in 1953. She was raised near the city of Babylon, Long Island. Her dad was a sheet-metal worker and her mom was a beautician. At the age of eight she began to take voice lessons. After high school, she spent a year to study health education, but dropped out to marry high school sweetheart Dennis Benatar, who was drafted into the United States Army. She was 19. While her husband was stationed at Fort Lee, Virginia, she worked as a bank teller near Richmond (VA). She quit her job and formed the Pat Benatar Band. Dennis Benatar was discharged from the Army and the couple moved to New York in May 1975 so Benatar could pursue a singing career. She performed at an amateur night at the Catch a Rising Star comedy club in Manhattan. Later in 1975, Pat Benatar got a part in Harry Chapin's rock musical The Zinger showing at a theatre in Huntington Station, Long Island.
Benatar did commercial jingles for Pepsi-Cola and got the attention of several record company executives impressed with her performances at local clubs in Manhattan. In 1979 Pat and Dennis Benatar got a divorce, though she kept his name. Later that year her debut album, In the Heat of the Night, was a critical success. The single, "Heartbreaker" became a Top 20 hit in Canada. In the summer of 1980 another single, "We Live For Love", went to #8 in Vancouver and Saskatoon (SK) and #5 in Regina (SK). However, it stalled at #27 on the Billboard Hot 100.
On November 25, 1979, Pat Benatar performed at the UBC Student Union Ballroom in Vancouver. And on January 29, 1980, Benatar was a guest on the Vancouver-based Canadian variety show The Raes.
In 1980, her album Crimes of Passion earned her a Grammy Award for Best Female Rock Vocal Performance. She beat our Marianne Faithfull's Broken English. On August 22nd and 23rd, Pat Benatar gave two concerts at the Orpheum in Vancouver.
Her single, "Hit Me With Your Best Shot" climbed to #9 on the Hot 100, and #2 in Vancouver (BC) and Windsor (ON), and #3 in Toronto, Sydney (NS), Sherbrooke (PQ), Winnipeg (MB) and Ottawa.
In 1981, Benatar released Precious Time. The debut single was "Fire And Ice".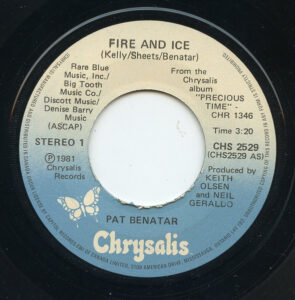 "Fire And Ice" is a song about someone who "comes on like a flame, then you turn cold shoulder." The come-close-go-away behavior is seen for what it is: an illusion, passion play theatrics. The pursued learns their lesson, and vows not to be taken in by this game of fire and ice. She knows he's capricious, just turning on his charm to get laid, but wants nothing more after sex and becomes distant.
"Fire And Ice" was written by Benatar, along with bandmate guitarist Scott Sheets, and Tom Kelly. Scott St. Clair Sheets was born in Garden City, New York. In the 1970s he was a member of the proto-punk band The Brats. He left Benatar's band in 1982 to pursue a variety of musical projects. In the 90s he formed the band St. Clair. Sheets has a degree in graphic design and founded his own printing and computer graphics company in 1998. When The Brats reformed in 2004, Sheets joined them. In 2008, he was a finalist in American Idol's songwriting competition.
Tom Kelly was born in West Lafayette, Indiana, in 1952. In 1969, he co-wrote "Take Care of Your Homework" recorded by Johnnie Taylor. Kelly was in Dan Fogelberg's band for awhile in the '70s. And has been a musician on tour with Toto. In 1984 he wrote "Like A Virgin" for Madonna. In 1986, his song "True Colors" was a hit for Cyndi Lauper, and later Phil Collins. Kelly's song "Alone", became a number-one hit for Heart in 1987. His song "So Emotional" was a big hit in 1987 for Whitney Houston. While in early 1989, the Bangles had a hit with Kelly's "In Your Room". And in April 1989, the Bangles topped the pop charts with "Eternal Flame", also written by Tom Kelly. That same year Cyndi Lauper had a #6 hit on the Billboard Hot 100 with "I Drove All Night". And in early 1991, Tom Kelly's "I Touch Myself" was an international Top Ten hit for the Divinyls. He also wrote the Top 20 hit "In My Dreams" for REO Speedwagon. Kelly later wrote "Sex As A Weapon" for Pat Benatar.
"Fire And Ice" earned Pat Benatar her second Grammy Award, again in the Best Female Rock Vocal Performance category. While "Fire And Ice" was gaining airplay in Vancouver, Benatar came to the city with a concert at the Pacific Coliseum on July 19, 1981.
"Fire And Ice" peaked at #2 in Vancouver, and Regina (SK), #3 in Winnipeg (MB), Kansas City (MO), Montreal, Toronto, #4 in Saskatoon (SK), and Bangor (ME), #5 in Seattle, #6 in Ottawa (ON), and Tacoma (WA), #7 in Buffalo, San Francisco, #8 in San Diego, Hartford (CT), Presque Isle (ME), and Cleveland, #9 in Richmond (IN), and San Bernardino (CA), and #10 in Chicago.
In 1983, Benatar won her third Grammy Award, again in the Best Female Rock Vocal Performance category, this time for "Shadows of the Night". The song was featured in the film Times Square, whose plot concerned two runaways who end up in Manhattan.
In 1983 Benatar released her album Live from Earth. Though it was a live album from her world tour in 1982, it contained two studio tracks. One of these was "Love Is A Battlefield". It won her a fourth Best Female Rock Vocal Performance Grammy Award. The single peaked at #1 in Halifax (NS) and #5 on the Billboard Hot 100.
Her next hit single, "We Belong", also peaked at #5 on the Hot 100, and climbed to #2 in Edmonton (AB) and Regina (SK), and #3 in Vancouver (BC). The single earned her a Grammy Award nomination for Best Female Pop Vocal Performance, which she lost out to Whitney Houston's "Saving All My Love For You". As well in 1985, she earned a fifth nomination in the Best Female Rock Vocal Performance category at the Grammy Awards. But her song "Invincible" lost out to Tina Turner and "One of the Living".
Benatar received more Grammy Award nominations in successive years for "Sex As A Weapon" (1987) and "All Fired Up" (1988) losing to Tina Turner three years in a row. "All Fired Up" was her last charting single on the Billboard Hot 100.
Her recording of "Let's Stay Together" became her eighth nomination at the Grammy Awards for Best Female Rock Vocal Performance. Though the track from her album Wide Awake in Dreamland won critical acclaim, it failed to chart. On September 1, 1996, Pat Benatar performed at the Pacific Coliseum in Vancouver.
In June 2010, Benatar's memoir, Between a Heart and a Rock Place, was released. On August 1, 2014, Benatar gave a concert at the Hard Rock Casino in the Vancouver suburb of Coquitlam. Two years later on September 2, 2016, Pat Benatar appeared in concert at the PNE Amphitheatre in Vancouver.
May 27, 2022
Ray McGinnis
References:
"About Pat Benatar," benatargiraldo.com.
Nicole Kappatos, "From the Archives: Pat Benatar's rise to fame began in Richmond," Richmond Times-Dispatch, April 11, 2017.
"Pat Benatar," Hip, January 5, 2008.
Glenn Gamboa, "Pat Benatar takes her best shot in new book," Newsday, June 14, 2010.
"Pat Benatar Canada Concert Dates," setlist.fm.
"CFUN Top Thirty," CFUN 1410 AM, Vancouver, BC, September 5, 1981.
For more song reviews visit the Countdown.