#843: Flippin' To The A Side by Cats Can Fly
Peak Month: April 1986
9 weeks on Vancouver's CKLG chart
Peak Position #9
Peak Position on Billboard Hot 100 ~ did not chart
YouTube.com: "Flippin' To The A Side"
"Flippin' To The A Side" lyrics
The bandmates for Cats Can Fly were a Elia Junior high school band from North York, Ontario. When they formed in 1971, initially they went by the name of Ethos. Alan Frizell and Jim Longmuir both played guitar, Frank Miller played drums and the bass player was Peter Steele. Peter Alexander, of Canadianbands.com, writes that Ethos was "formed under the supervision of the School Board" under Laura Lapedus. Upon graduation, Ethos played in local bars as a house band. When they discovered an American band also went by the name of Ethos, they changed their name to Scamp. They went on tour as an opening act for Burton Cummings in the latter part of the 70's. At the end of the decade they won the CFTR Talent Search. A record project with Nimbus 9 Records faltered in the early 80's. They had a number of lineup changes by the time they renamed themselves Cats Can Fly. At this point the only original member of the band was Peter Steele, whose stage name was now Peter Alexander. The other band members were drummer Eddie Zeeman, bass player David Ashley and guitar player James Mitchell. Peter Alexander, who had originally been the bass player for Ethos, was now playing keyboards.

In 1984 the band got a record deal with Axe Records and released a pair of singles. Entering a Talent Quest contest sponsored by Craven A cigarettes in 1985, Cats Can Fly were one of a couple of contest winners. They got a record deal with CBS. An album was released on CBS' Epic label with their debut single, "Flippin' to the 'A' Side".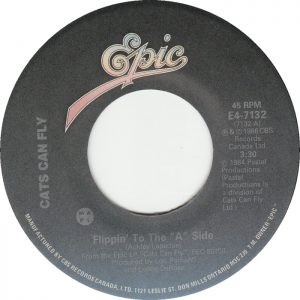 "Flippin' To The 'A' Side" is a song that offers a solution for what to do when life is directionless, mean and you're stuck in survival mode. In a world that "doesn't hear," an individual has to take the initiative to turn things around. We don't have to live in the "stomach-twisting" zone. Even if there's no one to help, it's still possible to flip things around to the 'A' Side, the way we flip a vinyl disc from the 'B' side to the 'A' side. Evidence of living on the 'A' Side is having a sparkle in your eye, having a special song and green fields. Instead of things just staying the same, there is momentum with good outcomes.
In his Huffington Post article, "5 Powerful Steps To Turning Your Life Around," Howard Falco advises that when you resist what is happening to you that you actually give it life. The first step to turning your life around is accepting what is. Only by accepting your current circumstances, no matter how grim, can you hope to move beyond denial to imagining a way forward. Falco offers this insight: "Once you have a vision of what you do want you must begin to create it." Positive change doesn't unfold with you passively waiting for something to happen. This involves stretching oneself to be open to new experiences, circumstances and challenging old habits. While this can be very uncomfortable, like starting a new fitness program, the discipline of training oneself to adapt to new modes of being are key to becoming the 'new you' that you seek to be. Falco writes that a key to success in living into your dreams, of "Flippin' To The 'A' Side", involves expressing faith and patience. He writes, "Life has an elegant way of determining who believes in them self and who doesn't. Life can only match you in what you believe to be true both in thought and action. You have to do this without a guarantee of the results!"
"Flippin' To The 'A' Side" climbed to #1 in Ottawa, #9 in Moose Jaw and Vancouver, #14 in Saskatoon, #15 on CHUM in Toronto and #22 in Hamilton.
In 1986, Cats Can Fly toured with the Isle of Wight band, Level 42, across Canada. Level 42 was enjoying Top Ten success with their single, "Lessons In Love". It was a synth-pop concert-goers dream. Cats Can Fly were nominated for Most Promising Group at the 1986 Juno Awards. They were beat out by Glass Tiger, a band from Newmarket, Ontario, just down the road from North York. While Cats Can Fly were living on the 'A' Side after their initial album release, CBS Records was involved in a corporate takeover in 1988. Sony dropped Cats Can Fly from the roster before the takeover was complete. While the band tried to make it on the strength of their first album, without a record contract they discovered that the music industry can have some mean sides to it. Cats Can Fly may not have been living on the 'B' Side, but the challenges of making a living as a band proved too much. The band went to the USA to try to find a new record label, but nothing materialized. Peter Alexander writes that the band felt "dejected." By 1989 Cats Can Fly had split up and gone their separate ways.
April 4, 2018
Ray McGinnis
References:
Peter Alexander, "Cats Can Fly," Canadian Bands.com
Joanne, Cats Can Fly, Whatever Happened To.net (weht.net)
Howard Falco, "5 Powerful Steps To Turning Your Life Around," Huffington Post, December 31, 2014.
CBS Records lets Cats fly away, Toronto Star, April 24, 1987.
"Cats Can Fly," Wikipedia.org.
"Top Thirty Hot Hits," CKLG AM, Vancouver, BC, April 10, 1986.
For more song reviews visit the Countdown.