#430: Forget Me Not by Eden Kane
Peak Month: April 1962
10 weeks on CFUN's Vancouver Chart
Peak Position ~ #5
Twin Pick ~ March 9, 1962
Peak Position on Billboard Hot 100 ~ did not chart
YouTube: "Forget Me Not"
Lyrics: "Forget Me Not"
Richard Graham Sarstedt was born in 1942 in New Delhi, India. His parent ran a tea plantation and after his father died when Richard was 12-years-old, the family moved to the UK. He excelled in cricket and delivered milk and newspapers to make extra money for his family. He soon learned to play skiffle music after being turned on to rock music by exposure to Bill Haley and His Comets in 1955 at a live concert in Croydon, England. Sarstedt formed a skiffle band named the Fabulous 5, which included his younger brother Peter and Clive.

In 1961 Richard entered a talent contest and ended up singing a radio jingle for Cadbury's Drinking Chocolate on Radio Luxembourg. The title for the jingle was "Hot Chocolate Crazy". He was signed to Pye Records in 1960 and his manager gave Richard Sarstedt a stage name inspired by his favorite film, Citizen Kane. After he signed with Pye, Richard Sarstedt became Eden Kane. His first name in his stage name was a Biblical reference to the creation story of Adam and Eve in the Garden of Eden. Another pop singer at the time had the stage name of Adam Faith.
Hearing Eden Kane's Cadbury jingle, Decca Records stepped forward and offered him a more lucrative contract, and Kane left Pye Records.
In 1961 Eden Kane had a number one hit for two weeks in the UK titled "Well I Ask You". The single made the Top 40 in Vancouver (BC) in October 1961. It was the only radio market in Canada where the song made the local pop chart. It got a bit of airplay in a few radio markets in Ohio and California, New England, and made the Top Ten in Fargo (ND). Kane returned to the UK Singles chart Top Ten later in 1961 with "Get Lost (In My Arms)". His third Top Ten single in a row in the UK got on the C-FUNTASTIC FIFTY in Vancouver. The song was titled "Forget Me Not".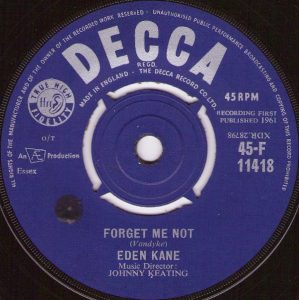 "Forget Me Not" was written by a former UK pop singer turned songwriter named Les Vandyke. He wrote nine Top Ten hit for Adam Faith, including his two number one hits, "What Do You Want"(1959) and "Poor Me" (1960). Vandyke also wrote Top Ten hits for Jimmy Justice ("Ain't That Funny"), Jet Harris and Tony Meehan ("Applejack"), and others. He also wrote songs for nine films in the Sixties.
"Forget Me Not" is a song about a guy who has variously "been crying" his "heart out," and "wearing" his "mind out." The cause of his mental gymnastics and emotional roller-coaster ride is someone he hopes is in love with him the way he's in love with them. He's ready to give everything he's got. But his pivotal question is "Do you love me, or do you love me not?" This suitor has memories of hot kisses with the object of his affection. But by the end of the song Eden Kane sings "take this ember, then you'll remember." It may be that he's hunching that, even if she doesn't forget him, that the relationship doesn't have a future.
"Forget Me Not" peaked at #5 in Vancouver (BC). Back in the UK it peaked at #3.
Kane's next Top Ten hit in the UK was a cover of the 1931 pop standard "I Don't Know Why". It was made popular by American bandleader Wayne King who took the song, set to a fox trot, to #2 on the American pop charts in '31. A cover of the song in 1931 by American saxophonist Benny Krueger also made the Top Ten in the USA. While a third recording of the song in 1931 by Kate Smith made the Top 20 on the US pop chart. The song was subsequently charted into the Billboard pop chart's Top 20 in 1946 by both Tommy Dorsey and the Andrews Sisters. But when Eden Kane recorded the single in 1962, it didn't get airplay in North America.
In 1962 Eden Kane toured in the UK with Helen Shapiro, Cliff Richard and Billy Fury. In 1964 he had his last Top Ten hit in the UK titled "Boys Cry". The single got a bit of airplay in Miami (FL) and Springfield (MA). But Eden Kane didn't end up joining the British Invasion.
He also appeared on TV in the UK with new recording acts the Beatles, the Animals and the Rolling Stones. Kane toured in Australia and New Zealand, sharing the stage on different occasions with the Searchers, Peter and Gordon, PJ Proby, Del Shannon and Roy Orbison. This led to his having a TV show in Australia. In the mid-'60s, Kane also went to entertain some of the over 7,000 Australian troops fighting alongside America during the Vietnam War.
In 1969 Eden Kane's brother Peter had a number-one hit in the UK titled "Where Do You Go To (My Lovely)?" Meanwhile, in 1969 Kane married and moved to California. He signed a record deal with the CBS label. In 1973 he and his brothers Peter and Clive made an album.
On occasion Eden Kane has appeared on "oldies" tours in the UK with Marty Wilde, Mike Berry, Mark Wynter, John Leyton, Brian Hyland and others from the early rock era.
Separate from his musical career, he was a contract actor credited under his birth name, Richard Sarstedt. In this capacity he was an actor on numbers of TV shows including Columbo and Dynasty. But his most successful "gig" on TV was on various episodes of three Star Trek TV shows, spanning from 1987 to 2001.
In the fall of 2020 Eden Kane will appear on tour in a series of "oldies" concerts with a number of other UK pop stars from back in the day.
June 22, 2020
Ray McGinnis
References:
"Eden Kane Biography," Edenkane.com.
"Hot Chocolate Crazy", Cadbury's Drinking Chocolate jingle, Radio Luxembourg, 1961.
Eden Kane, "Boys Cry", Bandstand, Melbourne (Australia), August 1966.
"Military History of Australia During the Vietnam War," Wikipedia.org.
Eden Kane, "Star Trek," Edenkane.com.
"C-FUNTASTIC FIFTY," CFUN 1410 AM, Vancouver, BC, March 31, 1962.