#641: Freedom Blues by Little Richard
Peak Month: August 1970
8 weeks on CKVN's Vancouver Charts
Peak Position ~ #5
Peak Position on Billboard Hot 100 ~ #47
YouTube.com: "Freedom Blues"
Lyrics: "Freedom Blues"
Richard Wayne Penniman was born in 1932 in Macon, Georgia. His father ran the Tip In Inn in Macon. He had eleven siblings. At the age of 13, Richard heard plenty of recording artists passing through his city at the Macon City Auditorium where he worked selling Coca-cola. Some of the recording artists who impressed him the most were Cab Calloway, Lucky Millender and Sister Rosetta Tharpe. He was taught to play gospel piano at a young age and sang gospel songs. He recalled that time in his life stating "there was so much poverty, so much prejudice in those days" that they sang gospel to try to keep their spirits up. In fifth grade, Penniman learned to play alto saxophone while in a school marching band. By his late teens 'Lil Richard, as he was known in his family because of his skinny frame, was a member Doctor Nubillo's traveling show, a vaudeville revue. He developed a theatrical style from his exposure to vaudeville that included wearing turbans and capes. It was a natural persona for the young man who was a prankster from his childhood. At the age of 16, in 1949, Little Richard joined Doctor Hudson's Medicine Show and performed the Louis Jordan hit "Caldonia". He got a record deal with RCA Victor in 1951.

He released four singles with RCA in 1951-52. But they went nowhere. He signed with Peacock Records where he released two more singles in 1953-54. But it was with Specialty Records in 1955 that his recordings got noticed.
Little Richard decided to sign with Specialty Records when Lloyd Price was driving a black and gold Cadillac. Richard recalls he asked Lloyd Price how he could afford that kind of car. Price told him it was Specialty Records promotion of his records. Rolling Stone's Parke Puterbaugh wrote of Little Richard, "his mascara-smeared face twisted in a midscream paroxysm of rapture and dementia, hair piled high in a proud pompadour, he was an explosive and charismatic performer who laid the foundation of rock & roll. His outrageous personality captured the music's rebellious spirit, and his frantically charged piano playing and raspy, shouted vocals defined its sound." Penniman also began using capes and suits studded with multi-colored precious stones and sequins. The White Citizens Council warned that rock 'n roll was bringing the "races together." Little Richard credited the concern about white audiences attending a concert by a black performer as a catalyst for his being more flamboyant onstage. That way prejudiced people wouldn't think he was "after the white girls."
When Richard Penniman chose to bill himself as Little Richard, he recalls what went into that decision. "At the time, they had Little Esther, Little Willie John, Little Walter. Everybody was using the title Little. And most people used to call me "Penny-man," and nobody would say "Penniman." They couldn't pronounce my name. Another thing – my family did not approve of what I was doing, and I felt that if I didn't use my name, people wouldn't know I was a part of them."
In October 1955 Little Richard released "Tutti Fruitti". The single went to #21 on the Billboard Pop chart and #2 on the Billboard R&B chart. The song was covered by Pat Boone and went leapfrogged past Little Richard's original, climbing to #12. Elvis Presley did a cover as well which eclipsed Little Richard by one position, at #20. For a followup, Little Richard decided to record "Long Tall Sally/Slippin' And A Slidin". The A-side, "Long Tall Sally", climbed to #1 on the R&B chart and "Slipin' And A Slidin" peaked at #2 on the R&B chart. Little Richard kept on releasing singles in 1956 with astonishing success on the R&B charts. "Rip It Up" and "Ready Teddy" both made the Top Ten on the R&B charts, with the former reaching #1. His next single, "Heeby-Jeebies"/"She's Got It" both made the Top Ten in the R&B chart, though they missed the Billboard pop chart. He finished the year with "The Girl Can't Help It", a #7 hit on the R&B chart.
On September 24, 1956, Little Richard appeared in concert in Vancouver (BC) at the Kerrisdale Arena.
Little Richard also appeared on movie screens. Just in time for Christmas 1956, he starred in Don't Knock The Rock. Other performers in the film included Bill Haley & His Comets and The Treniers. The film was a project of rock 'n' roll DJ Alan Freed. That same month another film, The Girl Can't Help It, also hit the movie screens and drive-in theaters. The film starred Jayne Mansfield and Tom Ewell. The plot concerned a mobster-connected night club and aspiring performers. During the film there were appearances of Julie London, Ray Anthony, Fats Domino, The Platters, Little Richard, Eddie Cochran, Gene Vincent, Nino Tempo, Abbey Lincoln and others. The film was released internationally and 16-year-old John Lennon saw the film. When Paul McCartney performed "Twenty Flight Rock" sung by Eddie Cochran in The Girl Can't Help It, Lennon let McCartney join his skiffle group The Quarrymen. The film also spawned several hit records including "Blue Monday" by Fats Domino. In October 1957 Alan Freed starred alongside Little Richard, Ferlin Husky, Frankie Lymon, Brook Benton, Chuck Berry, Clyde McPhatter, LaVern Baker, Lionel Hampton, Teddy Randazzo and world middleweight boxer, Rocky Graziano in Mister Rock And Roll.
In 1957 Little Richard had his third #1 hit on the Billboard R&B chart with "Lucille". The B-side, "Send Me Some Lovin'", climbed to #3. "Jenny Jenny"and "Keep A-Knockin'" both climbed to #2. And "Keep A-Knockin" became the first single to crack the Billboard Pop chart Top Ten. "Miss Ann" made it to #6 on the R&B chart on Billboard. In October 1957 Little Richard was on tour in Australia with Gene Vincent and Eddie Cochran. At a concert in Sydney he announced that after the tour he was going to become a Christian minister. Returning to the states ten days earlier than he was expected to, Penniman read news of his original flight having crashed into the Pacific Ocean as a further sign to "do as God wanted"He gave a final performance at the Apollo Theatre in Harlem. Then he went to study theology at the Oakwood College in Huntsville, Alabama, a Seventh-Day Adventist college. Prior to the tour to Australia, Little Richard had been visited by a missionary named Wilbur Gulley from the Church of God of the Ten Commandments. Gulley's evangelical pitch was what really began to nag at Little Richard as he packed for the tour down under. Gulley had told the recording star, "if you want to live with the Lord, you can't rock 'n roll, too. God doesn't like it."
Specialty Records kept on releasing recordings by Little Richard. Of these, "Good Golly Miss Molly" became his second single to climb into the Billboard Pop chart Top Ten, peaking at #4 on the R&B chart. It was his fourteenth Top Ten hit on the Billboard R&B chart between December 1955 and March 1958. His recording of "Baby Face" peaked at #2 on the UK singles chart in July 1958. Specialty Records released another seven singles after "Baby Face", but none of these were commercially successful in the USA or Canada. In 1959, Little Richard's version of "Kansas City" stalled at #26 in the UK.
Between 1959 and 1962 Little Richard released two singles on the End label and three with Mercury Records. All were religiously themed and failed commercially. Little Richard was married to Ernestine Campbell in 1959. But in 1962 a police officer arrested him for spying on men urinating in the toilets of a men's bathroom at a bus station in Long Beach, California. Subsequently, in the glare of publicity, his wife filed for divorce.
In 1962 Little Richard was persuaded to tour with Sam Cooke to Europe, where his records were still selling well. When he opened with a set of only gospel music at the first concert, the audience booed. He decided to perform his hits from the 50's at the second concert and the magic was back. In addition, 13-year-old Billy Preston was his organist in his band. While on tour in Europe, he was joined by a new group from England called The Beatles who had just released "Love Me Do" in October '62 on the UK singles chart. Paul McCartney would latter credit Little Richard with coaching his vocalizations to create a distinct sound on songs like "She Loves You".
In the fall of 1963 Little Richard joined a tour with Bo Diddley, The Rolling Stones and The Everly Brothers. A TV special at the end of the year, The Little Richard Spectacular, was broadcast twice. In 1964 Jimi Hendrix joined Little Richard's Upsetters band, along with Billy Preston. Hendrix and Little Richard clashed due to his being upstaged by Hendrix who would play the guitar with his mouth/teeth.
In the late 60's Little Richard appeared on a Monkees TV special and stole the show from headliner Janis Joplin at the Atlantic City Pop Festival in early August 1969. Richard also was a standout in concert at the Toronto Rock and Roll Revival on September 13, 1969. This was a notable achievement as John Lennon and the Plastic Ono Band, The Doors, Jerry Lee Lewis, Bo Diddley, Chicago, Junior Walker and the All Stars, Gene Vincent and Alice Cooper were among the other performers. And on October 25, 1969, Little Richard appeared in concert in Vancouver (BC) at the Agrodome.
Little Richard's standout concert performances got him on the Tonight Show Starring Johnny Carson and the Dick Cavett Show. The exposure got the attention of Reprise Records and they approached Little Richard to sign for a record deal. Over forty singles had been released since Little Richard last entered the Top Forty on the Billboard Pop charts. His first single on Reprise was "Freedom Blues".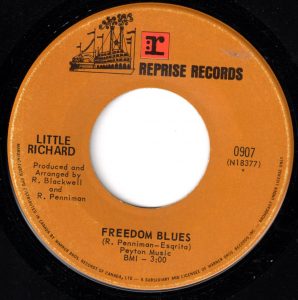 "Freedom Blues" is a song about the challenge to really embrace the freedom when you are finally given it after a long history of freedom denied. The opening line is "I hope that I should live to see/When every man should know he's free." In the African-American experience there was a long history of slavery. Although the Civil War coincided with the abolition of slavery, it gave rise to the Ku Klux Klan, lynchings, voter suppression and racial segregation of public drinking fountains, restaurants, transportation, accommodation, restrooms, schools, federal places of work and the military. There were also miscegenation laws passed in many states in the USA that criminalized sexual and marital relations between persons of different ethnic backgrounds. Other laws banned co-habitation of whites with non-whites.
"Freedom Blues" was recorded in 1970. African-Americans were no longer slaves. And the Voting Rights Act of 1965 prohibited racial discrimination in voting. Still, slavery and Jim Crow segregation laws had taken their toll.
In 1955 when Rosa Parks sat down in a public bus in Montgomery, Alabama, in the "white" section of the bus and refused to give up her seat, her action was a catalyst for the Civil Rights Movement. Although President Lyndon Johnson passed the Voting Rights Act of 1965, centuries of habitual racial prejudice continued to impact the lives of African-Americans. The assassination of Malcolm X and the Rev. Dr. Martin Luther King Jr. were among the events that rocked the nation and especially African-Americans.
The Black Panther Party was born and produced a manifesto that included a demand of government that decent housing be available to black people in America: "We Want Decent Housing Fit For The Shelter Of Human Beings." Their manifesto also advanced: "We Want Education For Our People That Exposes The True Nature Of This Decadent American Society. We Want Education That Teaches Us Our True History And Our Role In The Present-Day Society." And "We Want An Immediate End To Police Brutality And Murder Of Black People." They also called for justice in the justice system: "We Want All Black People When Brought To Trial To Be Tried In Court By A Jury Of Their Peer Group Or People From Their Black Communities, As Defined By The Constitution Of The United States." These demands were reasonable to most African-Americans.
James Baldwin would pen If Beale Street Could Talk, a novel published in 1974 about a young 22-year-old Black man who is falsely accused of raping a Puerto Rican woman in Manhattan. Although he has two witnesses, he is charged by a racists white police officer. The delay in taking the case to trial eventually leads cash-strapped Fonny to reach a "plea deal" and plead guilty for a reduced sentence.
Of course, Little Richard was not a member of the Black Panther Party, and was not a James Baldwin or James Brown. He had his own quiet way of urging change. Looking back on all the changes since he was born in 1932 in the Deep South, Little Richard, – likely noting the landmark decisions of the Civil Rights era from Brown vs. Board of Education to the end of the 60s – sang "We did our thing and we paid our dues
And let's get rid of these freedom blues."
In Little Richard's second verse in "Freedom Blues" he sings "Mmmm, let's get rid of that old man, hey-ey-ey/And bring our government up to date." The "old man" in the White House in 1970 was President Richard M. Nixon. It was under Nixon that drug laws were passed that wildly disproportionate drug enforcement began imprisoning African-Americans in record numbers while going more easy on white drug offenders. Top Nixon aide, John Ehrlichman, later admitted: "You want to know what this was really all about. The Nixon campaign in 1968, and the Nixon White House after that, had two enemies: the antiwar left and black people. You understand what I'm saying. We knew we couldn't make it illegal to be either against the war or black, but by getting the public to associate the hippies with marijuana and blacks with heroin, and then criminalizing both heavily, we could disrupt those communities. We could arrest their leaders, raid their homes, break up their meetings, and vilify them night after night on the evening news. Did we know we were lying about the drugs? Of course we did."
Little Richard was a quiet supporter of Civil Rights, and opposed to racial prejudice. "He's a god of all races, and don't think god intended us to have hatred against any man, because hatred is a sickness, and god wanted us to be well, we should stay well. Who needs a sickness of prejudice in any form? I mean a black man can be prejudiced, a white man can be prejudiced, and if I'm militant against a man I'm prejudiced, and so if I'm prejudiced I'm sick. You understand, we are all god's bouquet, we all need each other the same as the birds need air…. I think we need to learn to live together because unity is going to make things happen, and where there's unity there is strength."
After he died, Billboard ran a story with the headline "Little Richard Was a Quiet Civil Rights Pioneer Whose Concerts Helped Push Culture Past Segregation." "Richard opened the door. He brought the races together," producer H.B. Barnum tells Charles White in the singer's biography The Life and Times of Little Richard. "When I first went on the road there were many segregated audiences. With Richard, although they still had the audiences segregated in the building, they were there together. And most times, before the end of the night, they would all be mixed together."
The Billboard article points out that from his early years as a performer, Little Richard knew something needed to change. "…he spent much of his early career in New Orleans, performing at the legendary Dew Drop Inn. The Dew Drop was a black club in a divided city, where racist cops occasionally beat up black musicians if white women snuck into the audience."
Billboard continues, "Richard wasn't so much a civil-rights activist as a silent pioneer. He figured out a brilliant way to transcend Jim Crow, keep himself safe and stay in character. Part of the reason that Richard cultivated a 'wild and bizarre image,' White writes of the artist's androgynous pompadour look and effeminate 'whoos!' was because he didn't want to come across as a black man who attracted white women sexually. If he did, White writes, 'terrible things could happen.'
"We were breaking through the racial barrier," Richard says in Charles White's biography. "The white kids had to hide my records 'cause they daren't let their parents know they had them in the house."
Little Richard in "Freedom Blues" is encouraging all his listeners – regardless of color – to really embrace their freedom. As he sings "You hear me calling, hear my plea. Everybody, everybody, everybody's gotta be free."
"Freedom Blues" climbed to #5 in Vancouver. In America it climbed to #1 in San Jose, #8 in San Francisco and New York. But in forty-five states across the USA "Freedom Blues" got little or no airplay.
Little Richard had another twenty-one singles released (and re-issued) between 1970 and 1990. The only one with any impact was a song from the 1986 soundtrack from Down And Out in Beverly Hills. "Great Gosh A'mighty! (It's A Matter Of Time)" crested at #42 on the Billboard Hot 100.
In an interview with Penthouse in 1995, Little Richard said: "I've been gay all my life and I know God is a God of love, not of hate. How can I [put] down the fisherman when I've been fishing all my life?" He adds that Lee Angel and Ernestine Campbell didn't see he was gay because "they just thought of me as a pumper [fan of masturbation]. I was pumping so much peter in those days; eight or nine times a day." In the same interview, he explains his sexuality: "We are all both male and female. Sex to me is like a smorgasbord. Whatever I feel like, I go for. What kind of sexual am I? I am omnisexual! " About his wild reputation, he also told Penthouse, "When I had all these orgies going on. I would get up and go and pick up my Bible. Sometimes I had my Bible right by me."
Looking back at some of the musicians who advanced their career while playing with Little Richard, he remarked to a reporter with the Guardian "when James Brown was my vocalist, when Jimi Hendrix was my guitarist, when Joe Tex was singing with me, Otis Redding, when Billy Preston was my organist at 13 – it makes me feel good!" In 2000 NBC did a retrospective called Little Richard. Over the years Little Richard has appeared in 27 films and TV show episodes.
Update: Little Richard died at age 87 in May 2020.
January 23, 2019
Ray McGinnis
References:
David Dalton, "Little Richard: Child of God: An Interview with the Legend of Rock and R&B," Rolling Stone, May 28, 1970.
John Waters, "When John Waters met Little Richard," Guardian, November 28, 2010.
Parke Puterbaugh, "Little Richard: 'I Am the Architect of Rock & Roll'," Rolling Stone, April 19, 1990.
Robert Chalmers, "Legend: Little Richard," GQ, March 29, 2012.
Trudy Ring, "Little Richard, Once Gay, Is Now Antigay — Again," Advocate, October 6, 2017.
Charles White, The Life and Times of Little Richard: The Authorized Press, (Omnibus, 2003).
Glen C. Altshuler, All Shook Up: How Rock 'n' Roll Changed America, (Oxford, 2003).
Black Panther's Ten-Point Program
Down and Out in Beverly Hills, Wikipedia.org.
Tom LoBianco, "Report: Aide says Nixon's War on Drugs Targeted Blacks, Hippies," CNN, March 24, 2016.
James Baldwin, If Beale Street Could Talk, (First Vintage, 1974).
David Browne, "Little Richard, Founding Father of Rock Who Broke Musical Barriers, Dead at 87," Rolling Stone, May 9, 2020.
Steve Knopper, "Little Richard Was a Quiet Civil Rights Pioneer Whose Concerts Helped Push Culture Past Segregation," Billboard, May 10, 2020.
"Your Average Rock & Roll Radio Survey," CKVN 1410 AM, Vancouver, BC, August 14, 1970.
For more song reviews visit the Countdown.