#1390: Freight Train by The Canadian Sweethearts
Peak Month: August 1963
6 weeks on CFUN chart
Peak Position #17
CFUN Twin Pick August 3, 1963
Peak Position on Billboard Hot 100 ~ did not chart
YouTube.com link: "Freight Train"
Lyrics: "Freight Train" (Paul James, Fred Williams, Christian Albertine)
Lyrics: Freight Train" (Elizabeth Cotten)
The Canadian Sweethearts were Bob Regan and Lucille Starr. Regan was born in 1931 and baptized as Robert Frederickson in the village of Rolla, twenty miles north of Dawson Creek, British Columbia. In his childhood he learned to play the harmonica, guitar, mandolin and fiddle. In 1938, Lucille Marie Raymonde Savoie was born in St. Boniface, Manitoba. In 1958, Regan had been performing in his brother's band The Peace Rangers and had recorded an instrumental called "Teenage Boogie" Starr, now twenty, had performed in the French band Les Hirondelles and later as a solo singer. That year Starr and Regan met at a wedding and began playing together in concert. They soon married and started playing and recording under the billing "Bob and Lucille." They released two singles on the Ditto label recorded in Hollywood, California, in 1958. The first recording was "Eeny-Meeny-Miney-Moe", followed up with "The Big Kiss".
Soon after these single releases the the duo began to go by the billing of "The Canadian Sweethearts." They had a few more single releases, including "No Help Wanted" and went on a concert tour across American and Canada. In 1963 the pair got a recording contract with A&M Records. They released two albums and several singles. One of these was "Freight Train".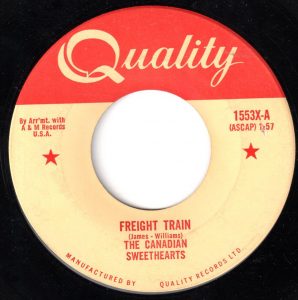 "Freight Train" is an American folk song written by Elizabeth Cotten in the early 20th century, and popularized during the American folk revival and British skiffle period of the 1950s and 1960s. Born in 1895, Cotten told the BBC in a 1985 interview that she wrote "Freight Train" sometime between the age of eleven and seventeen. The inspiration for writing the song was the sound of the trains rolling by on the nearby tracks across from her home in Chapel Hill, North Carolina. Though she wrote the song, for decades poverty required that she work as a maid and caretaker and put aside any thought about being a musical performer. It was only when she was in her mid-60's that she began to play and sing for audiences during the folk revival in the late 50's and early 60's. Possessing an idiosyncratic fingering approach, Cotten influenced many acoustic guitar players in folk and pop music. If not for luck, Cotten would probably have never been discovered.
When she was born her name was Elizabeth Nevills and she was the youngest of five children. When she was only seven years old she was drawn to play her older brother's banjo and learn songs. Because her brother was right handed and she was left, young Elizabeth turned the banjo upside down and taught herself to play in the banjo that way. Since the banjo's uppermost string is a higher pitched drone, her technique of playing guitar was very original. She plucked the bass parts with her fingers and the melody with her thumb, picking one string at a time and alternating between treble and bass. Later, when she became famous, her style of banjo picking came to be referred to as "Cotten style" or "Cotten picking."
In 1910, at the age of 15, Elizabeth Nevills married Frank Cotten. She had one daughter and finally set up residence in Washington, D.C. Attending church, she was told to give up the guitar and banjo and just sing hymns, which she did for over 25 years. Her work at a department store in Washington D.C. one day involved returning a little girl, who was lost, to her mother. The little girl was Peggy Seeger and her mom was Ruth Crawford Seeger. Ruth Seeger and her husband Charles never forgot Elizabeth Cotten's initiative to reunite Ruth with her daughter Peggy. A short while later Elizabeth Cotten started to work as a domestic in the Seeger home. Within a few years it became apparent that Cotten was a proficient banjo and guitar player as well as singer. In the late '50s, Peggy's brother Mike Seeger recorded Cotten on a reel-to-reel tape recorder. The tapes were made into a record on the Folkway label in 1958 titled, Elizabeth Cotten: Negro Folk Songs and Tunes. Later editions of the reel-to-reel tapes were issued as Folksongs And Instrumentals With Guitar and later Freight Train And Other North Carolina Folk Songs.
1958 was the year the world was introduced to singer-songwriter, Elizabeth Cotten, and especially the single string melody picked "Freight Train".
Once Cotten's name and talents were out, she was a featured performer of the '60s folk and blues revival circuit. She performed major festivals alongside peers such as Mississippi John Hurt, Skip James and John Lee Hooker. Already in her late sixties, Cotten became better recognized when contemporary folk acts started recording her songs she'd composed. These included the Canadian Sweethearts.
The pair chose to record the version with the lyrics written by British songwriters, Paul James, Fred Williams and Christian Albertine. James, Williams and Albertine had taken Elizabeth Cotten's song, wrote their own lyrics and copyrighted them. Today, this would not happen and Elizabeth Cotten would be credited as the author of the song. While the Canadian Sweetheart's version was not a hit in the USA, it was a hit in a few radio markets across Canada.
In the original lyrics by Elizabeth Cotten "Freight Train" serves two purposes. The first is to be a means of getting away so no one know what train they are on. The second is for the sound of the train to be a comfort for the spirits of the deceased to hear the train whistle and sound of the railroad tracks while they are in their grave. In the adaptation by The Canadian Sweethearts a couple has split up. Something deep inside has died and they don't care which train they catch as long as they are bound for somewhere.
With the end of the American Civil War in the 1860s, many discharged veterans returning home began hopping freight trains. Others looking for work on the American frontier followed the railways west aboard freight trains in the late 19th century. In 1906, Professor Layal Shafee, after an exhaustive study, put the number of tramps in the United States at about 500,000 (about 0.6% of the US population at the time). His article "What Tramps Cost Nation" was published by The New York Telegraph in 1911, when he estimated the number had surged to 700,000. A tramp was someone who worked only when they were forced to work. A bum was someone who didn't work at all. While a hobo was a traveling worker who often traveled from town to town in search of work by hopping a freight train for free. The number of hobos increased greatly during the Great Depression era of the 1930s. With no work and no prospects at home, many decided to travel for free by freight train and try their luck elsewhere. Life as a hobo was dangerous. In addition to the problems of being itinerant, poor, and far from home and support, plus the hostility of many train crews, they faced the railroads' security staff, nicknamed "bulls", who had a reputation of violence against trespassers. Moreover, riding on a freight train was a dangerous activity. But with no work in the Great Depression, hobo's felt they had nothing left to lose by hopping a freight train in search of work in the next town.
It should be underscored that the song Elizabeth Cotten wrote is about a freight train and not a passenger train. And so the song adapted by The Canadian Sweethearts is really about someone who is impoverished who's relationship ended. Moving on, figuratively and literally, isn't going to take place by purchasing a ticket for a passenger train on Amtrak or VIA Rail. The subject of this tale can't afford to buy a passenger rail ticket and that is why they are planning to board a freight train (for free). In 2017 references to poverty and people living from paycheck to paycheck are almost nonexistent in contemporary pop music. But back in 1963 the Great Depression was a time of economic hardship that touched almost every family in Canada. And those stories were not forgotten less than a quarter of a century later. The lyrics by James and Williams shift the focus of the song to missing a former love interest.
Into the mid-60's the Canadian Sweethearts appeared on various television programs, including regular appearances on ABC's Country America show, and toured with Hank Snow. In 1964 Starr recorded "The French Song", singing solo and backed by the Tijuana Brass, label co-owner Herb Alpert's band. The single was a hit in Europe and was also popular in Canada, doing especially well in Toronto, Ottawa and Montreal. That same year the Canadian Sweethearts had a Top 40 hit in Vancouver called the "Hootenanny Express". In 1966 the duo charted a song called "I Love You" into the Top 5 in South Africa.
In 2010, Lucille Starr, appeared on stage in Winnipeg in a musical about her life titled Back to You: The Life and Music of Lucille Starr.
June 24, 2017
Ray McGinnis
References:
Canadian Sweethearts (Bob and Lucille), Black Cat Rockabilly.com.
"Canadian Sweethearts," Canadian Encyclopedia.ca.
Kevin Prokosh, "A Starr Is Reborn: One Time Chart-topper Finds Herself in the Spotlight Once Again," Winnipeg Free Press, November 10, 2010
"Elizabeth Cotten: Master of American Folk Music," Smithsonian Folkways.
"C-FUNTASTIC FIFTY," CFUN 1410 AM, Vancouver, BC, August 31, 1963.
For more song reviews visit the Countdown.