#498: From New York To L.A. by Patsy Gallant
Peak Month: October 1976
11 weeks on Vancouver's CKLG chart
Peak Position #7
Peak Position on Billboard Hot 100 ~ did not chart
YouTube.com: "From New York To L.A."
Lyrics: "From New York To L.A."
Patricia Gallant was born in 1948 in Cambellton, New Brunswick. Her family was Acadian, and she was one of ten children. From the age of five she was the youngest of four sisters performing as the Gallant Sisters. Her mother coaxed four of the sisters for the group, hoping to earn some funds for the cash-strapped household. By 1956, when the family moved to Moncton, NB, the Gallant Sisters began appearing on TV. This led to appearances in nightclubs when they moved to Montreal in 1958. In 1967 she recorded her first single in French for the Quebec and New Brunswick Francophone market. She continued to release songs over the following five years in French, and then issued English versions. Gallant was featured in numerous TV commercials. And she was a regular on both the French-language TV variety program Discothèque and an English variety show called Music Hop.
In 1971, Gallant co-starred on the weekly television variety show Smash presented by Television de Radio-Canada. Her popular Francophone hits included "Tout va trop vite", "Le lit qui craque", "Un monde en voie de naître", and "Un jour comme les autres". She released her first album in 1972 titled Patsy Gallant (Tout va trop vite). In 1974 a second French album was released titled Toi l'enfant. Meanwhile, she released her first English album in 1972 titled Upon My Own. It included a Top 40 hit titled "Get That Ball"that made the playlists in English-radio stations in Quebec, Newfoundland and the Maritimes.
In 1973 she released another English-language album titled Power. The album contained the singles "Save The Last Dance For Me", a cover of a number one hit for The Drifters in 1960. The following year she released a cover of the Carol Douglas disco hit "Doctor's Orders". The single was a minor hit in a few Canadian record markets. But Patsy Gallant had yet to score a breakout hit on English-language radio. In 1975 she won a Juno Award for Female Vocalist of the year.
Things changed for her in 1976 when she released Are You Ready For Love. The album won Paul Page a Juno Award for Recording Engineer of the Year in 1977. The album also was nominated for Producer of the Year, along with Ian Robertson as producer getting the nomination. And she won the 1977 Juno Award for Female Vocalist of the Year. The debut single from the album was "From New York To L.A."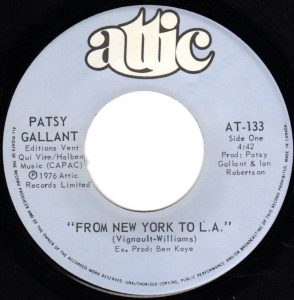 "From New York To L.A." was co-written by Gilles Vigneault and Gene Williams. Vigneault wrote the Quebec separatist anthems "Mon Pays" and "Gens du pays". "Mon Pays" was written in 1965 as an ode to the free spirit of Quebec, seen in its winter, its snow, its plains and its gusts of wind. Vigneault writes "My song is not a song, it's my life." In 1976 Vigneault set the melody to the chorus of "Mon Pays" as the basis for "From New York To L.A." Over the years Gilles Vigneault has recorded over thirty studio albums. He is a Grand Officer of the National Order of Quebec. In the province he has one library, two schools and three streets named after him. Vigneault has also received five honorary doctorates.
The lyrics to "From New York To L.A." concern a singer who has the names New York City and Los Angeles on her lips. She has made it the first priority in her life "just to sing and be free." She is entranced by the city lights, the booze and drugs, the clubs and the sights and sounds around her. However, after awhile she finds "booze and drugs now break my head, 'cause all the shining stars are dead." Despite the ups and downs of the fast life of singing on stage and jetting from coast to coast, she declares "in my life there's no place for the man that I love." She wonders, given her infatuation with her career if the guy she loves is really meant for her.
In and article titled "5 Women Who Chose Career Over Love Share Why They Did It," Chelsea Fagen points out that many women put romance on hold for good reasons. A woman named Sarah recalls how she was going steady with an artist who was a great guy, but very lazy. The bloom was off the rose, especially when the couple tried to start a business together. The gal in the relationship realized she was the breadwinner, while he was a dead weight. She found she was better without him. Another woman named Jessie found she was better without her boyfriend who objected to her work schedules. A third woman named Allison got a promotion to move from the USA to London, England. When she announced the news to her boyfriend he became very "negative." The pair broke up. Allison commented after her move across the Atlantic "I've never regretted the decision once. I'm still single but dating, and love my life and job in London." A 20-something woman named Maya was going out with a guy who she'd been seeing since college. He wanted a slower-paced life. But Maya was working over seventy hours a week at her job, and was entranced with her glamorous life in Manhattan. She broke up with her boyfriend. In the aftermath Maya concedes "I do regret it, when I think about it, because I've never met a guy nearly as good for me as him since, and I've also cut back on my work hours significantly and changed jobs, for my own sanity. Ultimately he was right… I definitely live a more slow lifestyle than I did before. I don't know if we would have lived happily ever after, but I'm sad that I will never know."
"From New York To L.A." climbed to #4 in Sault Ste. Marie (ON), #7 in Vancouver (BC), Toronto, Ottawa and Peterborough (ON). Internationally, the single climbed to #5 in South Africa and Ireland, #6 in the UK, #7 in Norway, #10 in Australia, #15 in the Netherlands and #17 in Sweden. "From New York To L.A." also won Patsy Gallant a Juno Award in 1977 for Best Selling Single.
In February 1977 the title track from Patsy Gallant's album, "Are You Ready For Love", climbed to #17 on the CKLG chart in Vancouver (BC). Her biggest single success was with the disco-infused "Sugar Daddy", which peaked at #3 in Vancouver (BC) in August 1977. It was her debut release from the album Besoin D'Amour. In 1978 Gallant returned to the Juno Awards to be nominated for Producer of the Year for "Sugar Daddy", and win Female Vocalist of the Year for three out of four years in a row. She also won the Juno for Best Selling Single with "Sugar Daddy".
Her final appearance on the Vancouver (BC) pop chart was in early 1979 with a Top 40 single titled "Best Of The Woman In Me". At the same time she charted "O Michel" in Fredericton (NB) into the Top 20. In addition, Patsy Gallant had her own TV variety show on CTV for a few years in the late 70s. She also added on more trip to the Juno Awards as a fourth time nominee for Female Vocalist of the Year. But this time she lost the nomination to Anne Murray.
When disco faded, Patsy Gallant found it harder to maintain her pace of record sales. By the mid-80s she shifted her focus from singing to acting. She appeared in a production of Cats, Nunsense, a stage biography of Édith Piaf, Cinderella, and played the role of Stella Spotlight in the French hit musical, Starmania in Paris France which ran for eight years from 1993 to 2001.
Patsy Gallant moved to Paris, France, in 1993. She lived there until 2005. In 2002, Gallant had a supporting role as a nightclub singer in the feature film, Yellowknife. She performed four songs for the film soundtrack, including "Sugar Daddy" and three songs she wrote: "Ain't No Way to Treat a Woman," "Dancing in the Wind," and "Save My Soul". For this role, Gallant was nominated for a Quebec Cinema's 2003 Jutra Award for Best Supporting Actress.
In 2015 she released her fifteenth album, Patsy Gallant chante Piaf. And in 2015 she was part of a tour of older Quebec stars along with Claude Vallade, Gilles Girard, Michèle Richard, Jean Nichol et Chatelaine. Then, in 2016 a documentary about her life titled Patsy was released. She recalls in the film ""I didn't open the door, I kicked it down. I wanted this so much. I love this so much. I didn't hesitate. I just understood this was my calling from Day 1."
January 20, 2020
Ray McGinnis
References:
"Patsy Gallant," My New Brunswick.ca, June 18, 2019.
Brendan Kelly, "Patsy Gallant Looks Back at 'Road Map of My Life' in Documentary," Montreal Gazette, December 2, 2016.
Chelsea Fagan, "5 Women Who Chose Career Over Love Share Why They Did It," Thoughtcatalogue.com, October 8, 2015.
"Vancouver's Official Music Survey," CKLG 730 AM, Vancouver, BC, October 5, 1976.
For more song reviews visit the Countdown.