#520: From The Beginning by Emerson, Lake & Palmer
Peak Month: November 1972
7 weeks on Vancouver's CKVN chart
Peak Position #5
Peak Position on Billboard Hot 100 ~ #39
YouTube.com: "From The Beginning"
Lyrics: "From The Beginning"
Keith Emerson was born in 1944 in Todmorden, in West Yorkshire, England. His pregnant mom had been evacuated from London during the war. As a two-year-old, Keith's father taught him his first song on an Italian Scandali accordion. The song was "Now Is The Hour" by Bing Crosby. His father also played the piano, and by the age of seven it was agreed that Keith should take piano lessons, and not just plunk out tunes with one finger. In his teens, Emerson was bought a guitar for Christmas. He also learned to play the harmonica. He joined the Worthing Youth Swing Orchestra, playing jazz standards and new hits by Chris Barber, Dave Brubeck and Acker Bilk. In 1962, Keith Emerson founded a breakaway band from the Swing Orchestra called the Keith Emerson Trio. But, as a career as a musician was viewed as a pipe dream, Keith's parents were delighted when he got a proper job out of high school at a local branch of the Lloyds Bank.
Keith began jamming with a member of the R&B band Gary Farr and the T-Bones, and in 1966 was invited to join the band. He quit his job at Lloyds Bank and found himself on a ship to France with his new band booked for a month in the South of France. Gary Farr and the T-Bones dissolved in early 1967. Emerson briefly joined a band called the VIPs who performed at the Star-Club in Hamburg, Germany.
Meanwhile, American singer PP Arnold was in the UK and looking for a new backing band. Keith Emerson, along with one other T-Bones bandmate, assembled a group named The Nice. They performed with her in May 1967 as she performed "The First Cut Is The Deepest", later to become a Top 20 single on the UK singles chart in October '67. While The Nice became a sensation when they performed at the National Jazz and Blues Festival in August 1967 in Windsor, England. From there, The Nice toured with Jimi Hendrix, the Amen Corner, Pink Floyd and The Move.
In 1969 The Nice were on tour with King Crimson. They played at San Francisco's Fillmore West auditorium. Keith Emerson told Crimson member Greg Lake that The Nice had reached its musical potential, and he wanted to form a new band. Lake expressed interest. Emerson quit The Nice in 1970 and Greg Lake joined him, together in search for a third musician.
Greg Lake was born in 1947 in Parkstone, Dorset, England. Lake started to play guitar in 1959 when he was twelve. In 1963-64 Lake was a dockworker in Poole, England. At the age of 17 he decided to become a full-time musician. Greg Lake was a member of Unit 4 (not to be confused with Unit 4 +2), the Time Checks and The Shame. Then, he formed King Crimson with childhood buddy, Robert Fripp, in the winter of 1968. King Crimson made their breakthrough as an opening act for the Rolling Stones at a concert in Hyde Park for over 500,000 concert goers in July 1969.
Carl Frederick Kendall Palmer was born in 1950 in Birmingham, England. He began playing drums from an early age and formed his first band, the King Bees, in 1964, when he was 14-years-old. Later in 1966 Palmer was invited to join Chris Farlowe and the Thunderbirds. In 1969 the drummer for The Crazy World of Arthur Brown, quit the band. Carl Palmer was quickly hired as the replacement while the band was still on a tour of America. Palmer and keyboard player Vincent Crane, with Arthur Brown, left the band to form Atomic Rooster in the summer of '69. Palmer recalls that Arthur Brown had "gone missing on a commune on Long Island", and that was the deal-breaker for Palmer and Crane's decision to form Atomic Rooster.
However, Atomic Rooster had numerous lineup changes in its first year. By the summer of 1970, Carl Palmer accepted Keith Emerson's invitation to join what would soon be known to the pop music world as Emerson Lake and Palmer.
In late November, 1970, Emerson Lake and Palmer released a self-titled album featuring the single "Lucky Man". The song climbed to #4 in Vancouver (BC), and #14 in the Netherlands. But it stalled at #48 on the Billboard Hot 100 and didn't appear on the UK singles chart. From September 1970 to March 1971, the band completed their first concert tour with shows across the UK, Germany, Austria, and Switzerland. And on July 23, 1971, the trio performed in concert at the Agrodome in Vancouver (BC).
From November 1973 to September 1974, the band toured North America and Europe. This included a concert in Ontario, California, before a crowd of 250,000. They offered up unorthodox performances that included Emerson playing a piano as it spun, suspended, end-over-end. And Palmer played on a rotating drum platform.
The band released the albums Tarkus, and Pictures At An Exhibition and Trilogy in quick succession. This resulted in four albums being released by the band in just over 19 months. From Trilogy came the single "From The Beginning".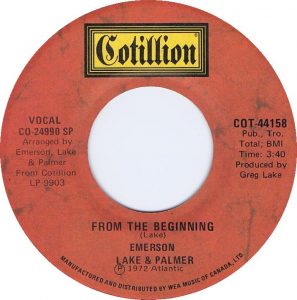 "From The Beginning" was written by Greg Lake, originally intended for the 1969 King Crimson debut album In the Court of the Crimson King. The song may be a song of assurance and concession. The narrator seeks to assure the significant person in their life that they were meant for each other, from the beginning. The concession is about problematic choices in communication made by the song's narrator. These include not noticing things they should have, things they shouldn't have said, and past behaviors that they admit may have been cruel and foolish. However, they tend to diminish their past transgressions saying, "whatever is done is done, I just can't recall, it doesn't matter at all."
Out of the fog of whatever lack of resonance between the couple, the narrator asserts that now that clarity has come, they see that the other person was "meant to be here from the beginning."
"From The Beginning" climbed to #2 in Grand Rapids (MI), #3 in Minneapolis (MN), #5 in Vancouver (BC) and Seattle (WA), #6 in San Angelo (TX) and Phoenix (AZ), #7 in Kansas City (MO), #8 in Lynchburg (VA), #9 in Anchorage (AK), and #10 in Hartford (CT). The song stalled at #39 on the Billboard Hot 100. It did not appear on the UK singles chart.
Emerson Lake and Palmer were known as a progressive rock band. Progressive rock has its roots in the musical experimentation of the Beach Boys in "Good Vibrations", and "A Day In A Life" by the Beatles. Other progenitors of the genre include Procol Harum's "A Whiter Shade Of Pale"and the Moody Blues "Nights In White Satin". Classic progressive rock was expressed in "Living In The Past" by Jethro Tull, "In The Court Of The Crimson King" by King Crimson, "Roundabout" by Yes, "Money" by Pink Floyd and "Tubular Bells" by Mike Oldfield.
In 1977 Emerson Lake and Palmer had their only Top 40 hit on the UK singles chart. "Fanfare for the Common Man" climbed to #2, but it wasn't a hit across the Atlantic. In August 1977 the band performed at the Olympic Stadium in Montreal before 78,000 fans.
In 1979 Carl Palmer left the band and formed a new one named PM. In 1985 Keith Emerson and Greg Lake added Cozy Powell to become Emerson, Lake and Powell. The trio released one self-titled album in 1986.
Emerson Lake and Palmer released four more studio albums in the 1970s. The band released two albums in the 90s to mixed reviews and little commercial success. Greg Lake's voice hadn't aged well. Nonetheless, the band had a reunion tour in 1992 into 1993. Emerson and Palmer continued to tour into the late 90s. In 2001 Greg Lake was drafted by Ringo Starr into his All-Starr Band to go on tour. In 2010 Emerson Lake and Palmer had another reunion tour.
In 2016 Greg Lake died of cancer. The same year Keith Emerson died from a self-inflicted gunshot wound. A medical examiner ruled Emerson's death a suicide, after doing an autopsy. The examiner concluded that Keith Emerson suffered from heart disease and from alcoholic related depression. Emerson's girlfriend, Mari Kawaguchi, told the press that Emerson had become "depressed, nervous and anxious" because nerve damage had hampered his playing. She said Keith Emerson was anxious that he would perform badly at his scheduled tour to Japan.
In the fall of 2019 Carl Palmer headed what was billed as the Emerson, Lake & Palmer Lives On! Carl Palmer's ELP Legacy Fall Tour 2019. He played fourteen dates between October 31 and November 23, 2019, in Ohio, Illinois, New Hampshire, New York, Pennsylvania, Massachusetts and New Jersey.
December 9, 2019
Ray McGinnis
References:
Steve Huey, "Keith Emerson: Full Biography," VH1.com.
Keith Emerson, Pictures of an Exhibitionist: From the Nice to Emerson Lake and Palmer – The True Story of the Man Who Changed the Sound of Rock, (John Blake, 2004).
Randy Lewis, "Greg Lake — Founding Member of King Crimson and Emerson, Lake and Palmer — Dies at 69," Los Angeles Times, December 8, 2016.
"Carl Palmer Tour Dates," carlpalmer.com.
Polly Marshall, The God Of Hellfire: The Crazy Life And Times Of Arthur Brown, (SAF Pub, 2006).
Daniel Kreps, "Keith Emerson, Emerson, Lake and Palmer Keyboardist, Dead at 71," Rolling Stone, March 11, 2016.
"The Thirty Hits," CKVN 1410 AM, Vancouver, BC, November 27, 1972.
For more song reviews visit the Countdown.