#602: Games by New Kids On The Block
Peak Month: February 1991
12 weeks on CKLG's Vancouver Chart
Peak Position ~ #9
Peak Position on Billboard Hot 100 ~ did not chart
YouTube.com: "Games"
Lyrics: "Games"
Jordan Nathaniel Marcel Knight was born in 1970 in Worcester, Massachusetts. Both of his parents are Canadian and he is a duel American-Canadian citizen. He was still 13 years-old when New Kids On The Block was formed. Knight's vocal style was influenced by The Stylistics. Jonathan Knight was born in 1968, the fifth of six children, and is the older brother of Jordan. Joey (Joseph Mulrey) McIntyre was born on December 31, 1972, making him the youngest member of NKOTB. He joined the band in 1985 while he was 12-years-old. Mark Wahlberg was initially a member of NKOTB, but left the band in 1985 to be replaced by McIntyre. Mark Wahlberg's older brother, Donnie, was born in Dorchester, Massachusetts, in 1969. Daniel William Wood was also born in 1969 in Dorchester.
Because of their R&B sound, New Kids On The Block were initially marketed to Black radio stations. CBS even had NKOTB assigned to their "Black Division." In 1986 their debut single cracked the Billboard R&B chart. In 1988 their single "Please Don't Go Girl" got picked up on Top 40 radio station Q105 in Tampa, Florida. The song's popularity changed the marketing strategy and New Kids On The Block who were new marketed by Columbia to pop radio.
In 1989 the band scored a #1 hit in June of the year with "I'll Be Loving You (Forever)". NKOTB were on tour with Tiffany as a headliner. But with the song's release, they ended up having Tiffany open for them. By 1990 the boy band had scored nine Top Ten singles on the Billboard Hot 100. These included their other #1 hits "Hangin' Tough" and "Step By Step". By the end of the year, NKOTB had released four studio albums and one compilation album titled No More Games/The Remix Album. From that compilation came a single titled "Games".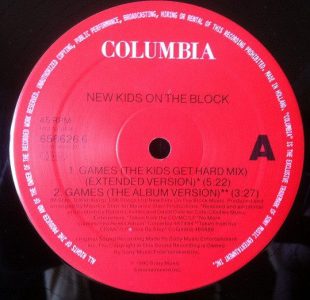 "Games" climbed to #9 in Ireland and #14 in the UK. The song also peaked at #9 in Vancouver, though it seems to have not charted elsewhere in North America. The song is calling out the "non-believers" and "critics" and who are skeptical that NKOTB have the right stuff to make it in the music business. They recall that "somebody said wouldn't last too long." Well, here they are five years later and still pumping out the hits. They dismiss all the "negativity" and brag "we're five bad brothers from the bean town" (aka Boston).
Jordan Knight had a solo hit single in 1999 titled "Give It To You", a Top Ten hit on the Billboard Hot 100. Jennifer Lopez was a backup dancer for the boy band. As a solo artist Jordan Knight has released three studio albums. He also released an album with Backstreet Boys singer, Nick Carter, in 2014. The pair toured North America later in 2014. Over the decades Jordan Knight has also appeared on a variety of TV shows, including as a judge on American Idol spin off American Juniors.
After New Kids On The Block split up in 1994, Jonathan Knight went on to become a real estate investor. In an interview with People in 2000, Jonathan recalled that while he was in the boy band, "We performed in front of 30,000 people every night, and I had lots of anxiety attacks. Those attacks had a big impact on my determining to leave the entertainment industry." Jonathan was outed by an ex-boyfriend in 2009. Jonathan Knight became engaged to Harley Rodriguez in 2016, after being together for eight years.
In 1995 Joey McIntyre appeared in the film The Fantastics. He has appeared in 22 films over the past few decades. In 1999 he released "Stay The Same" which climbed to #10 on the Billboard Hot 100. He has released seven studio albums. From 2001 to 2003 McIntyre appeared in an off-Broadway play titled Tick, Tick… Boom! He also joined a national tour of the play in 2003. Other acting roles have included in the Broadway production of Wicked, and regional productions of A Funny Thing Happened On The Way To The Forum, and Cabaret in Alaska. In 2019 Joey McIntyre appeared in the Broadway production of Waitress. He was married in 2003.
In 1996 Donnie Wahlberg appeared in the crime-drama, Bullet, with Tupak Shakur and Mickey Rourke. Between 1996 and 2011 Wahlberg appeared in over twenty films, including the horror films Saw II, Saw III, Saw IV and Saw V. In 2017 Donnie Wahlberg appeared in 8 episodes of the Joey McIntyre created TV series Return of the Mac.
New Kids On The Block reformed in 2008 to appear on occasional tours. Danny Wood is the choreographer for the band.
May 28, 2019
Ray McGinnis
References:
Michelle Tauber, "Renewed Kid," People, November 20, 2000.
"NKOTB Jonathan Knight Gay," Daily Stab, February 5, 2009.
Lindsay Kimble, "Making It Official: NKOTB's Jonathan Knight and Harley Rodriguez Are Engaged!," People, November 15, 2016.
Ryan McPhee, "Joey McIntyre Joins Broadway's Waitress February 4: The New Kids on the Block star returns to Broadway after playing Fiyero in Wicked," Playbill, February 4, 2019.
"CKLG Top 40," CKLG 730 AM, Vancouver, BC, February 18, 1991.
For more song reviews visit the Countdown.