#1182: Georgia Eyes by Mary Saxton
Peak Month: August 1977
5 weeks on Vancouver's CKLG chart
Peak Position #12
Peak Position on Billboard Hot 100 ~ did not chart
YouTube.com: "Georgia Eyes"
Born in the early 50s, Mary Saxton grew up in Edmonton. Her musical influences included big band, pop-rock and Motown. In her teens she put her talents to use at various live festivals and any other chance she could get to get on stage. She was barely old enough to drive when she signed with local Pace Records in 1966. From there she went to hollywood where she worked with producer Gary Paxton who had produced some recent number one hits with novelty tunes "Alley Oop" and the "Monster Mash". She released a pair of singles, "Losing Control" and "Ask Any Girl". There was some buzz by Alberta music critics who hailed Saxton as a Canadian answer to the Motown sound.
Also in 1966 Mary Saxton was featured on stage with a variety of Canadian music stars coming to Alberta. One outcome of her growing reputation was her label's decision to release a compilation disc, Direct From the Rainbow Ballroom. In it she performed a four songs, including "Big City Guy" with The Lords, another hot home-grown Alberta recording act.
Resuming her solo career, she moved to Quality Records in 1968. The first single, "Sad Eyes" became her first top 40 hit, making the top 20 in some markets across the Canada.
By the end of the Sixties Saxton had joined Edmonton's Daisy Hill Puppy Farm. They featured ex-Southbound Freeway members Mo Boyer and Mavis McCauley, and Herb Ego, the latter who went on to join the power rock group Streetheart. Unfortunately, the Daisy Hill Puppy Farm was orphaned from any sight of a record deal. Next Mary ended up for a number of years with an Edmonton band called the Rising Sun.
Into the Seventies Mary joined The Elastic Band, but after a year of touring no record deal materialized. Disappointed, Saxton returned to solo work and eventually got a record contract in 1977 with Mustard Records. The label connected her up with producers and writers Karl Erickson and Norman Rooke. Her self-titled album later included the single release "Georgia Eyes".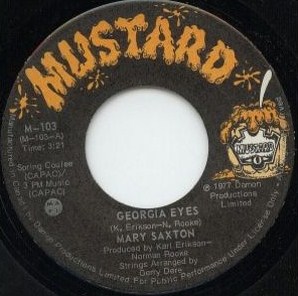 Billy lived on Blueberry Hill,
I love Billy and I always will.
Daddy said that he was no good,
he never worked and he never would.
But I didn't care about those lies,
I fell for his Georgia eyes.
We went walking in the Georgia rain,
Billy said "let's do it again."
Under that magnolia tree,
Billy made a lady out of me.
But I didn't care about those lies,
I fell for his Georgia eyes.
People said that I'd be shamed,
Billy wasn't much on taking blame.
Said I'd be a woman in waiting,
saying goodbye at the railway station.
But I didn't care about those lies,
I fell for his Georgia eyes.
Now I'm thinking 'bout that day,
when we went walking in the Georgia rain.
And I wonder if Billy can hear the cries
of my newborn baby with his Georgia eyes.
But I didn't care about those lies,
I fell for his Georgia eyes.
The song, penned by Mary Saxton, concerned a young woman who despite her father's astute assessment of her new boyfriend, Billy, gets hung up on him and his Georgia eyes. Billy makes "a lady" out of her under a magnolia tree. She gets pregnant and Billy has nothing more to do with her. Now, looking back, she wonders about the kind of guy Billy is as she looks at her newborn son who has the same Georgia eyes as his biological father. Georgia is a state in the Deep South of the United States. Culturally, it is known for being a place of hospitality and polite manners and being religious.
In the song we learn that Billy lived on Blueberry Hill. Billy's residence puts in mind the popular song from 1940 first sung by Gene Autry in the western film, The Singing Hill. "Blueberry Hill" was a #1 hit for the Glenn Miller Orchestra in 1940. It was a Top 30 hit for Louis Armstrong in 1949 and a #2 hit on the Billboard pop charts in 1957. Referencing a pop standard ear worm in the first line of the song, Mary Saxton would have caught the attention of numbers of radio listeners.
In 1980 she appeared on a special Radio Canada project called Ladies in Nights. She sang three new songs written for her – "Don't Say No To Love", "Love Is On Our Side" and "Ladies In Lights". But, as the decade wore on, shows were less and less frequent, and she left the music scene for awhile. However, according to Richard Skelly at radio west.ca, Mary Saxton surfaced later to reappear for a time with a later version of Southbound Freeway. She also was a vocalist on a song recorded more recently by Susan Jacks titled "Mary Did You Know". If you go to Facebook.com and enter "edmonton's rock & roll history page" and "Mary Saxton" a number of articles and photos appear.
February 14, 2017
Ray McGinnis
References:
Mary Saxton ~ Bio ~ Canadian Bands.com
"Sad Eyes" ~ review, canuckistanmusic.com
"Mary Did You Know" ~ YouTube.com
Richard Skelly, Can-Con 45 Of The Day, radio west.ca, December 28, 2017
Mark Steyn, Blueberry Hill: Steyn's Song of the Week #313, steynonline.com, October 29, 2017.
"Vancouver's Official Music Survey," CKLG 730 AM, Vancouver, BC, August 24, 1977.
For more song reviews visit the Countdown.