#214: Get It Right Next Time by Gerry Rafferty
Peak Month: October 1979
14 weeks on CFUN's Vancouver Chart
Peak Position ~ #3
Peak Position on Billboard Hot 100 ~ #21
YouTube: "Get It Right Next Time"
Lyrics: "Get It Right Next Time"
Gerry Rafferty was born in Paisley, Scotland, in 1947. From the age of 17 he got work variously in a butcher's shop, as a civil service clerk, and in a shoe shop. Once Beatlemania took hold, he formed a band called the Maverixs, who were a cover band singing songs by the Beatles and the Rolling Stones. In the mid 1960s Rafferty earned money as a busker on the London Underground. In 1966, Rafferty joined the band The Fifth Column. The group released the single "Benjamin Day"/"There's Nobody Here". However it was a commercial flop. In 1969 he joined the folk group the Humblebums, and remained with them, performing at numbers of folk festivals into 1971.

In 1971 Rafferty released his first solo album, Can I Have My Money Back? The recording received critical praise from the press. However, it sold poorly. In 1972 Rafferty formed Steelers' Wheel. The following year, the band had an international Top Ten hit titled "Stuck In The Middle With You". The band was described in Sound magazine as "a sort of cross between white label Beatles and punk Dylan yet with a unique Celtic flavour that has marked all their work." "Stuck In The Middle With You" was part of the 1992 soundtrack for the Quentin Tarantino film Reservoir Dogs.
In 1975 Steeler's Wheel split up. Legal disputes prevented Gerry Rafferty from being able to release any new material until 1978. This was featured on his second album, City to City. The debut single, "Baker Street", spent six weeks in the number-two spot on the Billboard Hot 100. It was blocked from the number-one spot by Andy Gibb's "Shadow Dancing". In Canada, Australia and South Africa, it was a #1 hit single. It was also a Top Ten hit in Austria, Belgium, Ireland, the Netherlands, Switzerland, the UK and West Germany. The album sold over five and a half million copies. A second track from the album, "Right Down The Line", peaked at #12 on the Billboard Hot 100. The single peaked at #1 in Vancouver, Canada, spending 22 weeks on the CFUN chart.
In 1979 Rafferty released his Night Owl album. The title track "Night Owl", was a Top Ten hit in the UK. However, it failed to chart in North America. A second track, "Days Gone Down", climbed to #17 on the Billboard Hot 100 and #11 in Vancouver. A third single from the album was "Get It Right Next Time".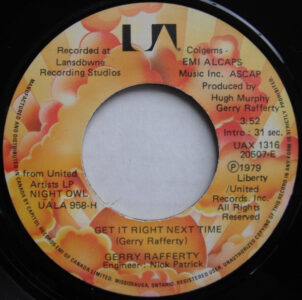 Gerry Rafferty wrote "Get It Right Next Time". The song catalogues circumstances and states of mind that pose obstacles. One could be discouraged for not understanding much about life; For not recognizing the signs when at a metaphorical crossroad in ones life; For having the ground pulled from under ones feet by the upheavals in life; And from the hard knocks of learning from life's mistakes. But, hopefully, Rafferty sings "if you get it wrong, you'll get it right next time." After all, we may as well get up, dust ourselves off and keep on pushing.
If we do learn from our mistakes, we can come at a problem or challenge in life in a new way. We build on the hard lessons life has taught us, and make new choices, switch up our thinking. However, some people get it wrong, and next time around they get it wrong again. Personal growth is a laudable ideal. Yet, some people seem mired in blinkered thinking. They repeat their mistakes over and over and over. Stubbornness, ignorance, anxiety, fear, innocence and naïveté keep them in their stuck places.
But positive thinking, imagining that "if you get it wrong, you get it right next time," can drive a person in a new direction emotionally. The mix of what helps an individual move forward can be hard work, courage and other factors. But, then there is also luck.
"Get It Right Next Time" peaked at #2 in Fredericton (NB), #3 in Vancouver (BC), #4 in Allentown (PA), #7 in Presque Isle (ME), #8 in Phoenix, #9 in Toronto, and Easton (PA), and #10 in San Diego, and Fort Worth (TX).
In the following two decades Gerry Rafferty released Snakes and Ladders, Sleepwalking, North & South, On a Wing and a Prayer and Over My Head. However, these albums were not commercially successful. Rafferty also preferred not to tour much, and so he declined the lucrative catalyst of live concerts to drive album sales. A final album, Another World, was an esoteric effort with limited appeal.
In his personal life, Rafferty's marriage fell apart in 1990 due to his alcoholism. Gerry Rafferty was reported to have disappeared in 2008. He died in 2011 of liver failure. After his death, Gerry Rafferty was honored in his home town of Paisley by naming a street: Gerry Rafferty Drive.
January 12, 2021
Ray McGinnis
References:
Ken Emerson, "Gerry Rafferty's 'Baker Street' Blues: Rolling Stone's 1978 Feature: Singer, who would pass away in 2011, is sitting on top of the world as he gives this interview in New York City's Plaza Hotel," Rolling Stone, January 4, 2011.
Michael Gray, "Gerry Rafferty Obituary: Singer and songwriter known for Stuck in the Middle With You and Baker Street," Guardian, January 4, 2011.
"Star tribute as Gerry Rafferty Drive opens," The Herald, November 22, 2012.
"C-FUN Top Thirty," CFUN 1410 AM, Vancouver, BC, October 20, 1979.
For more song reviews visit the Countdown.