#1263: Get Up, Get Out, Move On by Fludd
Peak Month: May 1972
7 weeks on Vancouver's CKVN chart
Peak Position #12
Peak Position on Billboard Hot 100 ~ did not chart
YouTube.com: "Get Up, Get Out, Move On"
Lyrics: "Get Up, Get Out, Move On"
Fludd had its roots in a band called The Pretty Ones, formed by Ed Pilling and Greg Godovitz. The band was briefly part of Toronto's Yorkville scene in the 1960s, but broke up before achieving much commercial success. Pilling and his brother Brian then moved to Birmingham, England, where they formed a band called Wages of Sin and spent some time touring as a backing band for Cat Stevens in 1970. However, disagreement over musical direction with Stevens led the brothers to return to Toronto by the end of the year. Inspired by the then-emerging psychedelic blues rock sound of British acts such as Small Faces, they then reunited with Godovitz, and recruited drummer John Andersen and guitarist Mick Walsh to create Fludd.
Fludd's debut album was self-titled and they had their first hit with "Turned 21". After the record Mick Walsh was replaced by Mick Hopkins on guitar. He had been in the band, Wages of Sin, with Ed Pilling. Fludd's second single was the non-album single, "Get Up, Get Out, Move On", released in 1972. The song is about someone who is trying to scrape by making a living from day to day by playing in a band. They seem to have a ne'er-do-well flatmate who needs to get off their ass and move on with their life. Or you can read into the lyrics that this song is about self-talk: the need to get your own act together and get on with your own life.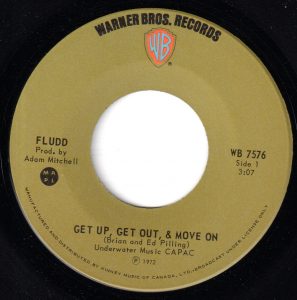 Maybe the most interesting aspect of this driving rock 'n roll song is the liberal use of the wah-wah peddle. The Wah-wah Peddle is a type of guitar effect pedal that alters the tone of the signal to create a distinctive effect, mimicking the human voice. The pedal sweeps the peak response of a filter up and down in frequency to create the sound (spectral glide), also known as "the wah effect". The wah-wah effect originated in the 1920s, with trumpet or trombone players finding they could produce an expressive crying tone by moving a mute in the instrument's bell. This was later simulated with electronics for the electric guitar, controlled by movement of the player's foot on a rocking pedal connected to a potentiometer. Wah-wah effects are used when a guitarist is soloing, or creating a "wacka-wacka" funk-styled rhythm.
The first wah pedal was created by Bradley J. Plunkett at Warwick Electronics Inc./Thomas Organ Company in November 1966. This pedal is the original prototype made from a transistorized MRB (mid-range boost) potentiometer bread-boarded circuit and the housing of a Vox Continental Organ volume pedal. The concept, however, was not new. Country guitar virtuoso Chet Atkins had used a similar, self-designed device on his late 1950s recordings of "Hot Toddy" and "Slinkey". Among the very first recordings released featuring wah-wah pedal were "Tales Of Brave Ulysses" by Cream in 1967. One of the most famous uses of this effect is heard on the 1971 #1 Isaac Hayes hit, "Theme From Shaft", with Charles Pitts playing the guitar. Other songs at the time using wah-wah effects included "The Payback" by James Brown, part of a raft of soul tunes giving birth to the disco craze.
"Get Up, Get Out, Move On" only earned Fludd the loss of a record contract when the tune failed to catch on. It peaked at #16 on KSPD in Boise, Idaho, and charted into the bottom of the Top 20 in Windsor, Hamilton and Toronto. The song had one of its best efforts on CKVN in Vancouver peaking at #12.
The band lost its new guitarist and instead added keyboardist Peter Csanky. They were able to get a contract with Daffodil Records. In the era of sexual liberation Fludd proposed to Daffodil Records that the title of their follow up album to be Cock On. The band members of Fludd thought it would be a good for promotion if they displayed a cover image of the band posing as flashers, wearing overcoats but naked underneath. Daffodil Records distributor, Capitol Records didn't think this was a good idea. Consequently, Fludd's second album was was released as …On!
That album's singles "Always Be Thinking of You", "Yes" and "C'mon, C'mon", were all minor hits in Canada. Daffodil agreed to let them make one more album and sent them to Mike Oldfield's studios in England to record. Since Oldfield was busy recording his forthcoming album, Tubular Bells, the band faced delays with getting time to record in the studio. The sessions ended up being cancelled. Daffodil Records went back to the …On! album and decided to release "Cousin Mary", the song that would become their biggest hit.
The band went on to record another album, but Brian Pilling got cancer and the group was unable to tour to support the new album. Brian Pilling later died of cancer in 1978.
In the 2000s Fludd reunited and went on to tour at a number of classic rock festivals and concert stages. Their reformed band was made up of Ed Pilling, his younger brother Steve Pilling, Scott Shelson on bass guitar, and Jim Crichton.
December 2, 2017
Ray McGinnis
References:
Frank Davies and Greg Godovitz, Fludd bio, Canadian Bands.com
How Ontario's Saga Found Stardom and Longevity in Europe, Globe And Mail, Toronto, 2018
Lisa McDonald, In GODDO We Trust: an interview with Greg Godovitz, Small Town Toronto.com, September 2010
Bidini, Dave. On a Cold Road: Tales of Adventure in Canadian Rock. McClelland & Stewart, Toronto, ON, 1998.
Connolly, Tristanne and Iino, Tomoyuki. Canadian Music And American Culture: Get Away From Me. Springer International Publishing, Basel. Switzerland, 2017.
Chet Atkins, Hot Toddy, 1956
Cream, "Tales Of Brave Ulysses," 1968
Issac Hayes, "Theme from Shaft," 1971
James Brown, "The Payback," 1974.
"The Top 40 Hits," CKVN 1410 AM, Vancouver, BC, May 8, 1972.
For more song reviews visit the Countdown.