#339: Girls Talk by Dave Edmunds
Peak Month: December 1979
14 weeks on Vancouver's CFUN chart
Peak Position #7
Peak Position on Billboard Hot 100 ~ #65
YouTube: "Girls Talk"
Lyrics: "Girls Talk"
David William Edmunds was born in 1944 in Cardiff, Wales. In 1954, when he was ten-years-old, Edmunds played in a piano duo with his older brother Geoff. They called it the Edmunds Bros Duo. In 1957, Dave and Geoff joined a band called the Stompers (who later became the Heartbeats). The Edmunds brothers later were in a group named the 99ers. Then in 1960, Dave joined Crick Feather's Hill-Bill's. With a growing comfort with performing on stage, at the age of 17, Dave Edmunds fronted a rockabilly Cardiff-based band called the Raiders. He continued with them for a number of years. Then in 1965 Dave Edmunds joined The Image. A few bands later, he was with Welsh blues-rock band Love Sculpture. In 1968 Love Sculpture had a #5 hit on the UK Singles chart with "Sabre Dance".
Edmunds went solo after Love Sculpture split up. In 1970 he recorded a cover of a 1955 R&B hit by Smiley Lewis titled "I Hear You Knocking". Originally, Dave Edmunds was going to record a cover of the Wilbert Harrison hit "Let's Work Together". But he discovered Canned Heat had just made their own version which soon climbed to #2 on the UK Singles chart in 1970. So Edmunds chose to record "I Hear You Knocking" instead. "I Hear You Knocking" climbed to #1 at the end of November 1970 in the UK, where it stayed for six weeks. The single also topped the pop charts in South Africa in February 1971, Ireland in December 1970, and Vancouver (BC). It also peaked at #3 in Germany and New Zealand, #4 on the Billboard Hot 100, and #5 in Australia.
In 1971 Edmunds released a single titled "I'm Coming Home". It peaked at #18 in Vancouver in May of the year. In 1972 Edmunds cover of the Chuck Berry tune, "The Promised Land", climbed to #5 in Australia. It was another track from Edmunds debut album Rockpile.
And in 1973 Edmunds did a cover of the Ronettes 1963 hit "Baby, I Love You" to #8 on the UK Singles chart. As well, in '73 Edmunds recorded a cover of the 1956 Chordettes hit "Born To Be With You". His version climbed to #5 in the UK and #2 in the Netherlands. Both singles were later featured on Dave Edmunds second studio album released in 1975 titled Subtle as a Flying Mallet. Edmunds also recorded a cover of "Da Doo Ron Ron", a Top Ten hit for the Crystals in 1963; As well as the Chantels 1958 R&B hit "Maybe".
In 1977 Edmunds released his third studio album, Get It. The album included a track that became a #8 hit in Melbourne titled "I Knew The Bride (When She Used To Rock 'n' Roll)". The song was written by Nick Lowe. Other tracks on the album included a cover of the Hank Williams classic "Hey Good Looking", and the Rodgers and Hart tune from the 1937 Broadway musical Babes In Arms titled "Where Or When". ("Where Or When" was most successfully covered by Dion & The Belmonts in 1960 when it climbed to #3 on the Billboard Hot 100).
His fourth studio album was Tracks on Wax 4. And in 1979 Edmunds was a rhythm guitarist and backing vocalist on Nick Lowe's album Labour of Lust. The album contained the single "Cruel To Be Kind" which peaked at #2 in Vancouver in November 1979. And in the music video for "Cruel To Be Kind", Dave Edmunds appears as the limo driver.
In 1979 Dave Edmunds released his fifth studio album, Repeat When Necessary. It included a single release "Girls Talk".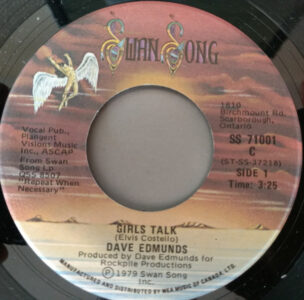 "Girls Talk" was written by Elvis Costello. Born Declan Patrick MacManus in London in 1954, Elvis Costello formed a folk duo in 1971 called Rusty. After high school he worked for awhile as a data entry clerk, and then as a computer operator. From 1974-76 Costello was in a band called Flip City. In 1977 Costello released his first studio album My Aim Is True. The album included a #15 hit in the UK titled "Watching The Detectives". In the decade that followed Costello had more hit singles, especially in the UK. These include "Pump It Up", "(I Don't Want To Go To) Chelsea", "Oliver's Army" which peaked at #2 in the UK (1979), "I Can't Stand Up For Falling Down" which peaked at #4 in the UK (1980), "Good Year For Roses" which peaked at #6 in the UK (1981), "Everyday I Write The Book" – his first Hot 100 single in America (1983), and his most successful hit internationally titled "Veronica" (1989). Over the years Elvis Costello has released 33 studio albums, the most recent titled Hey Clockface (2020).
"Girls Talk" is about the gossip women share amongst each other. In the lyrics by Elvis Costello there is a line stating "There are some things you can't cover up with lipstick and powder." Although women can make themselves look pretty with makeup, the gossip they share isn't so pretty. You can't cover up what is being said, or overlook it just because it's being dished by someone who looks beautiful. The narrator who is listening in to the 'girls talk' asks "was it really murder, were you just pretending?" The talk between this clique of women can be deadly. Though some people say that women who get made up like this and look pretty aren't "allowed" to talk like this. But the narrator of the song knows better.
In an article titled "7 Reasons Why Gossiping is Bad and Why You Should Stop …," Artti Prasad writes about how gossip creates vicious cycles. Gossip can 1) ruin someone's reputation, 2) tarnish the person spreading the gossip as a bad and not to be included in one's company, 3) others start to lose faith in a person who gossips and question their motives, 4) gossip can lead to legal issues, 5) gossiping can be a catalyst for depression, even suicide, 6) gossip can become a bad habit, and 7) as gossip is more often negative, people will pull away from someone who spreads nasty stories about other people.
However, in an article in TIME titled "The Science Behind Why People Gossip—And When It Can Be a Good Thing," Sophia Gottfried writes that gossip can be good. Gossip can provide a context for cultural learning, "offering teachable moments and providing people examples of what's socially acceptable — and what's not. For example, if there's someone who cheats a lot in a community or social circle and people start to talk about that person in a negative way…the collective criticism should warn others of the consequences of cheating." When the word finally gets back to the person who is the focus of the gossip, it can "serve to keep people in check, morally speaking," says Megan Robbins at the University of California, Riverside.
Matthew Feinberg is an assistant professor of organizational behavior at the University of Toronto's Rotman School of Management. He and his colleagues published a study in 2012 in the Journal of Personality and Social Psychology. Their study demonstrated that when "subjects heard about another person's anti-social behavior or an injustice, their heart rates increased. When they were able to actively gossip about the person, or the situation, on the other hand, it soothed them and brought their heart rates down." Feinberg concluded that the act of gossiping "helps calm the body."
Edmunds told songfacts.com in an interview "Some songs you look forward to in the setlist more than others. It's just the way it flows and if you can sing it without having to worry about the lyrics. Simplicity is always a good guide. Now, what I often do, like on 'Girls Talk,' I do key changes. I start off in a different key to what the song is, and when it comes to the solo, I'll change key again. That works great on records sometimes, but you've got to be careful on getting it right live to get the effect to work. I don't know which songs are easier to sing. Chuck Berry songs are always very good. You can't do too many of them, because they're Chuck's. But it's just that some songs lyrically and melodically flow better than others, and "Girls Talk" doesn't flow as well as I'd like it to for live performance."
In the video for "Girls Talk" Nick Lowe also performed on guitar. In December '79, in Canada "Girls Talk" climbed to #7 in Vancouver (BC), and #12 in Toronto. Internationally, the single peaked at #4 in the UK, #9 Australia and #11 in Ireland.
His followup single from Repeat When Necessary was titled "Queen Of Hearts". The single peaked at #11 in the UK and #12 in Ireland. However, it failed to get much attention elsewhere. The single was successfully covered in 1981 by Juice Newton.
In 1980 Edmunds joined forces with Nick Lowe to form a band called Rockpile. They had a single titled "Teacher Teacher" which climbed to #6 in Vancouver and Regina (SK) in early 1981. However, the song was largely passed over in America. That year Edmunds released another album titled Twangin… It included a cover of the 1954 Sun Records Elvis Presley tune "Baby Let's Play House".
Dave Edmunds appeared in concert in Vancouver on June 21, 1982, at the Commodore Ballroom. In 1982 Edmunds also released another studio album titled D.E. 7th. It included a cover of the Brian Hyland 1962 top-30 hit "Warmed Over Kisses (Left Over Love)", which Edmunds did a bluegrass version of. And in 1983 Dave Edmunds released another studio album titled Information. From this album the single "Slipping Away" cracked the Top 40 on the Billboard Hot 100. Then in 1984 Edmunds released his album Riff Raff. It was his eighth album in a row, including Seconds of Pleasure in 1980 when he was in Rockpile.
And he returned to perform in the city at the 86th Street Music Hall in Vancouver on March 3, 1987. Through the 80s Dave Edmunds recorded quite a few covers. These include the Guy Mitchell hit from '56 "Singing The Blues", a minor hit for Chuck Berry titled "Run Rudolph Run", and Dion's "The Wanderer" and the Four Tops "Something About You".
In late 1985, Dave Edmunds was the musical director and a participating band member of Carl Perkins's Rockabilly Session television special in the UK. Other musicians involved in the project included George Harrison, Ringo Starr, and Eric Clapton.
Edmunds went into semi-retirement in Wales after the mid-80s. But in 1990 he went back to the recording studio to release Closer to the Flame. Entertainment Weekly said of the album "I'm trying to think of someone who wouldn't love this album. Manuel Noriega? Right from the start, the music goes down like good whiskey, with a big, deep sound that warms the pit of your gut." In 1992 he was invited by Ringo Starr to join Ringo Starr & His All-Starr Band. Edmunds remained with the band until 1995, and returned to tour with the band in 2000. In the midst of his touring, he released another studio album in 1994 titled Plugged In.
In 2015 Dave Edmunds released his final studio album On Guitar…Rags & Classics. It included covers of the Beach Boys "God Only Knows", Elton John's "Your Song", Procul Harum's "A Whiter Shade Of Pale" and Booker T. & the M.G.s "Green Onions". In 2017 Dave Edmunds officially retired from the music business.
March 8, 2021
Ray McGinnis
References:
Carl Wiser, "Dave Edmunds," songfacts.com, June 24, 2015.
Mark Binelli, "St. Nick: The Long, Strange and Wonderful Career of Nick Lowe," Rolling Stone, November 29, 2018.
Ray Shasho, "Dave Edmunds Interview: Rockabilly Guitar Hero Releases Brilliant New Album," musictriedandtrue.com, June 10, 2015.
Dick Clark, "Rockpile Interview," American Bandstand, January 17, 1981.
"Dave Edmunds: Concert dates in Canada," setlist.fm.
Artti Prasad, "7 Reasons Why Gossiping is Bad and Why You Should Stop …," allwomenstalk.com, October 23, 2019.
Sophia Gottfried, "The Science Behind Why People Gossip—And When It Can Be a Good Thing," TIME, September 25, 2019.
"C-FUN Top Thirty," CFUN 1410 AM, Vancouver, BC, December 8, 1979.
For more song reviews visit the Countdown.