#1171: Giving Away A Miracle by Luba
Peak Month: December 1989
11 weeks on Vancouver's CKLG Chart
Peak Position ~ #19
Peak Position on Billboard Hot 100 ~ did not chart
Youtube: "Giving Away A Miracle"
Lyrics: "Giving Away A Miracle"
Lubomyra Kowalchyk was born in 1958 in Montreal, Quebec. During her teens she travelled across Canada performing traditional Ukrainian folk songs at weddings and festivals. Growing up she studied piano, guitar, flute and voice. She was a fine-arts student when she formed a band called Zorya in 1973, releasing an album. In 1977 she released her second album titled. Lubomyra. In 1978 she formed a band named Luba with herself as the lead vocalist. Then, when her father died in 1979, she wrote what would become her signature song, "Everytime I See Your Picture", as a tribute to him. The first studio album for the band Luba, Chain Reaction, was released in 1980. A Luba (EP) was released in 1982 containing "Every time I See Your Picture". The song climbed to #1 in Ottawa, #3 in Halifax, #6 in Montreal and #11 in Kitchener (ON). She performed in front of 12,000 rock fans at the Montreal Forum in January 1983. She was the opening act at that concert for the headliner Chris de Burgh.
In the fall of 1984 Luba had a hit record titled "Let It Go", which peaked at #8 on CKOI in Montreal. The single spent 18 weeks on the Montreal chart. It also climbed to #8 in Ottawa. In 1985 she recorded four songs that were featured in the Canadian animated cartoon series The Raccoons. Her single "Storm Before The Calm" climbed to #5 in Montreal in April 1985.
In 1986 Luba released a single titled "How Many (Rivers To Cross)". "How Many (Rivers To Cross)" peaked at #4 in Medicine Hat (AB), #5 in Ottawa, (ON), #8 in Montreal, #15 in Hamilton (ON), #16 in Toronto and Moose Jaw (SK), #17 in Vancouver, and #19 in Regina (SK).
Several more albums were released and Luba won three Juno Awards for Female Vocalist of the Year in 1985, 1986 and 1987.
Her cover of the Percy Sledge soul classic from 1966, "When A Man Loves A Woman" was her biggest charting success across Canada. Her cover peaked at #6 on the Canadian RPM singles chart in November 1987.
In 1989 Luba's fourth studio album was released titled All Of Nothing. The first single from the album was "Giving Away A Miracle".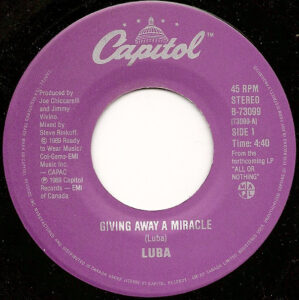 "Giving Away A Miracle" was written by Luba. The song is about an angel of mercy who is tired and frail. Nonetheless, she still is available to do offer gifts of miracles: of freedom and hope. The angel wears tattered clothes and invites those who pass by to look inside her bag and choose a cause that would agree with what their conscience desires.
In popular culture, an angel of mercy one who is caring, compassionate, full of kindness, gives hope to others, love radiates from them, and love is given without an agenda of their own. An angel of mercy is a healer of body and soul. A second meaning for an angel of mercy, (not intended in the lyrics to "Giving Away A Miracle") is the grim reaper, who is the last spirit that is seen on passing. The grim reaper is merciful, as it is the angel to end the pain and suffering in a persons' life and sends them to meet their maker.
"Giving Away A Miracle" climbed to #9 on the Canadian RPM singles chart in the fall of the year. In Vancouver it peaked at #19.
Her second single release from the album was "A Little Salvation".
Despite Luba's 1989 album All Or Nothing selling platinum in Canada, she was dropped by Capitol Records. Next, her marriage Peter Marunzak, her former drummer and manager, ended. Then both her grandmother and mother died. Subsequently, her sister was diagnosed with multiple sclerosis. Since her sister needed intensive care, Luba set aside her musical career and focused on taking care of what family she had.
After a ten year break from recording, in 2000 Luba released an album titled From the Bitter to the Sweet. It included the Top 30 Canadian single "Is She A Lot Like Me".
In 2007 Luba moved to the Caribbean island of Anguilla. In 2014 she released an album titled ICON. This was a "best of" collection of her hits. She also performed for the first time in 14 years. The setting was the Fierté Montréal Festival in August '2014. At the time, Luba was interviewed by the Montreal Gazette and told the paper she planned to start a new band a begin touring in 2015.
May 22, 2021
Ray McGinnis
References:
"Luba Comes Home, with Pride," Montreal Gazette, August 13, 2014.
"Vancouver's Top 40 Hot Hits," CKLG 730 AM, Vancouver, BC, December 6, 1989.
For more song reviews visit the Countdown.