#579: Gloria by Them
Peak Month: June 1965
7 weeks on Vancouver's CFUN chart
Peak Position #1
C-FUN Twin Pick Hit May 15, 1965
Peak Position on Billboard Hot 100 ~ #93
YouTube.com: "Gloria"
Lyrics: "Gloria"
Sir George Ivan "Van" Morrison, was born in Belfast on August 31, 1945. He is a singer, songwriter and musician. He has received six Grammy Awards, the 1994 Brit Award for Outstanding Contribution to Music, and has been inducted into both the Rock and Roll Hall of Fame and the Songwriters Hall of Fame. In 1996 he was given the Order of the British Empire for his service to music enriching the lives of people in the UK (and beyond). Since 1996 his formal title has been Sir "Van" Morrison, OBE. In 2016 he was knighted for his musical achievements and his services to tourism and charitable causes in Northern Ireland.
Morrison is known as "Van the Man" to his fans. Morrison's father, George, was an electrician. His mother, Violet, had been a singer and tap dancer in her youth. Van was an only child and grew up in Belfast. His father's record collection of American blues and country music artists led to Van Morrison learning the guitar when he was eleven.
Morrison started his professional career when he variously played guitar, harmonica, keyboards and saxophone for a number of Irish bands while he was still in his teens. In 1964, Morrison formed the R&B garage band, Them, in Belfast, who played at The Maritime nightclub. The original five member band were at first named the Gamblers and consisted of Morrison on harmonica, tenor saxophone and vocals, bass guitarist Alan Henderson, drummer Ronnie Milling, guitar and lead vocalist Billy Harrison and bass guitarist Eric Wrixon. The group practiced above Dougie Knight's bicycle shop in Shaftesbury Square, Belfast in preparation for their debut at the Maritime. Eric Wrixon suggested the Gamblers change their name to Them. Wrixon liked the name after he first saw a 1954 science fiction-horror film Them! about irradiated ants in the New Mexico desert.
On 14 April 1964, an advertisement in a Belfast newspaper asked: "Who Are? What Are? THEM". Other ads were published in advance of an April 17, 1964, concert by Them at Club Radon's at the Maritime Hotel. The club could handle two hundred capacity and Them kept getting word-of-mouth and they had a packed house by the third week of their contract. Them performed without a routine, fired by the crowd's energy: Morrison later commented that while the band was "out of our element" making records… "The way we did the numbers at the Maritime was more spontaneous, more energetic, more everything, because we were feeding off the crowd." Morrison ad libbed songs as he performed. "Gloria", a song he wrote when he was eighteen years old, could last up to twenty minutes.
On April 11, 1965, Them appeared at a concert in Wembley Empire Pool headlined by The Beatles, Rolling Stones, The Animals, The Kinks, The Searchers, The Moody Blues and Dusty Springfield. Their single "Here Comes The Night" was on the UK singles chart.
They also released an album titled Angry Young Them. By this time the personnel in the band included Morrison, Henderson, Harrison, Peter Bardens on keyboards and John McAuley on drums, piano and harmonica (after Wixon and Milling left the band). The album included "Gloria" and "Here Comes The Night".
"Gloria" began to chart in Vancouver and a few radio markets in California, Arizona, New Mexico and Manitoba in March and April 1965.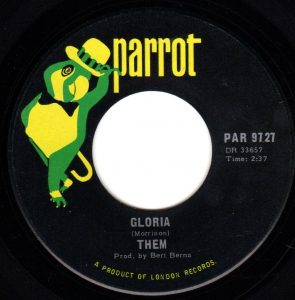 "Gloria" was written by Van Morrison. The song is about a woman named Gloria who makes the man in her life "feel alright." He is full of anticipation as she arrives at his place at her usual time, midnight. The guy is full of rising anticipation as Gloria starts to walk down his street, gets to his house and finally knocks on his door, and comes to his room. The heightened sexual innuendo is present as Gloria makes her man "feel alright" after midnight, in his room. As a result of Gloria making him feel alright, he wants to shout her name all night and every day. WLS in Chicago and numerous other radio stations in the USA refused to play "Gloria" by Them because it contained the words, "she comes to my room."
"Gloria" peaked at #1 in Vancouver (BC), Denver, Los Angeles, San Diego, San Bernardino (CA), San Antonio (TX), Miami, Honolulu and Phoenix (AZ), #2 in Columbus (OH) and San Jose (CA), #3 in San Francisco and Sacramento, #4 in Dallas, Seattle, Syracuse (NY) and Salt Lake City, #5 in Oklahoma City, #6 in Houston, #7 in Las Vegas and Boise (ID), and #8 in Baltimore. The song peaked at #93 on the Billboard Hot 100 in 1965. It was re-issued in the 'States in 1966 and climbed to #71 on the Hot 100.
Them released another single, "Here Comes The Night", in under two months after "Gloria" began to chart in North America. This led some radio markets to elect of play only "Here Comes The Night" instead of also giving "Gloria" a spin. While "Gloria" stalled at #71 on the Billboard Hot 100, "Here Comes The Night" climbed to #24 on the chart.
In late August 1965, Billy Harrison and Pat McAuley formed a rival Them, competing with the Morrison/Henderson line-up. This resulted in a legal dispute that was finally won my Van Morrison and company.
In April 1966 the band released an album titled Them Again. This followed with a tour of North American in May 1966. When they arrived at JFK airport one of the management read "the Riot Act to us. No drugs, no underage women." They visited some radio stations and flew on to San Francisco. In late May Them gave their first concert in Phoenix, AZ. They appeared on American Bandstand and met a talent agent from Whisky a Go Go who signed them for a 19-night contract.
From May 30 to June 18, Them were the headlining band at Whisky a Go Go in Los Angeles. They performed 24 shows. The first week they had Captain Beefheart & His Magic Band, along with Frank Zappa, opening the concerts. For the final week The Doors opened for Them. On the last night the Doors and Them jammed a twenty-minute version of "Gloria" and a twenty-five-minute version of "In The Midnight Hour". Them went on to headline at The Fillmore Auditorium in San Francisco on June 23 (and later on July 29 and 30). They played in Oakland on June 26/66, and then to Honolulu at at a bandshell in Kapiolani Park for the nights of July 8/9/10. The opening act was the Ramsey Lewis Trio. They returned to California to play more dates in Fresno, San Luis Obispo, San Jose, San Francisco and Tucson (AZ). Unable to get their US Visas extended, they turned down additional offers for other concerts. The band released "I Can Only Give You Everything". The song was covered by Montreal band The Haunted who had a minor hit with their single release in Vancouver in 1967.
Disputes erupted between Them and their management over money. Consequently, Van Morrison and Alan Henderson split from the band. Before Van Morrison returned to Belfast he met Bo Diddley. Back in Ireland, Them (including Morrison and Henderson) performed as an intact group in Derry, Ireland, in September 1966.
Van Morrison's solo career began with the release of the hit single "Brown Eyed Girl" in 1967. Morrison originally titled the song "Brown Skinned Girl". The song peaked at #10 in the USA, but climbed to #1 in Vancouver. Morrison's music mostly draws on the conventions of soul music and rhythm and blues. Examples of this are showcased in his hit singles "Brown Eyed Girl", "Domino" and "Wild Night".
In 1968, Morrison released a concept album titled Astral Weeks. While some music critics applauded his efforts, the album sold poorly. In 1969 Morrison returned for a 5-night gig at Whisky a Go Go, 3 nights at the Avalon Ballroom in San Francisco, the Catacombs in Boston and 3 nights at Cafe au Go Go in New York City in August '68. In January 1970, Van Morrison released his third studio album titled Moondance. It included "Come Running", which climbed to #38 on the Billboard Hot 100.
Tupelo Honey is the fifth studio album by Van Morrison and released in October 1970. Griel Marcus of Rolling Stone Magazine said of the title track, it was "a kind of odyssey" evoking Elvis Presley (whose hometown was Tupelo, Mississippi), and "the most gorgeous number on the album" that "was too good not to be true."
Over the course of his career, Morrison has released 39 studio albums, 6 live albums and 71 singles. He has been quite prolific of late, releasing five albums in the past three years. His most recent album, You're Driving Me Crazy, was released in April 2018. It includes tunes from the Great American Songbook and a number of his own compositions.
Starting with three concerts in Bellaghy, Northern Ireland, at Seamus Heaney HomePlace on August 1st and 2nd, Van Morrison will play over 20 concerts in the England, Wales, Northern Ireland and the United States, between August 2019 and January 2020.
After Van Morrison left Them, Kenny McDowell became the lead singer. In 1967 Them released Now and Them and Time Out? Time in for Them. Both albums explored psychedelic rock. They band continued to release a few more albums into the early '70's with little response from record buyers. Them disbanded in 1972. In 1979 Them had a reunion concert (without Van Morrison) and released an album titled Shut Your Mouth.
In 1993 Eric Wrixon and Jim Armstrong reformed Them. The band continued to perform on stage with a variety of musicians in the lineup until 2015.
The 1964 recording of "Gloria" was inducted into the Grammy Hall of Fame in 1999. It was ranked as song #69 in Dave Marsh's 1999 book, The Heart of Rock and Soul: The 1001 Greatest Singles Ever Made. In 2011 Rolling Stone published The 500 Greatest Songs of All Time and ranked "Gloria" at song #211.
"Gloria" has been covered by the Blues Magoos, Bon Jovi, Simple Minds, R.E.M., Ricki Lee Jones, Iggy Pop, Jimi Hendrix, Bobby Fuller Four, Status Quo, the Hombres, Shadows of Knight, the Doors and Patti Smith, among others. Live performances of "Gloria" have been performed by David Bowie, Tom Petty and the Heartbreakers, the Tragically Hip, U2 and Bruce Springsteen.
August 5, 2019
Ray McGinnis
References:
Van Morrison biography, Van Morrison.com.
Brian Hinton, Celtic Crossroads: The Art of Van Morrison, (Sanctuary Publishing,1997).
Peter Mills, Hymns to the Silence: Inside the Words and Music of Van Morrison, (Continuum, 2010).
Steve Turner, Van Morrison: Too Late to Stop Now, (Viking Penguin, 1993) 44-52.
"Van Morrison shows," vanmorrison.com, (as of August 1, 2019)
Them!, Wikipedia.org.
"The 500 Greatest Songs of All Time," Rolling Stone, April 4, 2011.
Dave Marsh, The Heart of Rock and Soul, The 1001 Greatest Singles Ever Made, (De Capo, 1999).
David Chance, "Van Morrison with The Monarchs / Them Chronology 1947/8-1969," oocities.org.
Ross Hannan and Corry Arnold, "Whisky A-G0-Go Show List 1966-1970," June 9, 2011.
"C-FUNTASTIC FIFTY," CFUN 1410 AM, Vancouver, BC, June 5, 1965.
For more song reviews visit the Countdown.