#1253: Gone From Me by Eddie Carroll
Peak Month: March 1961
8 weeks on Vancouver's CFUN chart
Peak Position #11
Peak Position on Billboard Hot 100 ~ did not chart
YouTube.com: "Gone From Me"
Edward Eleniak was born in Smokey Lake, Alberta, in 1933. He moved to Hollywood in 1956 to pursue a career in the motion picture and television industry and landed a position with NBC as a writer and producer. As a "resident alien" he was drafted into the U.S. Army and performed with the Armed Forces Service Radio and the 6th Army Chorus. In 1959 he dropped his Ukranian surname and went by Eddie Carroll to advance his career. In 1960 Carroll released a comedy album, On Fraternity Row. In 1962 he co-wrote the song "How Is Julie?" with Barry DeVorzon which was recorded by The Lettermen. In 1960, DeVorzon had co-written "Dreamin'" by Johnny Burnette, and "Hey Little One" with Dorsey Burnette. He would later write "Nadia's Theme", an instrumental hit in 1976.
In 1961, Eddie Carroll recorded a song he wrote called "Gone From Me". It displayed his high vocal range, something that would serve him well as a voice for animated cartoon characters later in his career.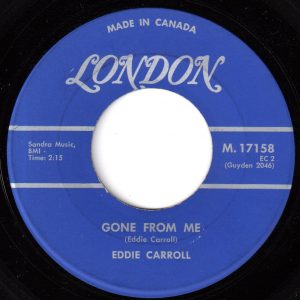 "Gone From Me" was, as the title suggests, about a person who is left behind, in this case because the person they've been dating has found somebody new.
I looked in to see if my darling was home,
I wanted to die when I found out she was gone.
Chorus: Yes she was gone with somebody new,
Yes she was gone what am I to do.
Gone from me, can't you see.
She's gone, gone from me.
Come-a-come-a-come-a-come back home,
I'm the one she's left alone, she's gone, gone from me.
I knew she was gone when I walked through that door,
I know I will love her forevermore.
Clearly, the singer has had some gut feeling or intuition that he is about to get dumped. He sings "I knew she was gone when I walked through that door." The teenage angst in the moment of realizing you've been dumped from someone else can be a moment of high drama. And so Eddie Carroll's vocal lament of being "the one she's left alone" is emotionally on the mark for that circumstance. In the early 60s it seemed half the solo teenage male recording artists were crying about being dumped for another guy or left behind. Ronnie Savoy was inconsolable in his tearful song, "And The Heavens Cried". Jack Scott wondered why a relationship ended as he sang "What In The World's Come Over You". Charlie Rich had the blues after he was dumped in "Lonely Weekends." Dee Clark didn't even know where his love had gone since she'd left him behind in "Raindrops". While Don Gibson sang about being left in his "Sea Of Heartbreak" and hoped he might be rescued from his fate if only he "could sail back to shore into your arms once more."
With Eddie Carroll's falsetto voice his song recalled other recording artists at the time. One example was Jimmy Jones who had two Top Ten hits in 1960 with "Handy Man" and "Good Timin'". Eddie Carroll and Philadelphia based Guyden Records may have hoped for similar success.
Starting in the early 1960s Carroll appeared in numerous television programs and commercials. These included guest appearances as Sergeant Lubik in two episodes of Goymer Pyle U.S.M.C, Mission Impossible, That Girl (starring Marlo Thomas), The Don Knotts Show, The Mary Tyler Moore Show and Maude. In 1970, he and business partner Jamie Farr developed and syndicated a sports-talk program, Man to Man, through MGM Television, and not long after a Saturday morning animated series for Hanna-Barbera, The Amazing Chan and the Chan Clan.
In 1973 he took over the role of Jiminy Cricket for Walt Disney Productions in 1973 after the death of original voice actor Cliff Edwards in 1971. In 1983, he was the voice of Jimmy Cricket in the Disney Christmas special, Mickey's Christmas Carol. He also was featured in fifteen other Disney features from 1986 onward. From 1983, until his death in 2010, Carroll traveled with two one-man shows portraying comedian Jack Benny: A Small Eternity with Jack Benny and Jack Benny: Laughter in Bloom. In 1995-96 he toured with a production of The Odd Couple. In later years, he attended numerous conventions and gatherings for both Disney fans and devotees of old-time radio. He was still performing in his final years, as an article in 2008 from Lancaster, Pennsylvania, confirms. Eddie Carroll died in 2010 of a brain tumor at the Motion Picture & Television Country House and Hospital in Woodland Hills, California. Eddie Carroll was sometimes billed as Eddy Carroll. He is not to be confused with 1930s British big band musician Eddie Carroll.
December 14, 2016
Ray McGinnis
References:
Valerie J. Nelson, "Eddie Carroll Dies at 76; Voice of Jimmy Cricket and Jack Benny Impersonator," Los Angles Times, April 11, 2010
Eddie Carroll, Voice of Jimmy Cricket, Dead, CBC, April 11, 2010
Marty Crisp, My Life As Jack Benny, Lancaster Online, Lancaster, PA, May 25, 2008
Mickey's Christmas Carol, Wikipedia.org, 1983.
"C-FUN-Tastic 50," CFUN 1410 AM, Vancouver, BC, March 18, 1961.
For more song reviews visit the Countdown.