#523: Good Together by Candi And The Backbeat
Peak Month: April 1991
12 weeks on Vancouver's CKLG chart
Peak Position #8
Peak Position on Billboard Hot 100 ~ did not chart
YouTube.com: "Good Together"
In the mid-80s, Candita Pennella fronted an Italian wedding band in Toronto named Sensation. Her nickname was Candi. The band consisted of bass player Nino Milazzo, drummer Paul Russo, keyboard player Rich Imbrogno and singer Candita Pennella. The band decided to change their name to Candi. They recorded an album in 1988 titled Candi. They released a single titled "Dancing Under A Latin Moon," which made the Top 30 across Canada on the RPM singles chart and #68 on the Billboard Hot 100. Several follow up singles made the pop charts in Canada. Among these, "Missing You" and "Love Makes No Promises" made the Top 30 on the CKLG charts in Vancouver in early 1989. Another song, "Under Your Spell", missed the pop charts in Vancouver. However, it was nominated for Song of the Year at the 1990 JUNO awards. Pennella was nominated for Female Vocalist of the Year in 1990 and again in 1991. In 1990 she lost to Rita MacNeil and in 1991 she lost out to Celine Dion. To avoid the confusion that she was a solo act, the band revised its name from Candi to Candi And The Backbeat.
With a second album, they released the single, "The World Just Keeps On Turning". "The World Keeps Turning" was nominated for a JUNO award in 1991 for Best Dance Recording. The song peaked at #10 in Hamilton and #13 in Vancouver. Candita Pennella was compared to Gloria Estefan and Madonna with Candi And The Backbeats slightly Latin infused rhythms and vocal phrasing. Another single, "Good Together", climbed to #8 on the CKLG charts in the spring of 1991.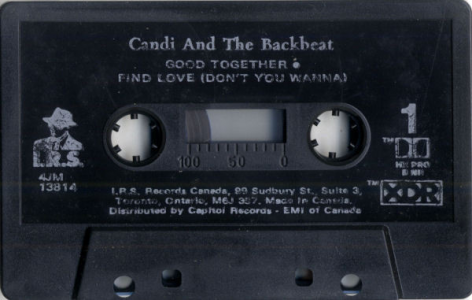 "Good Together" is a song about trusting that when two people are attracted to each other to go with that chemistry. The singers reveals "whenever we touch, we fall deeper in love." Certainly, a relationship involves emotional resonance, and being in tune with each other mentally. But it also involves a physical attraction and connection. Otherwise, what you've got is a good friendship, but it stops there. As Candi sings "you're rocking my world, you really turn me on," guys in short, short pants, with washboard stomaches do flips and twirls as they dance.
"Good Together" climbed to #8 in Vancouver (BC) and #16 in Hamilton (ON).
A followup single, "Friends Forever", climbed into the Top 20 in Vancouver in the summer of '91. Candi Pannella had a voice that resembled that of Madonna. But in 1992 Candi left the music industry and got married to her drummer, Paul Russo. Since she left the music industry, Pennella went on to become a public school teacher in Toronto, having over two decades of teaching under her belt.
December 2, 2019
Ray McGinnis
References:
David Ball, "This Week in Music History: February 18 to 24," Canadian Music Hall of Fame, February 20, 2013.
Candi And The Backbeat, The Isle of Failed Pop Stars, November 24, 2009.
"CKLG Top 40," CKLG 730 AM, Vancouver, BC, April 15, 1991.
For more song reviews visit the Countdown.