#196: Goodbye Stranger by Supertramp
Peak Month: September 1979
15 weeks on Vancouver's CFUN's chart
Peak Position #2 ~ CKLG
Peak Position on Billboard Hot 100 ~ #15
YouTube: "Goodbye Stranger"
Lyrics: "Goodbye Stranger"
Richard "Rick" Davies was born in 1944 in Swindon, England. By the age of eight, it was clear his only real interest in school was music. At the age of 12 he became a snare drummer with the British Railways Staff Association Brass and Silver Jubilee Band. Davies recalls, "As a kid, I used to hear the drums marching along the street in England, in my home town, when there was some kind of parade, and it was the most fantastic sound to me. Then, eventually, I got some drums and I took lessons. I was serious about it… I figured if I could do that – I mean a real drummer, read music and play with big bands, rock bands, classical, Latin, and know what I was going to do – I would be in demand and my life was set… Eventually, I started fiddling with the keyboards, and that seemed to go over better than my drumming, for some reason. So you've gotta go with what people react to."
At the age of 15, he joined a band in 1959 named Vince and the Vigilantes. In 1962, Rick Davies formed his own band called Rick's Blues, playing the electric piano. His drummer was Gilbert O'Sullivan, who later had pop hits "Alone Again, Naturally", "Claire" and "Get Down". In the mid-60s, Rick Davies formed The Lonely Ones who changed their name to The Joint. The band made tracks for a number of German films. At this time, Davies met Dutch millionaire Stanley August Miesegaes, who offered to fund him if he started a new group. An ad was placed in Melody Maker, and Roger Hodgson successfully auditioned.
Roger Hodgson was born in 1950 in Portsmouth, on the south coast of England. When his parents divorced when he was 12-years-old, his Dad gave him a guitar. At the end of boarding school, Hodgson became a guitar player for People Like Us. In the late 60s, he joined Argosy, which included musician Reginald Dwight (later known as Elton John).
Initially named Daddy, the band was subsequently called Supertramp. The band went through a number of lineup changes in the initial years, with Dougie (pronounced "Doogie") Thompson joining in 1972. Born in Glasgow in 1951, Dougie Thompson learned to play bass guitar. He was in the Alan Bown Set, along with saxophonist and occasional woodwind musician John Helliwell. The Alan Bown Set also featured a young vocalist named Robert Palmer. Born in 1945 in Yorkshire, John Helliwell was persuaded by Thompson to leave the Alan Bown Set and join Supertramp in 1973. A fifth mainstay of the classic Supertramp lineup, Bob Siebenberg, joined the band in 1973. Robert "Bob" Layne Siebenberg was born in Glendale, California, in 1949. Siebenberg was a successful audition after Kevin Curie left the band.
Supertramp had their first commercial success with the 1974 album Crime of the Century. It included the singles "Dreamer" and "Bloody Well Right". The latter made the Top Ten on the pop chart in Hamilton (ON). While in April 1975, "Dreamer" made the Top Ten on the pop chart in Buffalo. But, elsewhere both singles got little exposure beyond the album-oriented FM stations. A successful followup album, Crisis? What Crisis?, was soon released, was soon released, becoming a Top Ten album seller in New Zealand and Norway. On July 31, 1975, and again on March 28, 1976, Supertramp appeared in concert at the Queen Elizabeth Theatre in Vancouver.
Supertramp went back to the recording studio and in 1977 released Even in the Quietest Moments… The album's lead single' "Give A Little Bit", climbed to #2 in the pop charts in the Netherlands, #4 in South Africa, #9 in Norway and #15 on the Billboard Hot 100. In Vancouver (BC), the single climbed to #2. And on April 22, 1977, the band performed in Vancouver at the Pacific Coliseum.
Between May and July, 1979, Supertramp was in the number-one spot on the pop charts in Vancouver for seven non-consecutive weeks with "The Logical Song". In August 1979, Supertramp's "Goodbye Stranger" peaked at #2 in Vancouver.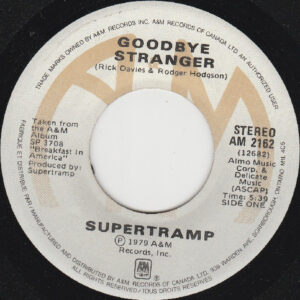 "Goodbye Stranger" was written by Rick Davies. The song is about a guy who is keeping himself youthful by playing the field. He's "an early morning lover." But, once the sex is over its "goodbye Mary, goodbye Jane…" He is determined not to settle down. He has "to have things my own way." He thinks of himself variously as a "king without a castle…a ship without an anchor…" Everyone he has sex with is just his latest conquest, his latest one-night-stand. Because he never gets close to any of his "sweet ladies," they are all just strangers to him. And so, "goodbye stranger," as he leaves another woman he's wooed behind. He's aware his lack of intimacy, and refusal to settle down or get serious is starting to stand out. And so he sings "you can laugh at my behavior." But, he doesn't care. He hasn't met anyone who he's fallen in love with, at least not enough to make him reassess his merry ways.
"Goodbye Stranger" peaked at #1 in Montreal, Toronto, Seattle, Buffalo, #2 in Vancouver (BC), Baltimore, and Atlanta, #3 in Ottawa, Hamilton (ON), San Diego, Denver, and Tucson (AZ), #4 in Allentown (PA), and Fredericton (NB), #5 in Minneapolis/St. Paul, Portland (OR), and Bangor (ME), #6 in New Haven (CT), Dayton (OH), and Phoenix, #7 in Kansas City (MO), #8 in Springfield (MA), Dallas, and Los Angeles, #9 in Boston, and Sacramento (CA), and #10 in Springfield (IL), Columbus (OH), and San Bernardino (CA).
On August 11, 1979, Supertramp performed in concert in Vancouver at Empire Stadium. That winter, Supertramp was back in the Top Ten in Vancouver with "Take The Long Way Home". All three singles, plus "Breakfast In America", were from the band's album Breakfast In America. The album topped the album charts in Australia, Austria, Canada, France, the Netherlands, New Zealand, Norway, Spain and the USA. It climbed to #2 on the album charts in Japan and Sweden.
In 1980, Supertramp released the live album Paris. From the album they released a live version of "Dreamer".
In 1982, Supertramp climbed to #1 in Vancouver with "It's Raining Again". The single was from the band's seventh studio album, …Famous Last Words… This was the last album with Roger Hodgson, before he left the band. On September 3, 1983, the band played at the BC Place Stadium in Vancouver.
In 1985, Supertramp released the album Brother Where Are You Bound. It became a Top Ten album seller in the France, the Netherlands, Norway, Spain, Sweden, Switzerland and West Germany. That year, on November 17, Supertramp gave a concert in Vancouver at the Pacific Coliseum. In 1988 the band split up.
In 1996, Supertramp reformed with a new lineup. It included former members from the classic lineup: Davies, Helliwell, and Siebenberg, along with Mark Hart on guitar, keyboards and vocals; Carl Verheyen on guitar; Cliff Hugo on bass guitar; Tom Walsh on percussion and Lee Thornburg on horns. Now, Supertramp was an eight-man band. They released an album titled Some Things Never Change. On August 8, 1997, Supertramp returned to Vancouver to perform at General Motors Place.
In 2002 the band released Slow Motion. Supertramp appeared in concert in Vancouver on September 16, 2002, at the Pacific Coliseum. The band was dormant for the next six years, but began to tour again in 2009. On June 2, 2011, they played at Rogers Arena. Aside from a 25-city tour of Europe in the mid-2010s, Supertramp has been less active as a band.
However, former band member, Roger Hodgson, embarked on a Breakfast In America World Tour in 2015. Hodgson appeared in concert at the Red Robinson Show Room in the Vancouver suburb of Coquitlam on March 4, 2011, and August 4, 2012. It was renamed the Hard Rock Casino where Hodgson returned on November 27, 2015, November 25, 2016, October 27, 2017, a year later on November 18th, 2018, and returned to the venue a year later on November 28th and 29th, 2019. Roger Hodgson also gave concerts at the Vancouver suburb of Richmond at the River Rock Casino on March 3, 2011, August 3, 2012, November 28, 2015, November 26, 2016, October 28, 2017, and November 17, 2018.
February 25, 2022
Ray McGinnis
References:
Laura Shenton, The Logical Book: A Supertramp Compendium, (Wymer Publishing, 2020).
"Supertramp biography," The Rolling Stone Encyclopedia of Rock and Roll, 2007.
"35 Years on from Breakfast in America: Profile of Swindon's Rick Davies," Swindonweb.com. May 19, 2014.
"Supertramp Singer has Strong Connection to Music," San Diego Union-Tribune, February 22, 2011.
"Supertramp Concerts in Canada," Setlist.fm.
"Roger Hodgson – Concerts – Canada," setlist.fm.
Jeff Bannister, "The Alan Bown Set," July 24, 2005.
"CKLG Top 20," CKLG 730 AM, Vancouver, BC, August 22, 1979.
For more song reviews visit the Countdown.