#811: I Got Burned by Ral Donner
Peak Month: March 1963
9 weeks on Vancouver's CFUN chart
Peak Position #6
Peak Position on Billboard Hot 100 ~ did not chart
YouTube.com link: "I Got Burned"
Ralph Stuart Emanuel Donner was born in Chicago in 1943. As early as age three young Ralph was performing Al Jolson songs in blackface. When he was three it was 1946, and The Jolson Story was a box office smash. At the age of eight, young Donner appeared before a Youth For Christ rally in Chicago in 1951 at Orchestra Hall. He sang a song on the radio that year by the Ink Spots titled "It's No Secret (What God Can Do)". When he was eleven years old he sang "The Old Rugged Cross" on WGN radio in Chicago. In his teens he entered a number of talent shows. In the fall of 1957, he formed a band called the Rockin' Five. The group played with Sammy Davis Jr. on one occasion on a local TV station. At the age of 15, Donner was a guest at popular rock 'n roll DJ Alan Freed's Big Beat Rock N' Roll Show. The show was held at the Civic Opera House in Chicago on April 26, 1958. Others on stage were Buddy Holly & The Crickets, Jerry Lee Lewis, The Diamonds, Frankie Lymon, Danny & The Juniors and Chuck Berry. Prior to that concert, Ralph Donner appeared on "Time For Teens" on March 9th. He was mobbed by fans and had to be rescued by the police.
Ralph Donner shortened his first name to Ral. He traveled to Florida and has numerous appearances in concert in Orlando. He performed in Memphis and cut his first record at Pepper Recording Studio while he was still 15 years old, in January 1959. By October 1959, he had a record on Scottie titled "Tell Me Why". Despite some good initial promotion, the song was a commercial failure. He was a marketed as an Elvis Presley sound-a-like. Gone Records signed Donner up for a record contract at age 18. Radio listeners thought Ral Donner's cover of Elvis' "The Girl of My Best Friend" was actually the version recorded by Elvis. The song peaked at #19 on the Billboard Hot 100 and #5 in Vancouver on CFUN. Donner's follow-up hit was his biggest in the USA, "You Don't Know What You've Got Until You Lose It". It climbed up the Billboard Hot 100 to #4. But in Vancouver it stalled at #37.
Donner had his second appearance on American Bandstand on July 27, 1961. On August 24, he was on stage in Pittsburgh with other headliners Frankie Avalon, Freddie Cannon, Gene Pitney and Bobby Vinton. The next day he began a two week gig at the Paramount Theatre in Brooklyn, along with Jackie Wilson, Jerry Lee Lewis, Tony Orlando and the Belmonts. Later in the fall he was on a month-long tour with Bobby Vinton, Tony Orlando and Ray Stevens. Ral Donner was on the cover of a December 1961 issue of music industry magazine, Cashbox. On December 26, 1961, he shared the stage in a concert in Chicago with Solomon Burke, Dion, Clarence "Frogman" Henry, Eddie Hodges, Brenda Lee and The Marvelettes.
Getting a recording artist to capture the "Presley sound" was a factor in a number of male solo artists getting record contracts. Most notable among those who radio listeners first thought were new records by Elvis included "It's Only Make Believe" by Conway Twitty; "Wooden Heart" by Joe Dowell; "Tragedy" by Thomas Wayne; "Rockin' Little Angel" and "That's All Right" by Ray Smith; Livin' High by Vince Everett; "Suspicion" by Terry Stafford and several singles by Ral Donner.
However, all was not well with Ral Donner's contract. He was selling records, but he wasn't receiving any royalties. He complained to George Goldner in March 1962, and said he wouldn't come back to New York to record until he received what he was owed. Morris Levy of Roulette Records was listening in on the phone. He told Ral Donner that if he didn't come back and record, Levy would do whatever it took to make sure he would never record another record. Ral Donner ended up in a legal dispute with Goldner. Gone Records effectively pulled "To Love Someone" from promotion. It stalled at #74 on the Billboard Hot 100 in late April 1962. Gone Records next single by Ral Donner was "Loveless Life". It missed the Hot 100, stalling at #117. Gone Records, along with Morris Levy, were making good on their threat to sabotage Ral Donner's recording career.
Meanwhile, Ral Donner continued to tour. For the month of April 1962, he was on the "Supersonic Tour" with Solomon Burke, Dee Clark, Sam Cooke, Dion, The Drifters, Barbara George, B.B. King, Gladys Knight and the Pips and The Sensations. Donner also had several tours to Canada and the USA in the summer of 1962. The other headliners were Ernie Maresca ("Shout, Shout, Knock Yourself Out") Bruce Channel ("Hey Baby") and Troy Shondell ("This Time").
Ral Donner got out of his contract with Gone Records by the summer of 1962. His next release was with Reprise Records in early 1963. Reprise was owned by Frank Sinatra. The song was titled "I Got Burned".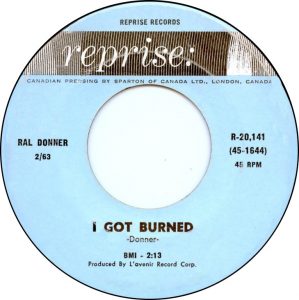 Ral Donner wrote "I Got Burned". His song draws on a fire as a metaphor to describe the experience of being in love and being rejected. The singer contrasts the good things in the relationship before it ends: happiness, sexual attraction that feels like paradise and sweet kisses. However, once it is over the singer feels a fiery sting, burned, heartbreak, pain and screaming out loud. The singer concludes that love can be "a vicious thing." Research suggests that when people are rejected in a relationship that physical symptoms can mimic what people feel when they are on withdrawal from taking hard drugs. Post-breakup, people who've been rejected can feel pains in their chest, depressed, start binge eating (and so experience weight gain) and have an increased risk of heart attack. Research at the University of Michigan, in Ann Arbor, reveals that for the human brain the experience of getting a burn from spilling coffee or touching an element on a stove lights up a certain area of the brain. When we are dumped in a relationship, the same area of the brain lights up. So, when someone tells their friends "I Got Burned", the metaphor is physically accurate, at least in terms of how your brain is processing the experience of a break-up.
Fire and its synonyms are present in numbers of songs to describe either falling in love or the dangers of love. Elvis Presley had a Top Ten hit in the winter of 1958 called "I Got Stung". In this case, the sting is so good, the guy in the song wants to make sure he is only stung by this same woman if he lives to be one hundred and two. In the Rolling Stones song, "Play With Fire," the singer warns a woman to stay away from him 'cause she'll end up living with her mother. In one way or another, he'll be the ruin of her. In 1960, Jack Scott sang "Burning Bridges". In the song a guy finds old love letters he got from his ex. He decides to burn the letters to ashes, as he doesn't want anything left to remind him of her. In 1959, The Platters had a #1 hit with "Smoke Gets In Your Eyes". The song explores how smoke gets in your eyes both when a fire starts to burn between two people, as well as when the flame dies. On the upside, Jerry Lee Lewis described the impact of meeting someone who is a knock out in his 1957 hit, "Great Balls Of Fire". And in 1963, Martha & The Vandellas sang about the impact of someone whose love is like a "Heat Wave".
"I Got Burned" mirrored Ral Donner having gotten burned by the music industry, as Morris Levy had made good on his word. Ral Donner was shut out of consideration from almost all record labels and, importantly, airplay in most radio markets.
Away from the pull of Morris Levy in New York City, Donner found a responsive audience in Vancouver where radio DJ's weren't under Levy's sway. "I Got Burned" peaked at #6 in Vancouver. It was his only Top Ten chart run in North America. "I Got Burned" managed to crack the Top 20 in his home town of Chicago, as well as Milwaukee (WI) and Grande Prairie (AB).
Donner had hoped that by switching labels he could find the right formula for reviving his career. Yet, Elvis was becoming part of the old rock 'n roll sound that was being erased by keen interest in the Surfing Sound, a Folk Music revival and the British Invasion. The song got listed at the bottom of the Top 50 on KJR Seattle and DJ Pat O'Day brought Ral Donner to do a concert at the foot of the Space Needle in April of '63. But Morris Levy had powerful connections in the music industry. Ral Donner was shut out. Meanwhile, Reprise Records didn't put much effort into promotion for any of Ral Donner's four single releases with the label. By the end of the summer of 1963, Ral Donner was again out of a record contract. For the next ten years Ral Donner shuffled from record label to record label, recording with over a half a dozen with no commercial success.
During the early rock 'n roll era before the British Invasion, these artists came closest to matching the voice and singing style of Elvis Presley. Their resemblance to Elvis' sound would later give birth to a phenomenon after Presley's death of Elvis impersonators who would perform from Elvis' songbook.
After Elvis Presley's death in 1977 Donner was asked to be the voice narrator in the film, This is Elvis, playing as the voice of Elvis. The film was released in 1981. Donner would live only three more years when he died of lung cancer at the age of 41 in 1984. In the film, Grease, the character Johnny Casino (and the Gamblers), is a portrayal of Ral Donner and his backing band. In Grease, the portrayal was by the group Sha-Na-Na.

May 14, 2018
Ray McGinnis
References:
Al Jolson – The Jolson Story, Museum of Family History.com.
Chuck Berry set list, Set List.fm
Ral Donner – A Voice That Fits A King, East Coast Rockabilly.
Terry Wilson, "The Ral Donner Story – Setting The Record Straight," The Wick.co.uk, November 2000.
Madlen Davies, "The Physical Pain of Breaking Up: From Chest Pain to Drug-like Withdrawal Symptoms, We Reveal the Real Effects of Heartache," Daily Mail, UK, January 2, 2015.
Matt McMillen, "To The Brain Getting Burned, Getting Dumped Feel the Same," CNN, March 29, 2011.
"C-FUNTASTIC FIFTY," CFUN 1410 AM, Vancouver, BC, March 16, 1963.
For more song reviews visit the Countdown.