#1427: Got To Get You Into My Life by Stitch In Tyme
Peak Month: January 1967
8 weeks on Vancouver's CFUN ALL CANADIAN TOP TEN chart
Peak Position #2
6 weeks on Vancouver's C-FUNTASTIC FIFTY chart
Peak Position #28
Peak Position on Billboard Hot 100 ~ did not chart
YouTube.com link: "Got To Get You Into My Life"
Lyrics: "Got To Get You Into My Life"
Bruce Wheaton was born in Amherst, Nova Scotia, in 1946. He formed a band at his Amherst high school in 1962. His band was named The Continentals, and his first song performed on stage was the Chuck Berry tune "Rock 'n Roll Music". Wheaton joined the Royal Canadian Air Force and was stationed at Camp Borden, west of Barrie, Ontario. In 1964, while with the RCAF Bruce Wheaton formed a band called The Vibrasonics. Wheaton played lead guitar and was the lead vocalist. The following year Wheaton was transferred to a Canadian Forces detachment in Downsview, a suburb of Toronto. It was there he formed his third band named Chester & The Unknowns. The band appeared on a local Toronto CTV station variety show called A Go Go '66 during the 1965-66 season. Wheaton later joined a band called the Purple Hearts in 1966. But, by the end of the year he was invited by two of his former Continental bandmates, bass player Donnie Morris and drummer Pinky Dauvin, to join The Stitch in Tyme.
The Stitch In Tyme drew from two other bands in Nova Scotia, Canada. From The Untouchables came vocalist John Yorke, guitarist Grant Fullerton and keyboard player Bob Murphy. And from The Continentals came Donnie Morris and Pinky Dauvin. The Stitch In Tyme moved from Nova Scotia to Toronto in 1966. In time, John Yorke was replaced by Bruce Wheaton on lead vocals. They were signed to Arc Records and released "Dry Your Eyes". The single was not a hit. However, they did a cover of a Beatles track from the Fab Four's Revolver album titled "Got To Get You Into My Life". The song began to chart on CFUN in Vancouver on December 17, 1966, and on CHUM in Toronto on their December 12/66 chart.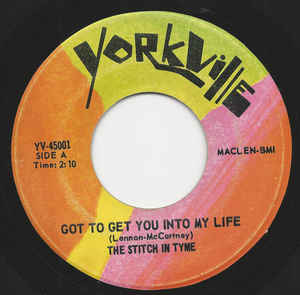 "Got To Get You Into My Life" is a song by Paul McCartney and John Lennon of The Beatles. The song was a track from the Beatles 1966 album Revolver. The song is about the expansion of mind awareness. McCartney sings "I was alone, I took a ride, I didn't know what I would find there/Another road where maybe I could see another kind of mind there/Ooh, then I suddenly see you/Ooh, did I tell you I need you/Every single day of my life…" In his essay "Vacio Luminoso: 'Tomorrow Never Knows' and the Coherence of the Impossible," Russell Reising writes "Got to Get You Into My Life" celebrates mind expansion in all its possible forms: psychological, passionate, and psychedelic…. Taking a ride to encounter a different kind of mind codifies what many theorists and practitioners regard as the very essence of the psychedelic experience. … Paul's song focuses on what one "sees" on this ride, whether it be "another kind of mind" or the celebrated "you" suggested in "Lucy In The Sky With Diamonds." Paul McCartney would later state that "Got To Get You Into My Life" was "actually an ode too pot… like someone else might write an ode to chocolate or a good claret." In interviews with author Barry Miles in 1997, McCartney revealed "'Got To Get You Into My Life' was one I wrote when I had first been introduced to pot… So it's really all about that. It's not to a person."
While McCartney revealed his inspiration for writing "Got To Get You Into My Life" in 1997, back in 1966, most people listening to the Revolver album did assume the song was about "a person." And they'd sing along to the record "… did I tell you I need you, every single day of my life. Got to get you into my life…" After all, pop radio was saturated with songs about a longed for romantic partner. So it was an easy assumption to make that "Got To Get You Into My Life" was in synch with that message.
When it was first recorded by The Beatles in April 1966, "Got To Get You Into My Life" was given a Haight-Ashbury hippie vibe. It was only in a session later in May that the horns were added. With their cover, The Stitch In Tyme provided a sprightly offering of horns as well.
The Stitch In Tyme's cover of "Got To Get You Into My Life" climbed to #28 on the C-FUNTASTIC FIFTY and #2 on the C-FUN ALL CANADIAN TOP TEN in Vancouver. It climbed to #12 in Kitchener, Ontario, and #16 on CHUM in Toronto. The single was listed as the #21 song for the year 1967 on CFNB in Fredericton, New Brunswick.
In 1976 The Beatles "Got To Get You Into My Life" was finally released as a single. It climbed to #7 on the Billboard Hot 100. And Earth, Wind and Fire, released their own cover of the song in 1978 which made #9 on the Hot 100 and #1 on Billboard's Soul singles chart.
With their national hit on Canadian airwaves in 1967, The Stitch In Tyme appeared on CTV's After 4 along with Terry Black, Ronnie Hawkins, The Ugly Ducklings, The Big Town Boys and others. At the opening party for Expo '67 in Montreal, at the end of April, The Stitch In Tyme were among the performers. The band was invited back to perform for a week at The Ontario Pavilion. And then they received a third invitation to perform for a week at the Garden of Stars at La Ronde Amusement Park. Other performers at Expo '67 included The Supremes and Petula Clark. On September 24, 1967, The Stitch In Tyme appeared at the Maple Leaf Gardens at a concert sponsored by CHUM-AM and After 4. The band was one of 14 to appear on stage and the promotional poster promised "14 hours of dancing!" The Stitch In Tyme had a follow up release titled "New Dawn" which made the Top 50 in Simcoe, Ontario, in the summer of 1967. In 1968 The Stitch In Tyme had a Top 30 hit in Fredericton titled "Stop Waistin' Time".
The Stitch In Tyme ran their own Coffee House named Flick, in Toronto's Yorkville, a mecca for hippies. The band formed their own label, also named Flick. But they ran into a recording dispute with their former label, Arc. Frustrated with the conflict over the rights to record and release their music, the band folded. In 1969, Bruce Wheaton, Donnie Morris and Bob Murphy moved back to Nova Scotia. They formed a band with several other musicians and came up with the name Soma. Wheaton soon got restless and returned to Toronto. He eventually ended up in another band called Everyday People, signed with GRT Records. While with Everyday People, Bruce Wheaton wrote a song titled "I Like What I Like". It was later recorded by Mama Cass. In the mid-70's Wheaton formed a band in Nova Scotia named Molly Oliver. The band released an album in 1982 and opened for The Beach Boys in 1983 at a concert in Halifax. Molly Oliver disbanded in 1987. In the 90's Wheaton went solo. He maintains both a YouTube channel and a musical history website. He also has a Facebook page.
Pinky Dauvin and Grant Fullerton went on to join Lighthouse for awhile. On Grant Fullerton's website it states that after he left Lighthouse during their zenith hit-making period, he formed several bands. "By the late '80's Grant had been recruited to play the lead in the First Choice/CBC movie 'The Vacant Lot' as guitarist and lead vocalist in a fictitious band. In the 1990's Grant operated a restaurant north of Toronto, where he held regular jam nights with some of Toronto's most popular musicians. Fullerton's closed in 2003 and Grant now does solo work north of Toronto."
In 1999 The Stitch In Tyme performed at The Toronto Rock Revival at a venue called the Warehouse. Others performing on stage included Lighthouse, Crowbar, The Ugly Ducklings, Luke & The Apostles, Robbie Lane & The Disciples, The Mandala and Bush. Bruce Wheaton, Grant Fullerton, John Yorke and Pinky Dauvin were there to perform as The Stitch In Tyme for the first time since the band broke up in 1968. The rock revival concert was later released on a TV show called The Boys Are Still In Town.
July 10, 2019
Ray McGinnis
References:
Bruce Wheaton, Peter Thorsen, "The Stitch In Tyme," Nova Scotia Classic Rock.
Peter Crowe, Arnold Faber, Jim Rice, Paul Smith, Jaimie Vernon, Bruce Wheaton, "The Stitch In Tyme," Canadian Bands.com.
Kenneth Womack and Todd F. Davis. Reading The Beatles: Cultural Studies, Literary Criticism and the Fab Four. (State University of New York Press, 2006) 118-119.
Barry Miles. Paul McCartney: Many Years From Now. (Henry Holt & Co., 1997).
"Bruce Wheaton Musical History," Chebucto.ns.ca.
"C-FUN ALL CANADIAN TOP TEN," CFUN 1410 AM, Vancouver, BC, December 17, 1966.
"Grant Fullerton Biography," Grant Fullerton…com.
"Interview with Bruce Wheaton of Molly Oliver," Angelfire.com, April 2001.
Bruce Wheaton Youtube channel
For more song reviews visit the Countdown.