#1088: We Gotta All Get Together by Paul Revere And The Raiders
Peak Month: October 1969
6 weeks on CKLG chart
Peak Position #9
Peak Position on Billboard Hot 100 ~ #50
YouTube.com: "We Gotta All Get Together"
Lyrics: "We Gotta All Get Together"
A band called The Downbeats formed in Boise, Idaho, in 1958. Paul Revere Dick started the band originally as an instrumental group. They had their first chart single in Vancouver in 1960, an instrumental riff on the piano tune, Chopsticks, called "Beatnik Sticks". They changed their name to Paul Revere And The Raiders in 1960. Between 1960 and 1976 they released 41 singles. They charted five songs into the Top Ten on the Billboard Hot 100 in the USA beginning in 1966. These included "Kicks" and "Hungry" (1966), "Him Or Me? What's It Gonna Be" (1967) and their cover of Don Fardon's 1968 single "Indian Reservation", which peaked at #1 for the band in 1971. They were even more popular in Vancouver where they charted over fifteen songs into the Top Ten on the local charts here on the West Coast.
Paul Revere Dick met Mark Lindsay in 1958. In the group's song "The Legend Of Paul Revere," they sang about how they got started.
In a little town in Idaho way back in sixty one,
a man was frying burgers, gee – it seemed like lots of fun.
But to his friend the bun boy, he confessed it's misery,
I think I'd like to start a group, so come along with me.
The song was using poetic license as they group started in '58 not '61. But "fun" rhyming with "one" had more appeal then writing "way back in fifty-eight, a man was frying burgers, gee, it seemed to be just great."
Just as they were starting to get a name Paul Revere Dick was drafted into the United States Army. He became a conscientious objector and worked as a cook in a facility for patients with mental health issues. While Revere was in the U.S. Army, Mark Lindsay toured with the Raiders in 1961, after they had a Top 40 hit instrumental in the USA called "Like Long Hair". That summer a piano player named Leon Russell filled in for Paul Revere. When Revere returned to civilian life in 1962 the band moved to Portland, Oregon. In April 1963 both Paul Revere And The Raiders and The Kingsmen recorded a tune called "Louie Louie". Both versions were spirited, but it was The Kingsmen's version that would go to #2 on the pop charts in the USA, while Paul Revere And The Raiders version missed the Billboard Hot 100.
By 1965 the band had released fourteen singles, but didn't have any sizable hit. Then they released "Just Like Me" and everything changed. The infectious pop rock tune climbed to #11 on the Billboard Hot 100 and #3 in Vancouver in January 1966. The pattern of the band typically outperforming on the charts in Vancouver would continue over seven years. In November 1966 Paul Revere And The Raiders appeared on the Batman TV show, in an episode called "Hizzoner the Penguin." They were also regular guests on Dick Clark's Where The Action Is. Paul Revere and Mark Lindsay would co-host a show the ran after American Bandstand in 1968 called Happening '68. With the success of their singles and albums the band was Columbia Records top selling recording act in 1967, a year that five of their singles made the Top Ten in Vancouver, including "I Had A Dream".
In 1969 the band had their first gold record with "Let Me", a song that peaked at #20 on the Billboard Hot 100, but climbed to #2 in Vancouver. Their follow up single was their debut release from their twelfth studio album, Collage, titled "We Gotta All Get Together".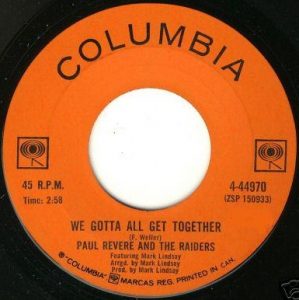 In America in the late 60s there was a lot of civil unrest. On April 4, 1968, a report came out of Washington D.C. from National Advisory Commission on Civil Disorders. It identified discrimination and poverty as the root causes of the riots that erupted in cities around the nation that decade. The report was released on the same day that African-American civil rights leader, Martin Luther King Jr., would be shot over the dinner hour, which prompted a riot later that night in Baltimore. Other riots had erupted in the mid-60s in Watts, Newark, New Jersey, Detroit, Rochester, New York, Philadelphia, Chicago, Minneapolis and other cities bursting with racial tensions. And Gordon Lightfoot sang about the riots in Detroit in the July, 1967, in "Black Day In July." There were also protests against the Vietnam War and burning of draft cards. On Saturday, June 28, 1969, at 1:20 a.m. four plainclothes policemen in dark suits arrived at Greenwich Village's Stonewall Inn's double doors and announced "Police! We're taking the place!" The raid promoted the Stonewall Riot, and the beginning of the modern Gay Rights Movement. With the assassinations of Martin Luther King Jr. and Senator Robert F. Kennedy in 1968, America was a very divided society racially, economically, politically and even in terms of the length of (a man's) hair.
Paul Revere And The Raiders song "We Gotta All Get Together" was one of a number of songs trying to use music as a vehicle for starting conversations where people in society could move toward one another in love instead of moving away from each other in fear, suspicion and hostility. Other songs at the time trying to address the societal divide included "Revolution" by The Beatles, "Reach Out Of The Darkness" by Friend and Lover, "I Wish I Knew", by Solomon Burke, "People Got To Be Free" by The Rascals, "In The Ghetto" by Elvis Presley, "Hair" by The Cowsills, "Aquarius/Let The Sun Shine In" by The Fifth Dimension, "Crystal Blue Persuasion" by Tommy James & The Shondells and "Get Together" by The Youngbloods.
In the case of "We Gotta All Get Together", Paul Revere And The Raiders contend that being narrow-minded is not helpful. Change is inevitable. There are things that need to be fixed, starting with the simple recognition that we are, to use a phrase in the sixties at civil rights marches "all brothers." It was not the color of another person's skin that we were called to judge people, but by the conduct of their character. "I'm no better then anyone I see," as the lyrics asserted, literally meant anyone you happened to look at regardless of the color of their skin, the length of their hair, the type of clothes they wore (remember "Harper Valley P.T.A.") and other things that were barriers to creating reciprocal relationships based on equality and justice. One of the obstacles to telling someone else they're narrow-minded was the likelihood of sparking a defensiveness in the other person instead of starting a conversation. A new wave of personal growth workshops in Non-violent Communication were catching on as people tried to find ways to have conversations about difficult topics.
After their #1 hit with "Indian Reservation" in 1971, the band would release a few more singles with mixed success. By 1973 they were passé as progressive rock groups like Yes, folk-rock singers like Jim Croce and James Taylor, and evolving soul sounds from Marvin Gaye, Eddie Kendricks, Stevie Wonder and Billy Paul pushed Paul Revere And The Raiders to the back of the pack on the pop charts. Shortly after Mark Lindsay, who had already recorded several solo hits, left the band. In 1976 Paul Revere called it quits. However, the band was back on tour in 1978 as 60s revival tours got them bookings well into the 2000s.
As of the spring of 2017 Paul Revere's Raiders, as they are now billed since Paul Revere died in 2014, have several upcoming concert dates in Connecticut and New Jersey in the fall of 2017.
May 17, 2017
Ray McGinnis
References:
Music in Washington, Seattle and Beyond (Images of America) (1st ed.). Arcadia Publishing, Charleston, SC, 2007.
Daniel Kreps, "Raiders Leader Paul Revere Dead at 76," Rolling Stone, October 5, 2014.
Paul Duchene, "So long, 'mad wizard': Raiders' drummer Michael 'Smitty' Smith dies in Hawaii," Portland Tribune, Portland, OR, May 29, 2000.
Hizzoner the Penguin, Batman, ABC, 1966.
Paul Revere's Raiders.com
Stonewall Riot, Wikipedia.org
Non-violent Communication, Wikipedia.org.
"Boss 30," CKLG 730 AM, Vancouver, BC, October 17, 1969.
For more song reviews visit the Countdown.