#841: That Greasy Kid Stuff by Janie Grant
Peak Month: June 1962
7 weeks on CFUN chart
Peak Position ~ #5
Peak Position on Billboard Hot 100 ~ #74
YouTube.com: "That Greasy Kid Stuff"
Lyrics: "That Greasy Kid Stuff"
Rose Marie Casilli was born in Patterson, New Jersey in 1945. A promotional piece for Janie Grant in Billboard Magazine from June 23, 1962, stated that her hobbies were "dancing, swimming and collecting records." Billboard wrote, "she started singing when she was only 8, making her professional debut at a local dance revue. Gerry Granahan… was instrumental in capturing a recording contract for Miss Grant. He heard her singing at a party and brought her to Caprice where she auditioned for the company's execs." The Billboard article noted that she played guitar and wrote songs, including her Top 30 hit, "Triangle", which peaked on the Billboard Hot 100 at #29. The person who "discovered" Janie Grant, Gerry Granahan, had a minor hit in 1958 called "No Chemise Please." Granahan started a record label called Caprice. Janie Grant was 16 when her debut single – "Triangle" – made the Top Ten in Chicago, San Diego, San Francisco, Los Angeles, Tampa (FL), Vancouver (BC), Arkon and Columbus (OH), and Tucson and Phoenix (AZ).
In the book, One Hit Wonders, Gerry Granahan reveals that Rose Marie Casilli chose the stage name, Janie Grant. This was uncommon at the time, as so many aspiring recording artists were happy to let their record company execs make up a name for them. She struggled to get another hit. Her follow up, "Roller Coaster", made the Top 40 in Montreal, but got hardly any airplay elsewhere. A third single, "Romeo", made the Billboard Hot 100 but stalled at #75. It got some chart action in Vancouver peaking at #25. In each of her single releases Janie Grant vocalized "oh, oh, oh" and other fillers. She may have been a muse for female vocalists over the decades like Katy Perry who uses lots of "oh, oh, oh's" to punctuate her hits.
Grant's next two singles – "Unhappy" and "Oh Johnny" – had some regional chart success in the USA in the winter of '61 and spring of '62. But she failed to crack the Billboard Hot 100. Her fifth single release with Caprice Records was "That Greasy Kid Stuff".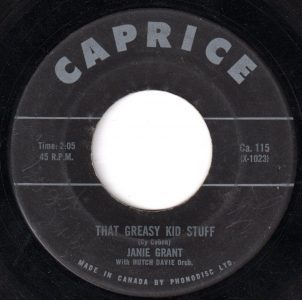 "That Greasy Kid Stuff" was a novelty record about using too much hair gel. The song title became a tag line for a Vitalis commercial. Cleopatra floats down the Nile River with Mark Antony. Just when things are getting hot and heavy she discovers his hair is too greasy. Delilah finds that Samson also applying too much hair gel. Stanley in the jungles of Africa discovers that Dr. Livingstone is using that greasy kid stuff while exploring in the wilds of Africa. And in an encounter with then president of the United States, John F. Kennedy, Nikita Kruschev asks the American president if he is still using that greasy kid stuff.
Greasy Kid Stuff was a tag for a Vitalis men's hair gel commercial from the 1950's. Two football stars with the Green Bay Packers combed their hair, one with Vitalis and the other with a generic greasy kid stuff hair gel. Comparing combs, the two football players could easily see that the one comb had a whole whack of white cream on the comb while the comb that had Vitalis had no residue. Vitalis, the football players contended, kept your hair neat on the job or on a date. Time Magazine did an article detailing how, in the summer of 1962, two college students, Larry Frohman and Bill Cole, created a product for $50 and called it Greasy Kid Stuff. Its contents consisted mostly of lanolin and mineral oil with a few spices. They marketed their product through their company, Kid Stuff Products Inc. In only a few days they sold over 130,000 bottles and had to get more of their "hair gel" to market. The product was a fad built on the tagline from the Vitalis commercials. By the summer of 1963 the fad was over and the two college students resumed their studies, albeit with healthy bank balances.
"That Greasy Kid Stuff" was Janie Grant's final charting song in 1962 at the age of 17. The song peaked at #5 in Vancouver and Toronto, #7 in Arkon (OH), #10 in Cleveland. Janie Grant caught a wave of a new teen sound in pop music in 1961-62. AM radio was spinning records by any new artist in the aftermath of the deaths of Buddy Holly, Ritchie Valens and the Big Bopper in 1959 and Eddie Cochran in 1960. Little Richard had left rock n'roll after his religious conversion in 1958. Jerry Lee Lewis had been blacklisted in the summer of 1958 after the 22 year-old Lewis had his third marriage to a first cousin aged 13. After the Payola scandal in the record industry in 1959-60, pop music was in the doldrums. Chuck Berry had closed his night club in St. Louis and opened up a 30 acre amusement park in Wentville, Missouri. Elvis was back after being drafted into the US Army, but his releases were toned down compared to his earlier material. There were no discernible trends and no sense of growth. Janie Grants' foray into pop music was part of a homogenized, bland scene that pop music found itself in 1961, despite some standout records. By 1962 the dance craze, a new surfin' sound, the bossa nova sound, folk music and the birth of Motown made it tough for artists like Janie Grant to get much notice. However, in his book, One Hit Wonders, Wayne Jancik tells that Janie Grant had more hit records in Japan than in the USA.
Grant released six singles between 1961 and 1962 on Caprice. He sixth release with Caprice was a Connie Francis sound-a-like tune with a pop-country affect called "Twos Company And Threes A Crowd". Outside of Massachusetts the song received little attention.
Grant switched labels and recorded two more singles with United Artists in 1963-64. "Tell Me Mama" resembled some of the fast-paced girl group sound of the time, and got some airplay in Maryland, Ohio, Michigan and Connecticut. "Too Young For Me", cowritten by Janie Grant was a commercial flop in the year of Beatlemania. Her subsequent Parkway Records release "My Heart Your Heart" was a northern soul belter. But the single got passed over in most radio markets.
Janie Grants' last public interview while she was getting any airplay was near the end of 1963. 38 years later, Grant was interviewed for the first time. She appeared along with Gerry Granahan on December 6, 2001, in a live phone-in show with Ronnie Allen on WBCB in Levittown, Pennsylvania. In the intervening years, Janie Grant got married and had several children, and lived a life out of the spotlight.
April 6, 2018
Ray McGinnis
References:
"A Year of Circles and Triangles," Time Out Of Mind.com, September 9, 2001.
"Janie Grant," Billboard Magazine, June 23, 1962.
Wayne Janick, One Hit Wonders, (Booksurge Publishing, North Charleston, South Carolina, 2008).
Christopher Simpson, "Greasy Kid Stuff: The Brand that Viral Marketing Built," Ad Nauseum, May 25, 2009.
Youth: What's Your Stuff, Time, December 28, 1962.
"C-FUNTASTIC FIFTY," CFUN 1410 AM, Vancouver, BC, June 23, 1962.
For more song reviews visit the Countdown.