#862: Great Airplane Strike by Paul Revere and The Raiders
Peak Month: October 1966
5 weeks on Vancouver's CKLG chart
Peak Position #3
Peak Position on Billboard Hot 100 ~ #20
1 week Hitbound ~ CKLG September 24, 1966
YouTube.com: "Great Airplane Strike"
Lyrics: Great Airplane Strike"
A band called The Downbeats formed in Boise, Idaho, in 1958. Paul Revere Dick started the band originally as an instrumental group. They had their first chart single in Vancouver in 1960. It was an instrumental riff on the piano tune, Chopsticks, which they titled "Beatnik Sticks. They changed their name to Paul Revere And The Raiders in 1960. Between 1960 and 1976 they released 41 singles. They charted five songs into the Top Ten on the Billboard Hot 100 in the USA beginning in 1966 with songs like "Kicks" and "Hungry" (1966), "Him Or Me – What's It Gonna Be?" (1967); And their cover of Don Fardon's 1968 single "Indian Reservation" which peaked at #1 for the band in 1971. They were even more popular in Vancouver where they charted over fifteen songs into the Top Ten on the local charts here on the West Coast.

Paul Revere Dick was born in Harvard, Nebraska, in 1938. He first met singer Mark Lindsay in 1958 while picking up hamburger buns at the bakery where Lindsay worked. At the time Revere owned several restaurants in Caldwell, Idaho. Lindsay was born in Eugene, Oregon, in 1942. In the group's song, "The Legend of Paul Revere", they sang about how they got their start.
In a little town in Idaho way back in sixty one,
a man was frying burgers, gee – it seemed like lots of fun.
But to his friend the bun boy, he confessed it's misery,
I think I'd like to start a group, so come along with me.
The song was using poetic license as they group started in '58 not '61. But "fun" rhyming with "one" had more appeal then writing "way back in fifty-eight, a man was frying burgers, gee, it seemed to be real great."
Just as they were starting to get a name Paul Revere Dick was drafted into the United States Army. He became a conscientious objector and worked as a cook in a facility for patients with mental health issues. While Revere was in the U.S. Army, Mark Lindsay toured with the Raiders in 1961, after they had a Top 40 hit instrumental in the USA called "Like Long Hair" early that year. It climbed to #3 in Cleveland, Ohio, and #29 in Vancouver. That summer a piano player named Leon Russell filled in for Paul Revere. When Revere returned to civilian life in 1962 the band moved to Portland, Oregon. In April 1963 both Paul Revere And The Raiders and The Kingsmen recorded a tune called "Louie Louie." Both versions were spirited, but it was The Kingsmen's version that would go to #2 on the pop charts in the USA, while Paul Revere & The Raiders version missed the Billboard Hot 100.
By 1965 the band had released fourteen singles, but didn't have any sizable hit. Then they released "Just Like Me" and everything changed. The infectious pop rock tune climbed to #11 on the Billboard Hot 100 and #3 in Vancouver in January 1966. The pattern of the band typically outperforming on the charts in Vancouver would continue over seven years. In November, 1966, Paul Revere & The Raiders appeared on the Batman TV show, in an episode called "Hizzoner The Penguin." They were also regular guests on Dick Clark's Where The Action Is.
One of the keys to the success of the band was bass player Phil "Fang" Volk. Born in 1945 in Burbank, California, his family moved to Idaho where he grew up. In the early Sixties Volk was playing in a number of bands, including Sir Winston's Trio, who appeared on a local TV show that Paul Revere saw. Another member of Sir Winston's Trio was Drake Levin, who was asked to become lead guitarist for Paul Revere And The Raiders in August 1963. Volk got a call from Revere to become the bands bass player in January 1965. It was Volk's guitar riffs on "Just Like Me", "Kicks" and "Hungry", that gave the band an edge as they grew in popularity.
Michael LeRoy Smith was born in 1942 in Beaverton, Oregon, a suburb of Portland. "Smitty" Smith met Paul Revere and Mark Lindsay at a teen dance club called the Headless Horseman in Portland in 1962. Smith became the band's drummer that summer. Jim "Harpo" Valley was born in Tacoma, Washington, in 1943. He was with Don & The Goodtimes in 1966 when Paul Revere asked him to join The Raiders for a tour in March 1966. He was interviewed by Dick Clark about being a new member of the band on an episode of Where The Action Is in 1966.
Drake Maxwell Levinshefski was born in Chicago in 1946. Just before his seventeenth birthday he became lead guitarist for Paul Revere And The Raiders in August, 1963. As he was the youngest member of the band, Drake Levin was nicknamed "The Kid." During 1966 Levin was called by Uncle Sam to join the U.S. Army. By serving with the National Guard, Levin was able to fulfill his service obligation and also help with the upcoming recording sessions for the bands next album, The Spirit of '67, released in the fall of 1966. The first single off the album was "Hungry," which climbed to #1 in Vancouver and #6 on the Billboard Hot 100. The next single off the album was "The Great Airplane Strike".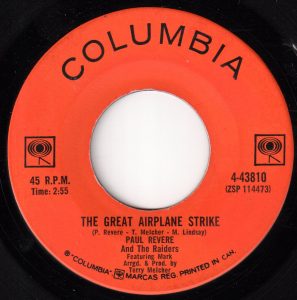 On July 8, 1966, the International Association of Machinists Union, employed by five airlines in the United States, went on strike. The strike lasted for 43 days, ending on August 19th. The strike took place over the peak of the summer travel season. Sixty percent 60 of flights were cancelled while 35,000 workers staged the biggest airline strike in the industry's history. After several years of flat wages as the airline industry invested heavily in jet technology, aircraft mechanics and other ground service workers represented by the IAM were anxious to share in the substantial profits of 1965. Over a year of negotiations and with no contract for six months, the machinists went on strike. They were soon joined by cargo handlers, ramp service workers cleaners, storekeepers, inspectors, food service workers and flight attendants. During the summer of 1966 Paul Revere And The Raiders had concerts in Lowell, Massachusetts, in July 26, and in Topeka, Kansas, on July 29th. Like the general public, the band had to scramble to make other travel arrangements. The strike was settled when the union won a cost-of-living clause and a 6 percent wage increase. As United Airlines had doubled its profits the previous year, the machinists felt some of the profits should trickle down to the workers who ensured the planes could fly.
"The Great Airplane Strike" not only comments on the strike which inspired the song, but on the hazards of modern transportation. In addition to planes not flying because of the strike, getting a taxi in Los Angeles was unreliable. They wait 14 hours to get a taxi and then the taxi runs out of gas. "The Great Airplane Strike" went to #3 in Vancouver and Dallas (TX), #6 in Seattle, #7 in Talahassee (FL) Birmingham (AL), New Haven (CT) and Buffalo (NY), #8 in Denver and Omaha (NB), #9 in San Jose (CA), Boston, Chicago and Miami. But the song got little of no airplay across 3o states in the USA, muting its national chart run on Billboard.
Phil Volk, Drake Levin and Michael "Smitty" Smith left Paul Revere And The Raiders in 1967 to form Brotherhood. Volk went on to become bass player for Rick Nelson. Jim "Harpo" Valley left to pursue a solo career. With the success of their singles and albums the band was Columbia Records top selling recording act in 1967, a year that five of their singles made the Top Ten in Vancouver, including "I Had A Dream". Paul Revere and Mark Lindsay would co-host a show that ran after American Bandstand in 1968 called Happening '68. Revere and Lindsay added new musicians to their lineup. In 1969 the band had their first gold record with "Let Me", a song that peaked at #20 on the Billboard Hot 100, but climbed to #2 in Vancouver.
After their #1 hit with "Indian Reservation" in 1971, the band would release a few more singles with mixed success. By 1973 they were passé as progressive rock groups like Yes, folk-rock singers like Jim Croce and James Taylor, and evolving soul sounds from Marvin Gaye, Eddie Kendricks, Stevie Wonder and Billy Paul pushed Paul Revere & The Raiders to the back of the pack on the pop charts. Shortly after Mark Lindsay, who had already recorded several solo hits, left the band. In 1976 Paul Revere called it quits. However, the band was back on tour in 1978 as 60s revival tours got them bookings well into the 2000s. Paul Revere died in 2014.
Michael "Smitty" Smith moved to Hawaii and was badly injured in a car crash. In 2000 he was working in a lumberyard in Kona and playing in a band at night. But he was rushed to hospital with internal bleeding and died at the age of 58. Jim "Harpo" Valley was only in the recording studio with Paul Revere And The Raiders for The Spirit of '67. Disappointed with his lack of opportunity to shape the band's sound, he went on to a solo career early in 1967. Over the years Jim Valley has performed in a variety of settings including hospital wards for children. He lives in Gig Harbor, Washington. Drake Levin went on to play with Lee Michaels and with Emitt Rhodes (formerly of the Merry-Go-Round). He died of cancer in San Francisco at the age of 62. Phil Volk's band, Fang and the Gang, released covers of old Paul Revere And The Raiders hits on the album, Fang Reveres The Raiders, in 2005.
As of March, 2018, Paul Revere's Raiders, are led by Paul Revere's son, Jamie Revere. They have seven upcoming concert dates in Ohio, Pennsylvania, Indiana, New Jersey, Florida and Alaska. Mark Lindsay is part of the lineup on the 2018 national Happy Together tour with Flo & Eddie of The Turtles, Chuck Negron of Three Dog Night, The Cowsills, Gary Puckett & The Union Gap and The Association. The Happy Together tour includes 40 concert dates, across 22 states, between June and August, 2018.
March 12, 2018
Ray McGinnis
References:
Music in Washington, Seattle and Beyond (Images of America) (1st ed.). Arcadia Publishing, Charleston, SC, 2007.
Daniel Kreps, "Raiders Leader Paul Revere Dead at 76," Rolling Stone, October 5, 2014.
Paul Duchene, "So long, 'mad wizard': Raiders' drummer Michael 'Smitty' Smith dies in Hawaii," Portland Tribune, May 29, 2000.
Hizzoner the Penguin, Batman, ABC, 1966.
Paul Revere's Raiders.com
"Today in Labor History: Airline Workers Strike in 1966," People's World, Chicago, IL, July 8, 2015.
Robert G. Rodden, The Fighting Machinists: A Century of Struggle, (Kelly Press, Cheverley, MD, 1984).
"Boss 40," CKLG 730 AM, Vancouver, BC, October 22, 1966.
For more song reviews visit the Countdown.