#309: Green Green Grass Of Home by Tom Jones
Peak Month: January 1967
9 weeks on CKLG's Vancouver Charts
Peak Position ~ #1
Peak Position on Billboard Hot 100 ~ #11
YouTube: "Green Green Grass Of Home"
Lyrics: "Green Green Grass Of Home"
Thomas John Woodward was born in Wales in 1940. His father was a coal miner. Young Tom began singing at an early age and was in a children's choir. At age 12 he had tuberculosis. While convalescing he spent more time developing an interest in music and listening to records. In 1963 he was the lead singer for the Welsh band Tommy Scott and the Senators. They had a record made with Tornados producer Joe Meek. In 1964 Jones was heard by a manager in the music industry based in London. Jones was brought to London and renamed Tom Jones. This was a strategy to get his attention after the successful musical Tom Jones won four Academy Awards in 1963, including Best Director and Best Picture.
In 1965 Tom Jones became a hit sensation with hit Top Ten appearances of "It's Not Unusual" and "What's New Pussycat". The latter was the theme song for the film What's New Pussycat, with a screenplay written by a new talent named Woody Allen. That year Jones also sang the theme songs for the James Bond spy film Thunderball and the comedy Promise Her Anything. In 1966 Tom Jones was awarded a Grammy for Best New Artist.
In 1967 Jones began with a pop-country hit "Green, Green Grass Of Home".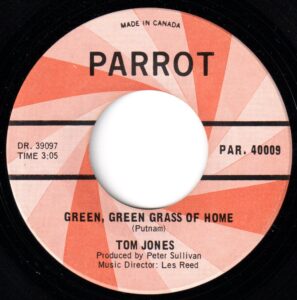 "Green, Green Grass Of Home" was written by Curly Putman. Born in rural Alabama in 1930, Claude Putman Jr. was the son of a sawmill worker. As a teenager, he learned to play the steel guitar. Putman joined the United States Navy after World War II and was with the USS Valley Forge for four years. He bounced around between a lot of jobs in much of the 50s into the 60s. This inspired him to write "My Elusive Dreams", which he recorded, and was also a number-one country hit for David Houston and Tammy Wynette in 1968.
In 1960 Curly Putman recorded his first Top 30 country hit single titled "The Prison Song". In 1966, Putman wrote Dolly Parton's first Top 30 hit on the Billboard Hot Country Singles chart titled "Dumb Blonde". In 1967 Putman wrote a Top Ten country hit for the Statler Brothers titled You Can't Have Your Kate and Edith, Too". Putman also wrote "D-I-V-O-R-C-E", another number-one hit for Tammy Wynette in '68. Putman's song "Blood Red and Goin Down," was a #1 country hit for Tanya Tucker in 1973. In 1980 he penned another number-one country hit titled "Do You Wanna Go To Heaven", for T.G. Sheppard. That same year Putman wrote "He Stopped Loving Her Today" which was a #1 country hit for George Jones. Curly Putman died at age 85 of congestive heart failure in 2016.
In "Green, Green Grass Of Home" the first verse describes a man who returns to his childhood home. It seems that this is his first visit home since leaving in his youth. When he steps down from the train, his parents are there to greet him. As well, his beloved, Mary, comes running to join them. All is hospitable and serene. They all come to meet him with "arms reaching, smiling sweetly." With Mary, the man strolls leisurely among the monuments of his childhood, including "the old oak tree that I used to play on." It is "good to touch the green, green grass of home."
In the second verse the man switches from song to speech. He finds himself waking up in prison: "Then I awake and look around me, at four grey walls that surround me. And I realize that I was only dreaming." We learn in the song that the man is on death row [and can infer he is in a maximum security penitentiary]. Moving into the next verse, singing again, the narrator tells us he is waking on the day of his scheduled execution ("there's a guard, and there's a sad old padre, arm in arm, we'll walk at daybreak"). In fact, the only way he will return home will be for his burial: "Yes, they'll all come to see me in the shade of that old oak tree, as they lay me 'neath the green, green grass of home."
Originally, "Green, Green Grass Of Home" was recorded by Johnny Darrell in 1965. It became a Top 10 country hit for Porter Wagoner in '65. It was also recorded that year by Jerry Lee Lewis. It was the Jerry Lee Lewis recording that Tom Jones heard, inspiring Jones to make a cover of the song. "Green, Green Grass Of Home" was later recorded by Elvis Presley, Gram Parsons, Dean Martin, Roger Miller, Johnny Cash, Bobby Bare, Trini Lopez, Bonnie Guitar, Hank Snow, the Pozo-Seco Singers, Joan Baez, Nana Mouskouri (in French), Joe Tex, Kenny Rogers and the Grateful Dead, among others.
"Green, Green Grass Of Home" climbed to #1 in Vancouver (BC), Grande Prairie (AB), Kitchener (ON), Fredericton (NB) and Toronto, #2 in San Diego, Wilmington (DL) and Orillia (ON), #3 in Wilkes-Barre (PA) and Manchester (NH), #4 in Phoenix, Columbia (SC), Minneapolis/St. Paul, Omaha (NE), Hamilton (ON), Edmonton (AB) and Louisville, #5 in Spokane (WA), Springfield (MA), Charleston (SC), Jackson (MI), Milwaukee (WI) and Akron (OH), #6 in Pittsburgh (PA), Las Vegas, Oklahoma City, Sudbury (ON), Cincinnati (OH), Montreal and Bakersfield (CA), #7 in Dothan (AL), Bangor (ME), Topeka (KS), Winnipeg (MB) and Eugene (OR), #8 in Hartford (CT), Fort Wayne (IN), Tulsa (OK), Boston, Seattle, Butte (MT), Dayton (OH), Reading (PA) and Philadelphia, #9 in Providence (RI), York (PA), Allentown (PA), Orlando (FL), and #10 in Miami, Windsor (ON) and Nashville.
The single reached #11 on the Billboard Hot 100. Internationally, it peaked at #1 in the UK and Australia, Belgium, Ireland and Norway, #2 in Austria and the Netherlands, and #6 in West Germany.
In the UK Jones had several more Top Ten hits in 1967, "Detroit City", "Funny Familiar Forgotten Feelings", "I'll Never Fall In Love Again" and "I'm Coming Home". While "Detroit City" climbed to #12 in Vancouver, it was "I'll Never Fall In Love Again" that was his next biggest hit for Jones in '67.
In 1967 Tom Jones appeared for the first time in Las Vegas. His performances increasingly featured his open, half-unbuttoned shirts and tight trousers. His shows became a magnet for women who started throwing their Las Vegas hotel room keys onto the stage. At the Copacabana, Jones had female audience members toss underwear onto the stage. Off stage Tom Jones was having multiple affairs and, including an extra-marital relationship with Mary Wilson of the Supremes.
Several more songs were released the next year, with "Delilah" being his most successful. In 1969 Tom Jones received a Golden Globe Award for Best Actor – Television Series Musical or Comedy for This Is Tom Jones. The series ran on ABC from 1969 to 1971. In 1969 "I'll Never Fall In Love Again" was reissued in the USA and shot to the #6. Jones returned to the Top 20 with a number of songs in the early '70's, with "She's A Lady" becoming his biggest hit.
On August 26, 1971, Jones performed in Vancouver at the Pacific Coliseum. But after 1971 Tom Jones started to fall off the pop charts. Nonetheless, he kept on touring. He gave a four-night-stand at the Queen Elizabeth Theatre from July 18th to 21st in 1979 in Vancouver.
In the early 1980's he had some success making records that crossed over to the Billboard Country chart. And on October 2nd and 3rd, 1982, Tom Jones gave two concerts at the Queen Elizabeth Theatre. In 1987 Tom Jones had a #2 hit with the song "A Boy From Nowhere". The song was from the London musical Matador. On January 18, 1990, Tom Jones came to Vancouver to perform at the Queen Elizabeth Theatre.
On August 30, 1996, Tom Jones gave a concert at the Pacific Coliseum. On April 11, 1998, Tom Jones performed at the Orpheum in Vancouver. In 1999 Jones received the Order of the British Empire (OBE) and in 2006 was knighted by Queen Elizabeth II. In 1999 Jones had a UK singles Top Ten hit with his cover of the Talking Heads tune "Burning Down The House". On September 6, 1999, Tom Jones came to the Orpheum in Vancouver for a concert.
The following year he returned to the Top Ten on the UK singles chart with a cover of the Three Dog Night tune, "Mama Told Me Not To Come", and "Sex Bomb". The latter song made it into the top three chart positions in the UK, Austria, Belgium and Germany, and #1 in Switzerland.
On March 30, 2004, Tom Jones performed at the Orpheum in Vancouver. On June 17, 2005, Tom Jones gave a concert in Vancouver at General Motors Place. On May 31, 2008, Tom Jones appeared in concert at the Centre For the Performing Arts in Vancouver.
In 2009 Jones teamed up with Robin Gibb and Welsh performers Ruth Jones and Rob Brydon in a cover of "Islands In The Stream". The single climbed to #1 on the UK singles chart. Over the years Tom Jones has released 37 studio albums. In 2015 he released his autobiography.
In 2019, Tom Jones had over thirty concert dates scheduled across the UK, Croatia, Slovenia, Slovakia, Hungary, Bulgaria, Romania, Israel, Austria, Switzerland, Germany, Portugal and Finland.
May 19, 2021
Ray McGinnis
References:
"Tom Jones: 'On The Voice I was Pressured into Picking Singers I Didn't Like'," Telegraph, April 11, 2016.
"Tom Jones interview: I was Typecast, in a Tux," New Zealand Herald, March 12, 2016.
Tom Jones, Over The Top and Back: The Autobiography, (Blue Rider Press, 2015).
William Grimes, "Curly Putman, Writer of 'The Green, Green Grass of Home,' Dies at 85", New York Times, October 31, 2016.
"Tom Jones – Concerts in Canada," setlist.fm.
"Boss 40," CKLG 730 AM, Vancouver, BC, January 14, 1967.
For more song reviews visit the Countdown.