#709: Gypsy by Abraham's Children
Peak Month: March 1973
8 weeks on Vancouver's CKLG chart
Peak Position #6
Peak Position on Billboard Hot 100 ~ #119
YouTube.com: "Gypsy"
Lyrics: "Gypsy"
Vincenzo Donato Bertucci moved with his Italian immigrant family to Toronto when he was six years old. When he was in high school he formed a band named Just Us. His school mate, Ron Bartley, was a singer and guitarist. Bartley had been raised as a child in Virden, Manitoba. His parents were a duo called the Singing Sweethearts. Bartley's family moved to the Annex neighborhood in Toronto when he was ten. When he was 13-years-old, Ron Bartley met Jimi Bertucci. They hung around the St. Alban's Boy Club and talked about music. Soon, Bartley and Bertucci co-founded the London Tones. Bertucci also was asked to join a band called The Death, which opened for James Brown and the Famous Flames at a venue in the Toronto suburb of Mimico, Ontario.
While still in high school Bertucci and Bartley formed Just Us. When they graduated from high school they changed their name to Captain Midnight's Dirty Feet. They also added to their constant lineup Brian Cotterill on drums, and Bob McPherson on keyboards. The band was performing at local Toronto area clubs, including Club 813, and got interest from RCA. They released a single titled "Hot Love" that appeared on AM Top 40 charts as far away as Halifax, Nova Scotia. But their name conflicted with a comic book hero and so they changed their name to Abraham's Children.
Abraham's Children consisted of Brian Cotterill on lead vocals, percussion and drums, Jim Bertucci on lead vocals and bass guitar, Ron Bartley on lead vocals, lead guitar and acoustic guitar, and Bob McPherson on keyboards and backing vocals. Bob was born in Curacao in the Dutch West Indies, in the Caribbean. McPherson's father was a pilot with KLM. The life of a pilot as breadwinner for the family had them stationed variously in Amsterdam, Montreal, Ottawa and finally Toronto. Bob got fired from a job with the Ontario Science Centre since he was frequently playing his hammond organ while at work. Living in the Toronto suburb of Scarborough in the late 60s, Bob co-founded a band with Brian Cotterill named The Haymarket Riot. They won a battle of the bands contest. Word spread about The Haymarket Riot and one day Bob got a phone call from Jimi Bertucci and Ron Bartley. Subsequently, the genesis of Abraham's Children was born.
In 1971 Abraham's Children opened at concert for over 40,000 fans on the Toronto Centre Island for The Stampeders. Other performers sharing the stage included Crowbar, Lighthouse and Anne Murray. They released a single titled "Goodbye Farewell". It climbed to #11 in Regina, Saskatchewan, in November 1972. An Italian-language version of the song, "Bye Bye Bambino Occhi Blue", was released for the European record market. According to an article written by Jim Bertucci, it sold well across the Atlantic.
Next, they released "Gypsy".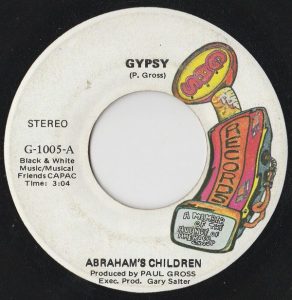 "Gypsy" is a song written by Paul Gross (not the actor born in Calgary in 1959). Gross went on to produce records for the Climax Jazz Band, Saga, Aerial, and the Jitters, among others. The lead vocal on "Gypsy" is Brian Cotterill.
"Gypsy" is a song about a gypsy who lives in a shabby and bare dwelling near a big red farm and a country creek. She has a reputation of helping boys become "changed over men" after she takes them in her arms and lets them "stay all night". The youngster who comes to see her, given her reputation, taps on her window and knocks on her door. She is the one who decides who comes inside her home. For young male virgins, the gypsy lady who is "trouble to younger men" foretells their future. By looking in their eyes she can see what they need from her. Over a year after his encounter with the gypsy lady, the narrator of the song remains changed by his encounter. Meanwhile, she has moved on to a new setting.
The term Gypsy traces back to the mistaken belief that the Romani people were from Egypt. The ethnic group in question are thought to have roots in both India and eastern Europe. As the Romani were often discriminated against, they had to live a semi-nomadic existence. Often they were being uprooted when local residents scapegoated them for some real or imagined trespass. Gypsies carried shells, coins and stones imbued with incantations and ritual powers. These amulets and talisman were carried in the pockets of gypsies for power and protection. Within the Gypsy culture there is a value on cultivating clairvoyance, psychic powers and intuitive guidance. This includes noticing a person when they come to get their fortune read, palm read or have a gypsy look into a crystal ball. When gypsy caravans came to a European town, there often was at least one gypsy fortune-teller with a booth where they wore bangles, silks, a turban, lit candles, read tarot cards, read palms and looked into a crystal ball, often in a trance. In popular songs, gypsies are often exotic and helpful as they predict the future or possess love powers that hypnotize. However, in world history gypsies have often been on the margins of society as one of the first groups scapegoated when societies look for someone to blame for an economic downturn, weather event or new pestilence.
There have been numbers of pop songs written with the word Gypsy in the title. These include "Gypsy Heart" by Bobby Curtola, "Gypsies, Tramps And Thieves" by Cher, "Gypsy Man" by War, "The Gypsy Cried" by Lou Christie, "Gypsy" by Fleetwood Mac, "In A Little Gypsy Tea Room" by Bob Crosby and His Orchestra, "Gypsy Woman" by The Impressions, and the lyrically distinct "Gypsy Woman" by Rick Nelson. "Golden Earrings" by Peggy Lee concerned a gypsy who reveals a practice certain to bring love and romance into one's life.
"Gypsy" by Abraham's Children climbed to #3 in Fort McMurray, Alberta, #6 in Vancouver (BC), #7 in Laramie (WY), #11 on CHUM-AM in Toronto and CKRC in Winnipeg, #18 in Detroit (MI), and the Top 40 in Denver (CO) and several stations in Rhode Island.
In the spring of 1973 a single titled "Thank You" got little attention beyond a few radio markets. In 1974 the bands' "Goddess Of Nature" climbed into the Top 20 in Ottawa and Kamloops (BC). When Abraham's Children were on a tour of the Atlantic provinces, they got a positive review from Brian Dunnine, a reporter for the St. John's Journal-Pioneer. Dunnine wrote "What perhaps sets this group of young Canadian talent aside, is their friendliness. They have not acquired the attitudes associated with top recording artists, that of the mighty visiting the small. Rather, all four could be described as being average young Canadians, if you could call producing two hit songs both of which are on local hit parade, average". Abraham's Children played for over 50,000 fans at Ivor Win Stadium in Hamilton. The fans rushed the stage and didn't get through the first song before they had to flee and were whisked away in a limousine.
In 1976 Bertucci left the Abraham's Children to go solo. The band had signed a contract with United Artists Records and was now billed as simply The Children. Bertucci released one album titled Jimi B on A&M. It peaked at #2 on Edmonton's alternative rock 'n roll FM station CSJR. Then he moved to Los Angeles and formed the bands Angel, and subsequently, Space Patrol. Then he went back to having a career as a solo artist.
In 2004, Abraham's Children toured in California and then Eastern Canada. The cities they visited in California included Pomona, Fullerton, Anahiem, Yucaipa and Palm Springs. In Canada they performed in Kitchener (ON), Hamilton (ON), Liverpool (NS), Halifax (NS), Saint John (NB), Fredericton (NB), and Moncton (NB). The lineup in 2004 for Abraham's Children had Steve Mac on bass, Bryn Anderson on guitar, Mike Babbitt on drums, and Jim Bertucci on vocals, guitar and keyboards. The Canadian part of the tour was not promoted as well as it could have. There were border problems from Maine into New Brunswick. Luckily, the Canadian border patrol agent had heard of Abraham's Children and let the boys through. Abraham's Children have also played at music festivals in Fergus, Ontario.
Brian Cotterill died of cancer, on September 11, 2007, at the age of 55.
November 23, 2019
Ray McGinnis
References:
Jimi Bertucci, "Abraham's Children," Canadian Bands.com.
Betty Nygard King, "Abraham's Children," Canadian Encyclopedia, February 7, 2006.
"Ron Bartley bio," Hollywood Hyper.
"Bob McPherson bio," Hollywood Hyper.
"AC Fragile," Hollywood Hyper.
Ray Michaels, "Interview with Jim Bertucci," January 1, 2007.
"CKLG 'Thirty'," CKLG 730 AM, Vancouver, BC, March 16, 1973.
For more song reviews visit the Countdown.