#479: Handle With Care by the Traveling Wilburys
Peak Month: January 1989
13 weeks on Vancouver's CKLG chart
Peak Position #9
Peak Position on Billboard Hot 100 ~ #45
YouTube.com: "Handle With Care"
Lyrics: "Handle With Care"
The Traveling Wilburys is the name of a supergroup formed in the late 80s by George Harrison, Roy Orbison, Tom Petty, the frontman for the Electric Light Orchestra – Jeff Lynne – and Bob Dylan. George Harrison was born in Liverpool in 1943. Harrison remembers cycling past a home in his neighborhood that was playing "Heartbreak Hotel" by Elvis Presley. The encounter with the song got him hooked on rock 'n roll. He subsequently was influenced by Little Richard and Buddy Holly. Harrison's father bought him his first guitar in 1956 when Harrison was 13 years old. After Paul McCartney joined John Lennon's group, the Quarymen, McCartney suggested that his friend, George Harrison, join the group. Harrison became one of the Quarrymen in early 1958, though he was still only 14. They changed their name to the Silver Beatles and then the Beatles in the spring of 1960. They group headed to Hamburg, Germany, on August 17, 1960, for a three-and-a-half month stint. In early 1961 the Beatles returned for more engagements in Germany. On June 22, 1961, Bert Kaempfert produced "My Bonnie", "Ain't She Sweet" and eight other songs. Later in 1961, "My Bonnie" climbed to #4 on the Hamburg pop charts and #32 on the German pop charts.
In Vancouver, between December 1963 and May 1970, the Beatles held the number one spot for a total of 87 weeks. While the Beatles were known for their Lennon-McCartney songs, George Harrison began to have more of an influence when he began experimenting with the sitar. "Norwegian Wood (This Bird Has Flown)" is an example of Harrison's influence.
In 1968 George Harrison travelled to Rishikesh in northern India with the other Beatles where they studied meditation with Maharishi Mahesh Yogi. Harrison penned the sitar-infused "The Inner Light" which became the B-side to "Lady Madonna". Harrison's best loved songs written as a Beatle include "While My Guitar Gently Weeps", "Here Comes The Sun" and "Something". He also co-wrote "Badge" for Cream in 1969. George Harrison had a number one hit with "My Sweet Lord"in the winter of 1970-71. And his album, All Things Must Pass topped the album charts internationally. It was nominated for Album of the Year at the March 1972 Grammy Awards, but lost to Carole King's Tapestry. In 1971 Ravi Shankar asked Harrison if he could organize a charity event for refugees fleeing the Bangladesh Liberation War. What emerged was the Concert for Bangladesh. The concert was held in Madison Square Garden in New York City on August 1, 1971.
Robert Allen Zimmerman was born in Duluth, Minnesota, in 1941. In his childhood he took up piano and guitar. He was fond of poetry as well as music, especially Elvis Presley and Jerry Lee Lewis. In university he studied the poetry of Dylan Thomas. When he began to perform folk music in public, Zimmerman chose the name Bob Dylan as a tribute to Dylan Thomas. He moved to New York City and hung out in Greenwich Village, playing in folk clubs. In 1962 he released a self-titled album that reached #13 on the UK albums chart. However, back in North America the album got little notice. But when he released The Freewheelin' Bob Dylan in May 1963. One of the tracks from the album was "Blowin' In The Wind", a #2 hit for two weeks for Peter, Paul and Mary on the Billboard Hot 100 in August '63.
Over the years Dylan penned "Masters Of War", "The Death of Emmett Till", "With God On Our Side", "Like A Rolling Stone", "Rainy Day Women #12 & 35", "Positively Fourth Street", "Mr. Tambourine Man", "Hurricane" and other ballads. Many of his songs were covered including "All I Really Want To Do" and "My Back Pages", by The Byrds; "It Ain't Me Babe" covered by the Turtles; "The Mighty Quinn" by Manfred Mann; and others.
Roy Kelton Orbison was born in Vernon, Texas in 1936. When he turned six his dad gave him a guitar. Both his dad, Orbie Lee, and uncle Charlie Orbison, taught him how to play. Though his family moved to Forth Worth for work at a munitions factory, Roy was sent to live with his grandmother due to a polio outbreak in 1944. That year he wrote his first song "A Vow of Love". The next year he won a contest on Vernon radio station KVWC and was offered his own radio show on Saturdays. After the war his family reunited and moved to Wink, Texas, where Roy formed his first band, in 1949, called The Wink Westerners.
Orbison's first pop hit came in '56 with "Ooby Dooby". He appeared on an Everly Brothers show in 1958 and ended up writing "Claudette" which became the B-side to "All I Have To Do Is Dream". In 1960 he was signed to Monument Records. His voice became a staple of pop radio, especially though the first half of the decade. His hits included "Only The Lonely", "Blue Angel", "Running Scared", "Love Hurts", "Crying", "Dream Baby", "In Dreams", "Candy Man", "Oh Pretty Woman", "It's Over" and many other Top 40 singles. Between September 1964 and April 1989 Roy Orbison failed to crack the Top 20 on the Billboard Hot 100. But in April '89 "You Got It" peaked at #9 on the Billboard chart.
Jeffrey Lynne was born in suburban Birmingham, England in 1947. His dad bought him a guitar when he turned twelve. In 1966 he formed a band that by 1968 called themselves the Idle Race. He left for another band by the end of the 60s named The Move. The latter development was a catalyst for working on a musical project combining rock with orchestration. By the end of 1970 the Electric Light Orchestra was born. The band had several Top Ten hits in the UK in 1972-73. Then in 1974 they had a Top Ten hit in the USA and Canada with "Can't Get You Out Of My Head". Over the following decade ELO recorded many hit songs including "Evil Woman", "Livin' Thing", "Telephone Line", "Turn To Stone", "Sweet Talking Woman", "Hold On Tight", "Don't Bring Me Down", "All Over The World" and others. Prior to the formation of the Traveling Wilburys, ELO released their eleventh studio album, Balance Of Power, in February 1986.
Thomas Earl Petty was born in Gainesville, Florida, in 1950. When he was eleven he met Elvis Presley on a film shoot for Follow That Dream, that his uncle was working on. He instantly became enamored with everything to do with Elvis. When he saw the Beatles on the Ed Sullivan Show in February 1964, Petty decided music was his career path. At the age of 17 he quit school and formed a band. After a number of bands, he formed Tom Petty and the Heartbreakers in 1976.
Petty and his band recorded a dozen Top 30 hits on the Billboard Hot 100 between 1979 and 1994. Though they only cracked the Top Ten twice in their own country, while they made the Top Ten in Vancouver (BC) a half a dozen times. Their biggest hits include "Don't Do Me Like That", "Refugee", "The Waiting", "You Got Lucky", "I Won't Back Down", "Free Fallin'", "Learning To Fly" and "You Don't Know How It Feels". Petty also recorded a duet with Stevie Nicks of Fleetwood Mac titled "Stop Draggin' My Heart Around".
Prior to the formation of the Traveling Wilburys, Jeff Lynne was one of the studio musicians and co-producer for George Harrison's Cloud Nine album in the fall of '87. Harrison soon had a number one hit for a week in January 1988 titled "Got My Mind Set On You". He also had a Top 30 hit with "When We Was Fab".
During the recording of Cloud Nine, Jeff Lynne and Harrison formed a bond that was a catalyst for the spontaneous formation of the Traveling Wilburys and their recording of "Handle With Care".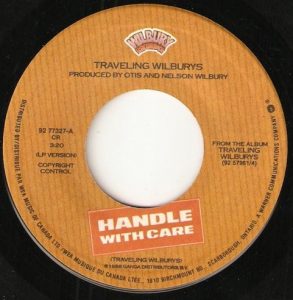 "Handle with Care" came about through Warner Brothers Records, the distributer of George Harrison's Dark Horse record label. Warner Brothers wanted the former Beatle to record an extra track for the European release of his single "This Is Love". Harrison had flown to Los Angeles in April 1988. While he was in LA, he met with Jeff Lynne and Roy Orbison for dinner, and talked about the request. Lynne was producing Orbison's forthcoming album, Mystery Girl. Lynne consented to help Harrison record "Handle With Care" the next day. While George Harrison invited Ray Orbison to attend the session, once Orbison volunteered he'd "like to come along and watch." It happened that there were no professional studios that weren't already booked. So Harrison called Bob Dylan who had a garage studio in Malibu. Dylan agreed to let them use his studio. Concurrently, Tom Petty had also been working with Jeff Lynne on Petty's forthcoming debut solo album Full Moon Fever. Petty was invited to join in on the recording session when Harrison went to retrieve his guitar from Petty's house.
In a 1990 interview for the Dutch television show Countdown, George Harrison said that he began writing "Handle with Care" – with a section in mind for Orbison to sing – on the morning of the recording session . Jeff Lynne helped Harrison complete the music for the song when they arrived at Dylan's house. The song title came after Harrison had asked Dylan at his garage studio what the title of the song was. Harrison, who didn't yet have a title, looked around. Seeing a box on the floor that was stamped 'handle with care', he told Dylan the song was called "Handle With Care".
"Handle With Care" is a song about someone who had had their share of adversity: "Been beat up and battered around. Been sent up and been shot down…" They've been deceived and fooled, "robbed and ridiculed… terrorized." And as recording artists they state they've been "overexposed, commercialized." But the bottom line for this character is that they are "so tired of being lonely, I've still got some love to give." They're in a dating relationship where it isn't yet clear how the other person feels. And so Roy Orbison sings "won't you tell me that you really care."
"Handle With Care" climbed to #2 in Hamilton (ON) and #9 in Vancouver (BC). It stalled at #45 on the Billboard Hot 100.
After the recording of "Handle With Care" and other tracks for The Traveling Wilburys Vol 1., the album was released in mid-October. Roy Orbison died in December '88 of a heart attack at the age of 52.
The Traveling Wilburys recorded one album, The Traveling Wilburys Vol. 1, which received a Grammy Award for Best Rock Performance by a Duo or Group in 1990. It was also nominated for a Grammy for Album of the Year, but lost out to Bonnie Rait's Nick Of Time. The supergroup released a second single from the album titled "End Of The Line". It peaked at #22 in Vancouver (BC) and #63 on the Billboard Hot 100. Without Roy Orbison, the remaining four Traveling Wilburys released a second album non-chronologically titled The Traveling Wilburys Vol. 3.
After the Traveling Wilburys disbanded Tom Petty and the Heartbreakers released Into the Great Wide Open in 1991. Their single "Learning To Fly" peaked at #3 in Hamilton (ON). He released his second solo album in 1994, and he had a reunion with the Heartbreakers. Over his career Tom Petty and the Heartbreakers released 13 studio albums, and Petty released three solo albums. In his mid-60s, Petty has suffered from emphysema, knee problems and a fractured hip. He was on multiple medications, including fentanyl when he died in 2017 of cardiac arrest brought on my mixed drug toxicity. He was 66 years old.
After the supergroup disbanded, George Harrison worked in 1994 with Paul McCartney, Ringo Starr and Jeff Lynne on the Beatles Anthology project. Out of that work emerged two new Beatles songs from demos John Lennon had made in 1977, "Free As A Bird" and "Real Love". The first song made the Top Ten in the UK and USA in January 1996 and the latter made it to #11 on the Billboard Hot 100 in March '96.
Harrison was diagnosed with throat cancer in 1997 and began treatment. On December 30, 1999, he and his wife were attacked by an intruder. George Harrison received 40 stab wounds and a punctured lung. After he was successfully treated in hospital the former Beatle released this statement to the press: ""He wasn't a burglar, and he certainly wasn't auditioning for the Traveling Wilburys. Adi Shankara, an Indian historical, spiritual and groovy-type person, once said, 'Life is fragile like a raindrop on a lotus leaf.' And you'd better believe it."
George Harrison, who had been a tobacco smoker for 33 years, died of lung cancer in November 2001. His remains were cremated and the ashes were scattered according to Hindu tradition in a private ceremony in the Ganges and Yamuna rivers in India.
Over his career Bob Dylan has released 38 studio albums, his most recent being Triplicate in 2017. He's also released 13 live albums, 14 bootleg albums and 19 compilation albums. In 2016 Bob Dylan won the Nobel Prize for Literature. On December 10, Patty Smith sang "A Hard Rain's Gonna Fall" when she accepted the prize in Sweden in Dylan's absence, due to prior commitments. Possibly overcome by nerves she sang "I saw the babe that was just bleedin'", the wrong words to the second verse and became unable to continue. She stopped, and asked the conductor to start the verse over. Then she said to the audience "I'm sorry. I apologize. I'm so nervous." Then she resumed the song, which earned her sustained applause at the end. Bob Dylan continues to perform in concert in 2020.
Jeff Lynne has continued to write, perform and produce. His work as a producer has included recordings for Tom Jones, Bonnie Tyler, George Harrison, Joe Walsh and Aerosmith. Electric Light Orchestra's 14th studio album, From Out Of Nowhere, was released in November 2019. That same year, after a 35-year break from touring, the Electric Light Orchestra mounted an international tour. In 2020 they will embark on a 20 concert-date tour beginning on June 20 in Anaheim. Their tour will include a concert at the Rogers Arena in Vancouver (BC) on June 26, 2020.
March 2, 2020
Ray McGinnis
References:
Steve Pond, "Roy Orbison's Triumphs and Tragedies," Rolling Stone, January 26, 1989.
Burt A. Folkart, "Rock 'n' Roll's Roy Orbison Dies," Los Angeles Times, December 8, 1988.
Geoffrey Robertson, "Rubin 'Hurricane' Carter's Life Story is a Warning to us About Racism and Revenge," Guardian, April 21, 2014.
Ben Sisario, Alexandra Alter and Sewell Chan, "Bob Dylan Wins Nobel Prize, Redefining Boundaries of Literature," New York Times, October 13, 2016.
"Patti Smith Performs Bob Dylan's "A Hard Rain's Gonna Fall", Nobel Prize for Literature, Stockholm Concert Hall, Stockholm, Sweden, December 10, 2016.
Amanda Petrusich,"A Transcendent Patti Smith Accepts Bob Dylan's Nobel Prize," New Yorker, December 10, 2016.
William Grimes, "Suze Rotolo, a Face, With Bob Dylan, of 60s Music, Is Dead at 67," New York Times, March 1, 2011.
Alan Light, "The Freewheelin' Bob Dylan': Inside His First Classic," Rolling Stone, May 27, 2016.
"The Beatles," Rolling Stone.
Mick Brown, "A Conversation With George Harrison: The 'Fab Four' is Done For, and George Couldn't be Happier Doing his Own Thing," Rolling Stone, April 19, 1979.
Dave Laing and Penny Valentine, "George Harrison: The Most Handsome but Underrated Beatle, he Came into his Own as a Solo Artist and Film Producer," Guardian, December 1, 2001.
Amy Hermann, "Tom Petty was the Great Rock Songwriter we too Often Took For Granted," LA Weekly, October 3, 2017.
Simon Price, "It's A Livin' Thing: Jeff Lynne Interviewed By Simon Price," Quietus, November 2, 2015.
Bruce Pilato, "Rock Star Jeff Lynne Steps Into the Spotlight," Variety, April 23, 2015.
"Vancouver's Top 40 Hot Hits," CKLG 730 AM, Vancouver, BC, January 25, 1989.
For more song reviews visit the Countdown.