#1028: Happenings Ten Years Time Ago by The Yardbirds
Peak Month: December 1966
6 weeks on Vancouver's CKLG chart
Peak Position #6
Peak Position on Billboard Hot 100 ~ #30
Peak Position on Cashbox ~ #34
YouTube.com: "Happenings Ten Years Time Ago"
"Happenings Ten Years Time Ago" lyrics
The Yardbirds are an English rock band that had a string of hits in the mid-1960s, including "For Your Love", "Shapes of Things" and "Heart Full of Soul." The group is notable for having started the careers of three of rock's most famous guitarists: Eric Clapton, Jeff Beck, and Jimmy Page. During their brief five years, from 1963 to 1968, they set the pace for a lot of the innovations to come in rock 'n roll into the 1970's. The Yardbirds experimental explorations also provided the crucial link between British R&B, Psychedelic Rock, and Heavy Metal, while pioneering the use of innovations like fuzz tone, feedback and distortion. With this fusion, and harmonica riffs, they inspired the musical styles of contemporary American bands like The Count Five who had a #1 hit in Vancouver in 1966 called "Psychotic Reaction". When Jimmy Page left The Yardbirds to form the New Yardbirds, that band was quickly renamed Led Zeppelin.

The Yardbirds were formed by drummer and backing vocalist, Jim McCarty (1963–1968, 1982–1983, 1992–present), lead vocalist, harmonica an rhythm guitar player Keith Relf (1963–1968), rhythm guitar and bass player Chris Dreja (1963–1966, 1982–1983, 1992–2013), bass player and backing vocalist Paul Samwell-Smith (1963–1966, 1983) and lead guitarist and backing vocalist Eric Clapton (1963–1965). Clapton had replaced the short-lived involvement of Anthony "Top" Topham back in 1963. In 1965 Jeff Beck was an addition playing lead guitar, rhythm guitar and backing vocals (1965–1966) after Eric Clapton left the band. While on an American tour in 1966, Beck was fired as he kept failing to appear in concert. Consequently, Jimmy Page, who had recommended Beck to replace Eric Clapton, ended up replacing Jeff Beck. Page contributed lead guitar and bass (1966–1968).
Jim McCarty was born in Liverpool in 1943 and moved to London with his family at the age of two. He met Paul Samwell-Smith at school. Samwell-Smith, born in Greater London in 1943, was part of a band called the Metropolitan Blues Quartet with Keith Relf. Also born in London in 1943, Keith Relf wrote numbers of the Yardbirds most successful hits including "Shapes Of Things" and "Over, Under, Sideways, Down". He also wrote "Dazed And Confused", a song that was later recorded by Led Zeppelin.
Eric Clapton was born in the village of Ripley in the county of Surrey in 1945. Clapton began to learn the guitar at the age of 13. Four years later he joined the Roosters, a British R&B group. While Clapton joined the Yardbirds, hoping they would be a serious blues band, when they released "For Your Love" as a pop single in 1965, he left the band.
Jeff Beck was born in Greater London in 1944. He sang in a church choir at the age of ten and began to play guitar when he was 13 years old. From the age of six he was influenced by Les Paul, the lead guitarist in Gene Vincent's band, Cliff Gallup, and the blues sensation B.B. King. Beck was part of two R&B British bands in '63-64 named Nightshift and The Tridents.
Jimmy Page was born in 1944 in the village of Huston, on the edge of Greater London. He was influenced by B.B. King, Elmore James and Otis Rush. At the age of 13 Page appeared in 1957 on a children's talent show called All Your Own. Page's first session work was as a rhythm guitarist on an instrumental single titled "Diamonds" by Jet Harris and Tony Meehan. The single climbed to #1 on the UK pop chart in January 1963 and spent three weeks in the top spot. Page continued to do session work as a guitarist on "I Can't Explain" for The Who, "Tobacco Road" for the Nashville Teens, "Here Comes The Night" for Van Morrison and Them, "Downtown" for Petula Clark, "Heart Of Stone" for the Rolling Stones and others.
"Happenings Ten Years Time Ago" was the first single by the British rock band The Yardbirds to feature Jimmy Page on guitar. "Happenings Ten Years Time Ago" was also the first of three recordings pairing Page with incumbent lead guitarist Jeff Beck, before the latter was fired for no-shows while on tour in the USA. In addition to Jeff Beck and Jimmy Page in the recording studio for the song, future Led Zeppelin bassist John Paul Jones played on bass for the recording instead of regular Yardbirds bandmate Chris Dreja. The song was recorded in July and completed in September 1966. Beck and Page also were in the recording studio for "Stroll On". That tune was included in the film Blow Up and received a lot of air play on AM radio in Vancouver over the winter of 1966-67, though the non-single track from the film which wasn't released as a single didn't chart. The Yardbirds also appeared in the film Blow Up, which they shot between dates on their 1966 UK tour with the Rolling Stones, Ike & Tina Turner and Long John Baldry. In the fall of 1966 The Yardbirds flew to America to appear at the Filmore West in San Francisco, an episode of American Bandstand and go on tour with the Dick Clark's Caravan of Stars.
By the fall of 1966 The Yardbirds had scored five Top Ten hits in the UK, two Top Ten hits in the USA and four Top Ten hits in Vancouver. "Happenings Ten Years Time Ago" would add to the tally in Vancouver but not in the UK or USA. The single reached #30 on the Billboard Hot 100 and #43 in the UK singles chart and #6 in Vancouver. "Happenings Ten Years Time Ago" appears as #3 in Record Collectors "100 Greatest Psychedelic Records," a list in chronological order.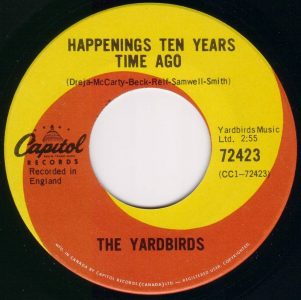 "Happenings Ten Years Time Ago" is seen as a prototype of Heavy Metal Music with some of the experimental guitar riffs, at least according to Brock Helander in his 1999 book The Rocking Sixties. The song built on the trajectory Yardbirds' singles released in 1965 into 1966. Earlier in 1966, their hit single, "Shapes Of Things", had been regarded as the first psychedelic rock song with its guitar effects, Eastern-sounding scales, and shifting rhythms. By overdubbing guitar parts, Beck layered multiple takes for his solo on "Shapes Of Things", which featured substantial use of fuzz tone and harmonic feedback. The Yardbirds' lyrics on "Shapes Of Things" and "Happenings Ten Years Time Ago" have been described as "stream-of-consciousness." Music critic Matthew Greenwald with All Music made these comments about the song. Led by a dark, Middle Eastern/psychedelic guitar riff, the song is quickly transformed into a frenetic, almost psychopathic rhythm, giving the whole affair a weird and powerful atmosphere. The idea of going back and forwards into time is paramount here, and was certainly one with the overall psychedelic ambience of the time.

In the first verse the narrators location as he walks towards people fuses with the people he sees approaching him. In the second verse the narrator is going back in time. In the third verse the narrator concedes that it what is at the root of his attachment to give meaning to things eludes him. In the fourth verse the narrator is having a deja vu experience, at least this is his first impression until he wonders if it is just a dream. What is real and what is a dream is a source of constant uncertainty.
After "Happenings Ten Years Time Ago" The Yardbirds never climbed into the Top 40 in either the UK or the USA. But in Vancouver the band had two more Top 20 hits: "Little Games" (#18) and "Ten Little Indians" (#7), written by Harry Nilsson. The Yardbirds appeared in concert in Vancouver (BC) on July 31, 1967, at the Kerrisdale Arena. They returned to Vancouver to perform for a two-night-stand at the PNE Garden Auditorium, November 10th and 11th. The band had one final tour to the USA in the spring of 1968 ending on June 5th.
Jimmy Page went on to form Led Zeppelin. He has been a constant performer and was featured in the 2009 documentary, It Might Get Loud. Jim McCarty and Keith Relf formed an acoustic group that lasted through 'til 1976 when Relf died from an electrical accident in his home recording studio. Chris Dreja mostly pursued a career as a photographer over the next decade. After he left The Yardbirds, Eric Clapton formed the rock band Cream. From there he formed Blind Faith, and then joined Delaney, Bonnie and Friends. Clapton next formed Derek & The Dominos. From these successes, Clapton went on have a successful solo career including the release of 22 studio albums. Jeff Beck went solo after The Yardbirds and to date has released 17 studio albums.
In the 1980s McCarty, Dreja and Samwell-Smith formed a short-lived but fun Yardbirds semi-reunion that included guest appearances of both Beck and Page. In 1992 McCarty and Dreja reformed The Yardbirds with some new musicians. At times Jeff Beck and Anthony "Top" Topham have played with the reformed band.
On February 22, 2009, the Yardbirds featuring Chris Dreja performed at Richards On Richards in Vancouver.
In 2017 The Yardbirds played three concerts with Vanilla Fudge around Florida. And they've played another 14 concerts across Washington State, California, Connecticut, Nevada, New York City, New Jersey and Tennessee as recently as July 9th.
August 21, 2017
Ray McGinnis
References:
The Yardbirds: Happenings 35 Years Time Later, The Yardbirds.com
The Yardbirds – bio, James McCarty.com
The Yardbirds – bio, Rolling Stone.com
Matthew Greenwald, "Happenings Ten Years Time Ago," All Music.com
Jimmy Page, Jimmy Page Biography over 60 Years of history, constantly kept up to date!!, Jimmy Page.com
Jimmy Page on Link Wray's influence on his guitar playing, It Might Get Loud, Sony Pictures, 2009.
Michelangelo Antonioni, Blow Up, Metro-Goldwyn-Mayer, 1966.
"C-FUNTASTIC FIFTY," CFUN 1410 AM, Vancouver, BC, December 10, 1966.
For more song reviews visit the Countdown.