#334: Happiness by the Pointer Sisters
Peak Month: June 1979
14 weeks on Vancouver's CFUN chart
Peak Position #6
Peak Position on Billboard Hot 100 ~ #30
YouTube: "Happiness"
Lyrics: "Happiness"
Ruth (born 1946), Anita (born 1948), Bonnie (born 1950), and June (born 1953) Pointer grew up with their brothers and parents in West Oakland. Throughout their childhood the children were raised to listen to and sing gospel at the Church of God in Christ congregation in West Oakland. Their parents, Reverend Elton Pointer and Sarah Pointer, told the children rock 'n roll and the blues were "the devil's music." and it was only when they were away from their watchful parents that they could sing these styles. It happened that June Pointer bought a copy of Elvis Presley's 1957 single "All Shook Up" which her mother allowed her to play because the B-side was "Crying in the Chapel". In 1958 the parents bought a piano and Ruth began to take piano lessons.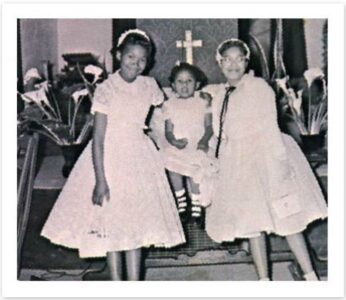 Ruth, baby June, and Anita Pointer at West Oakland Church of God in Christ in 1956.
The group had its origins when sisters June and Bonnie Pointer began performing in clubs in 1969 as 'Pointers, a Pair'. The line-up grew to a trio when sister Anita joined them. By this time the Pointer Sisters were performing as backing vocalists for Grace Slick, Sylvester, Elvin Bishop and Boz Scaggs. In 1971 Elvin Bishop helped get the sisters a recording contract. In 1972 they grew to a foursome when sister Ruth joined the lineup. Ruth later told a reporter "Singing wasn't something that I really, really was aware at the time that I would be able to do. I did it because I loved it — singing in my dad's church or singing around at local events like dances. I never — like today's young people — aspired or groomed myself to become what I eventually became."
The Pointer Sisters had their first hit record in 1973 titled "Yes We Can Can" written by Allen Toussaint. It climbed to #11 on the Billboard Hot 100 and #1 in Windsor (ON). On December 8, 1973, the Pointer Sisters performed in concert at the Queen Elizabeth Theatre in Vancouver. Also in 1973, they appeared on The Helen Reddy Show on June 28th, July 19th, August 2nd and 16th, 1973. They also appeared on The Tonight Show Starring Johnny Carson on July 12, '73, and The Midnight Special on July 20, '73. Between 1973 and 1991 the Pointer Sisters appeared 11 times on The Tonight Show Starring Johnny Carson.
In 1974 the Pointer Sisters released an album titled That's A Plenty, which contained their #18 hit in Vancouver titled "Fairytale", a #13 hit in the USA. The song earned the Pointer Sisters a Grammy Award for Best Country Performance by a Duo or Group. With the success of "Fairytale", the Pointer Sisters became the first Afro-American group to perform at the Grand Ole Opry.
On November 29, 1975, June, Anita and Ruth Pointer appeared as Cinderella's stepsisters in The Carol Burnett Show musical comedy sketch "Cinderella Gets It On!". They also appeared on Soul Train on October 4, 1975. Between September 1974 and November 1976, the Pointer Sisters appeared on six occasion on The Carol Burnett Show. While between 1974 and 1976 the group appeared on 5 occasions on Dinah! And between 1974 and 1977 the Pointer Sisters were guests on The Mike Douglas Show.
And in 1976 the sisters were nominated for a Grammy Award in the category for Best R&B Vocal Performance by a Duo or Group. This was for their number-one R&B hit "How Long (Betcha' Got a Chick on the Side)". They also received a Grammy nomination for "Live Your Life Before You Die" in the category of Best Country Performance by a Duo or Group. That year a song they'd recorded titled "You Gotta Believe" appeared in the film Car Wash, which featured the #1 hit for Rose Royce of the same name. In 1977 the Pointer Sisters released Having A Party. It was the last album that included Bonnie Pointer, who left to pursue a solo career.
In 1978 the Pointer Sisters released an album titled Energy. In 1979 the Pointer Sisters debut single "Fire", spent 9 weeks in the Top Ten of the C-FUN Top Thirty, including two weeks at #1 in March. The single was a big international hit for the Pointer Sisters where it peaked at #1 in Belgium, the Netherlands, New Zealand, and South Africa, #2 in the USA, #7 in Australia and #10 in Austria.
Their followup single, also from Energy, was titled "Happiness".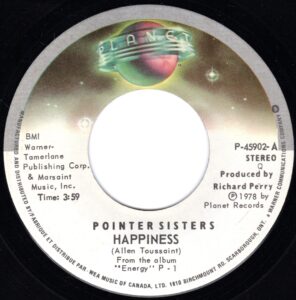 "Happiness" was written by Allen Toussaint. He was born in New Orleans in 1938. He was raised in a 12-foot wide "shotgun" house. (The term "shotgun" is a reference to the idea that if all the doors are opened, a shotgun blast fired into the house from the front doorway will fly cleanly to the other end and out at the back). He learned to play piano during his childhood. At the age of 13 in 1951, he was playing in a band at school dances called the Flamingos. Toussaint got a lucky break when he was 17, getting call to replace Huey Smith in Earl King's band for a gig in Pritchard, Alabama. That encounter introduced Allen to the "Dew Drop set," which included the best and the busiest of New Orleans' thriving music scene. Soon after, he was hired by Dave Bartholomew to play the piano parts for a Fats Domino recording session when "the Fat Man" was on the road.
Toussaint played the piano track for the Fats Domino Top 40 hit in late 1957 titled "I Want You To Know". That year he also produced the Lee Allen instrumental "Walking With Mr. Lee" which was played often on American Bandstand. In 1958 Toussaint wrote "Java", which became a Top Ten hit for Al Hirt in 1964. In 1960 he wrote "Mother-In-Law" and played piano on the recording by Ernie K-Doe. The song became a number-one hit in 1961. Another hit Allen Toussaint wrote in 1961 was a #2 hit that August Chris Kenner titled "I Like It Like That". The song was successfully covered by the Dave Clark Five who had a #7 hit with the tune. Another hit he produced was "Ya Ya" for Lee Dorsey, and produced tracks for the Showmen's minor hit "It Will Stand".
Then Toussaint was drafted into the United States Army for two years. In 1965 Toussaint wrote "Whipped Cream", the title track for the Herb Alpert album Whipped Cream & Other Delights. In 1966 Allen Toussaint wrote several Top Ten hits for Lee Dorsey with "Working In A Coal Mine" (#8 in the USA and UK) and "Holy Cow" (#6 in the UK). In 1973 Toussaint produced "Right Place Wrong Time" for Dr. John, which climbed to #6 on the Billboard Hot 100. As well in 1973, Toussaint wrote "Yes We Can Can" for the Pointer Sisters. In 1974 he produced "Lady Marmalade" for Labelle. And in 1975 Glen Campbell recorded Allen Toussaint's "Southern Nights", which became a number-one hit. In 1987 Allen Toussaint was the musical director of the off-Broadway musical Staggerlee, which ran for 150 performances.
Toussaint produced, wrote or performed on recordings for Jimi Hendrix, Wilbert Harrison, Aaron Neville, Joel Scott Hill, Gayle McCormick, Boz Scaggs, King Curtis, Iron Butterfly, Rufus, Paul Simon, the Hues Corporation, Edward Bear, B.J. Thomas, Ringo Starr, Maria Muldaur, Robert Palmer, Valdy, Tina Turner, Otis Redding, the Rolling Stones, Paul McCartney, Elvis Costello, the Yardbirds, the Hollies, the Who, the Nashville Teens, and Linda Ronstadt among others.
Most of Toussaint's possessions, including his home and recording studio, Sea-Saint Studios, were lost during Hurricane Katrina in 2005. He was awarded the National Medal of Arts in 2013 by President Barak Obama. Allen Toussaint died in Madrid, Spain, while on tour in 2015. In addition to his work with other recording artists, he released eleven studio albums and one live album between 1958 and 2016.
"Happiness" is a song about a way of being that invites and expands happiness between two people in a couple. In particular, one person in the couple has such an infectious way of living that it inspires their partner to break through new heights of joy and love. The opening lines tell us why: "I love the way you love to live. You love life. You're an inspiration. I love the way that you give your heart so freely. You're a sweet sensation. You're my invitation to happiness."
"Happiness" peaked at #6 in Vancouver (BC) and Kosciusko (MS), and #9 in Denver. The single stalled at #30 on the Billboard Hot 100. It got chart action in only about a dozen states across the USA. It also made the Top Ten in Belgium, where it peaked at #8.
In August 1980 the Pointer Sisters released the studio album Special Things. That fall they charted the debut single from the album, "He's So Shy", to #3 on the Billboard Hot 100, and #5 in Vancouver (BC). The song won the sisters a Grammy nomination for Best R&B Performance by a Duo or Group with Vocal. Internationally, the single climbed to #1 in New Zealand. And the following summer the group had a number-one hit in Vancouver with "Slow Hand". Again, the Pointer Sisters received accolades for their recording, earning another Grammy nomination for Best R&B Performance by a Duo or Group with Vocal. The song was from their album Black & White, which also earned them another Grammy award nomination in the same category. Internationally, "Slow Hand" climbed to #2 in Ireland and the USA, #5 in Australia, #6 in New Zealand, and #10 in South Africa and the UK.
They were back in the Top Ten at #5 on CFUN with another track from Black & White titled "Should I Do It" in March 1982, and #11 in August with "American Music". The latter was from their ninth studio album So Excited! The title track from the album "I'm So Excited" stalled at #30 on the Billboard Hot 100 in 1982, and charted in Toronto to #15. Internationally, it climbed to #4 in Sweden and #9 in Australia. But in most radio markets in North America, the song had more success when it was reissued in 1984.
In 1983 the group released their tenth studio album titled Break Out. And in 1984 the Pointer Sisters were back in the Top Ten in Vancouver with "Jump (For My Love)" and "Automatic" both peaking at #9, "I'm So Excited" at #10, and the "Neutron Dance" at #1. Internationally, "Jump (For My Love" climbed to #2 in Ireland, #3 in New Zealand, the USA and Belgium, #6 in the UK, #8 in Australia and #10 in the Netherlands. "Automatic" peaked at #1 in Ireland, #2 in the UK, #5 in Belgium and the USA, #6 in the Netherlands and #8 in New Zealand.
In 1985 the Pointer Sisters had a final hit with "Dare Me", which peaked at #11 on the Billboard Hot 100. On January 12, 1991, the Pointer Sisters entertained the American troops in Saudia Arabia along with Bob Hope, during the Gulf War. In 1994 the sisters received a star on the Hollywood Walk of Fame, and from 1994 to '96 Anita, June and Ruth went on tour as part of the cast for the musical Ain't Misbehavin'. And in 1996 they took part as one of the acts in the closing ceremonies for the 1996 Atlanta Summer Olympics.
June Pointer was addicted to cocaine and was ousted from the group in 2004. In 2000 she had told People "This isn't a Billie Holiday story," on the eve of a previous rehab stint for crack cocaine addiction. "I want a good ending." She died in 2006. Anita Pointer retired from performing in 2015.
The Pointer Sisters appeared in concert at the PNE Amphitheatre in Vancouver on August 22, 2017. Bonnie Pointer died in 2020. Ruth Pointer remains the only original sister in the current lineup, and since 2009 has been joined on stage by her daughter Issa and granddaughter Sadako.
March 19, 2021
Ray McGinnis
References:
Richard Williams, "Allen Toussaint Obituary," Guardian, November 11, 2015.
"New Orleans Musician Allen Toussaint Dies at Age 77," Detroit News, November 10, 2015.
"June Pointer of the Pointer Sisters Dies," USA Today, April 12, 2006.
Joal Ryan, "Troubled Pointer Sister Dies," e-online.com, April 12, 2006.
"Bonnie Pointer of the Pointer Sisters dead at 69," Variety, June 8, 2020.
Jeremy Roberts, "Gospel Roots and Childhood Memories with the Pointer Sisters," medium.com, December 19, 2017.
"C-FUN Top Thirty," CFUN 1410 AM, Vancouver, BC, June 30, 1979.
For more song reviews visit the Countdown.