#413: Happy by The Sunshine Company
Peak Month: September 1967
7 weeks on CKLG's Vancouver Chart
Peak Position ~ #2
1 Hit Bound
Peak Position on Billboard Hot 100 ~ #50
YouTube: "Happy"
Lyrics: "Happy"
In Ritchie Unterberger's liner notes for The Best of The Sunshine Company, he writes that "Guitarist/keyboardist Maury Manseau, guitarist Larry Sims, singer Mary Nance, and drummer Merel Brigante met as students hanging around the same cafeteria table at Los Angeles Harbor Junior College, where Maury and Many sang in the choir. Manseau had sung in a folk duo with John Bettis (who later co-wrote Carpenters songs with Richard Carpenter) that often opened for Hoyt Axton. The future Sunshine Company members moved in a circle of acoustic-oriented singer-songwriters based a little south of L.A., in Orange County and beach towns like Huntington Beach. Jackson Browne, Tim Buckley, Steve Noonan, Pamella Polland, the Nitty Gritty Dirt Band, and Steve Gillette, all of whom went on to be recording artists with widely varying degrees of success, were some of their friends in this fertile SoCal scene."
Mary Nance was born in Champaign, Illinois, in 1947. Her family moved to San Pedro, California, and after school she attended Los Angeles Harbor College, where she met her soon-to-become bandmates.
The manager of the Nitty Gritty Dirt Band heard the Sunshine Company in concert at a club in Orange County. He met them backstage and gave the group an opportunity to record a song he believed could be a hit. The song was called "Up, Up and Away". While they agreed to contribute vocals for a demo, they passed up the chance to run with the offer. Though they might have got around to releasing a single, the Fifth Dimension jumped at the chance to record the song giving them a #7 hit on the Billboard Hot 100, and six Grammy Awards in 1968; Including Record of the Year (beating out "Ode To Billie Joe" and "Somethin' Stupid"), Song of the Year, Best Pop Performance by a Duo or Group with Vocals (beating our "Windy" by the Association, "A Whiter Shade Of Pale" by Procul Harum, and Sgt. Pepper's Lonely Hearts Club Band by the Beatles), and Best Contemporary Song (beating out "Don't Sleep In The Subway" by Petula Clark). The Sunshine Company's version of "Up, Up And Away" subsequently ended up as a track on their debut album.
Meanwhile, they were introduced to another song by the Nitty Gritty Dirt Band's manager called "Happy." The Manseau's group hadn't settled on a name, but had to come up with one quickly in order to have credits on the single pressing of "Happy". Manseau recalls that they were at a cafeteria and a friend of theirs was eating crackers from a box made by the Sunshine Biscuit company. (In 1902 the Loose-Wiles Biscuit Company in Kansas City had envisioned a factory which would be filled with sunlight and so they adopted the name SUNSHINE for their products). Maury Manseau recalls, "We didn't think anything about it, really. It hadn't worked out the first time. Before we knew it, we had a phone call from Bill saying, you guys have just made the national charts." At this time Douglas "Red" Mark, who had been in a band with Merle Brigante, became a fifth member of the Sunshine Company in the recording studio.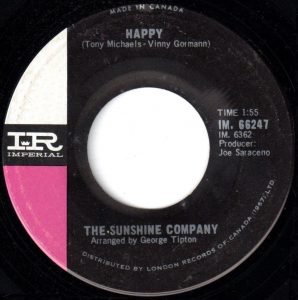 "Happy" was written by Tony Michaels and Vinny Gormann. Michaels and Gormann cowrote a number of songs, starting in 1963, recorded by the Shangri-Las and Jay & The Americans. "Happy" was was recorded by both the Sunshine Company and Blades of Grass in May 1967. The latter was a group of high school students from Maplewood, New Jersey.
The Blades Of Grass recording of "Happy" began to chart in San Bernardino (CA), Redding (PA), Sumter (SC) and St. Louis (MO) by mid-June. Their original version climbed into the Top Ten in St. Louis, Corpus Christi (TX), Sacramento and San Bernardino (CA), Medford (OR), Johnstown and Erie (PA), Honoulu, La Crosse (WI) and Sault Ste. Marie (ON). Blades Of Grass charted to #64 on the Cashbox Top 100 Singles chart in August 1967. But it was outpaced by the Sunshine Company recording which climbed to #31 on Cashbox and #50 on the Billboard Hot 100 in mid-September. Apparently, when the Blades Of Grass recorded "Happy" they were unaware that the Sunshine Company had also been offered a chance to record the tune. They were blindsided when they discovered a second version of the song also charting in different radio markets.
"Happy" is a song written from the point of view of someone who has been dating long enough to get engaged, or who knows "you're the girl I want to marry." From the day they met, the couple have grown fonder and fonder. As they just naturally click, the singer celebrates "my happiness is you." In their romantic partner they exclaim "I've found a lifetime of pleasure, of hidden treasure in the happiness of you." He asks "what more in life could you give me?" The lyrical reply: "Happy is the day, all my life with you." He loves the world she inhabits, thinking of her, their life together and "the way I love you."
"Happy" by the Sunshine Company peaked at #1 in Saginaw (MI), #2 in Vancouver (BC), Flint and Grand Rapids (MI) and Toldeo (OH), #3 in Fort Wayne (IN), Syracuse and Troy (NY), #4 in Phoenix, #5 in Jacksonville (FL), Kansas City (MO), San Diego and Los Angeles, #6 in San Bernardino, Knoxville (TN) and Milwaukee (WI), #7 in Canton (OH) and Montgomery (AL), #8 in Denver, Birmingham (AL) and Boise (ID).
The Sunshine Company next released a cover of Steve Gillette's "Back On The Street Again". While originally conceived as a folk song, the Sunshine Company turned it into a pop song. It became their biggest hit and peaked at #36 on the Billboard Hot 100. The single peaked at #17 in Vancouver on CKLG.
Steve Gillette, who also wrote songs covered by Linda Ronstadt, Ian & Sylvia and John Denver, told Ritchie Unterberger that Maury Manseau was "the one artist that really got me involved in liking contemporary acoustic music. I had broken up with the first real love of my life, and had written most of the song. I was home for the Christmas holidays 1966 when John (Bettis) and Maury came in to hear me, and I sang "Back On The Street Again" for them. As far as I know they had no tape, probably not even any written notes. it wasn't until later that I finalized the bridge. The version they recorded was based on partial memory and… some improvisation… I loved everything about it." Gillette later did a duet of the song with Linda Ronstadt and the Stone Poneys on their 1967 album Evergreen Vol. 2.
The Sunshine Company later released "Look, Here Comes The Sun", a folk-rock tune that climbed to #56 on the Billboard Hot 100 in 1968, any had only a one week chart life on CKLG in Vancouver (BC).
"Four in the Mornin'," done by Jesse Colin Young on his 1964 debut LP; the Steve Gillette-Tom Campbell collaboration "Darcy Farrow" (which had already been recorded by Ian & Sylvia); and George Harrison's "I Need You."
"It was a struggle with Imperial, because they kind of wanted to carbon-copy 'Happy' over and over," confesses Manseau. "We didn't like a lot of the pop, bouncy material they brought us. Mostly they were things we couldn't reproduce on stage, and it wasn't really what we did well. Live we were doing Jackson Browne's material before he got known." Still, even in some happy-go-lucky cuts like "Children Could Help Us Find the Way," there was an undercurrent of sadness. "A Year of Jaine Time" had a melody that was not unlike Jackson Browne's "These Days" in parts, and a young Gregg Allman was responsible for penning the enchanting "Sunday Brought the Rain". The Allman brothers and Larry Sims lived in the same apartment and played songs with one together. Another Manseau-Sims composition was "I, To We, and Back Again", which featured an eerie decaying discord as the song faded.
The producer of the Sunshine Company's records, Joe Saraceno, considered them the "most talented group I've ever worked with or seen." But the record company decided not to release "Up, Up And Away" as a single for the group. The song was later a hit in '67 for the Fifth Dimension. The Sunshine Company was torn between diverse musical interests of the bandmates. Some wanted a semi-acoustic pop sound. Others wanted a heavier rock sound.
In 1968 the Sunshine Company was the opening act for a Jefferson Airplane tour. Promoter Bill Graham introduced the Sunshine Company at a concert at the Fillmore in San Francisco saying, "I know that San Francisco audiences haven't really warmed to this group. But I think it's one of the few good things that ever came out of L.A." But the management of the Sunshine Company also put them on tour with adult contemporary recording artist and actor John Davidson.
Larry Sims later played bass and backing vocals for Loggins & Messina, including on "Your Mama Don't Dance". Merel Brigante also was a member of Loggins & Messina's band in concert and in the recording studio. Sims and Brigante played on the all six Loggins and Messina studio albums and two live albums.
Red Mark went on to join Redeye, a country-folk-rock band that recorded two albums in the early 70s. They had one Top 30 hit in 1971 on the Billboard Hot 100 titled "Games".
Maury Manseau continued as a musician. He contributed guitar, keyboard and vocals to the Nitty Gritty Dirt Band's 1970 studio album Uncle Charlie & His Dog Teddy. He also contributed backing vocals in 1970 for a self-titled album by folksinger Malvina Reynolds. Both Maury Manseau and Merel Brigante were studio musicians for the self-titled Severin Browne album in 1973. (Severin Browne is Jackson Browne's younger brother). Manseau was in concert at Clear Heart in Petaluma, California, on September 6, 2014, and has also performed more recently in Santa Rosa.
Merel Brigante was a member of the Dirt Band and Nitty Gritty Dirt Band for two of their studio albums and concerts in 1978-79. He moved to Liberty Hill, Texas, about 30 miles northwest of Austin. Subsequently, he opened a sound studio called Cribworks Digital Audio/Sarah Pierce Music.
Mary Nance moved to Laurel Canyon and lived in the Hobbit House, a hangout with many of the famous (and soon-to-be-famous) musicians in the pop music scene. The Laurel Canyon music scene included the following neighbors: Joni Mitchell, Neil Young, David Crosby, Stephen Stills, Graham Nash, Chris Hillman, Roger McGuinn, J. D. Souther, Judee Sill, the Mamas and the Papas, Carole King, the Eagles, Richie Furay (in Buffalo Springfield and Poco), Tom Petty, Peter Tonk (of the Monkees), Frank Zappa, Jackson Browne, Judy Collins and many more.
Mary Nance got masters degrees in Sociology and Behavioral Sciences, and taught Sociology Statistics at California State University, Dominguez Hills. After home-schooling her two children, Mary and her husband Tom Ulrich recorded three albums of original worship music between the mid-90s and 2000s – in connection with Calvary Chapel South Bay in Torrence, California. She was also the secretary/receptionist at that church for 15 years. In her final ten years she suffered from dementia, and died in November 2019 in San Pedro.
July 27, 2020
Ray McGinnis
References:
"The Sunshine Company – Back On The Street Again," Opulentconceptions.com, February 12, 2011.
Ritchie Unterberger, "Liner Notes: The Best of The Sunshine Company," Ritchieuntergerger.com.
"Maury Manseau and Cheri Buonaguidi in concert," Clear Heart club, Petaluma, California, September 6, 2014.
Lisa Robinson, "An Oral History of Laurel Canyon, the 60s and 70s Music Mecca," Vanity Fair, March 2015.
"Obituary: In Memory of Mary Lorraine Nance-Ulrich," Everloved.com.
Christine Bolaños,"Studio Owner Making Hits in Liberty Hill," Liberty Hill Independent, April 30, 2015.
Kevin Johnson, "In Memoriam: Larry Sims," No Treble, December 18, 2014.
"Up, Up and Away" (Song)," Wikipedia.org.
"Boss 30," CKLG 730 AM, Vancouver, BC, September 16, 1967.
For more song reviews visit the Countdown.