#1: Happy Feeling/If There's A Thought by the Happy Feeling
City: Calgary, Alberta
Radio Station: CKXL
Peak Month: November 1968
Peak Position in Calgary ~ #1
Peak position in Vancouver ~ Hit-bound #36
Peak Position on Billboard Hot 100 ~ did not chart
YouTube: "Happy Feeling"
Lyrics: N/A
City: Calgary, Alberta
Radio Station: CKXL
Peak Month: March 1969
Peak Position in Calgary ~ #4
Peak position in Vancouver ~ did not chart
Peak Position on Billboard Hot 100 ~ did not chart
B-side: "If There's A Thought"
Happy Feeling was a band from Calgary, Alberta. They formed in the late 60s. Gordie Moffat played bass guitar, keyboards, harmonica, lead and backing vocals. Bob Moffat played rhythm guitar, lead guitar, keyboards, percussion, and backing vocals. Jim Aiello played keyboards, and was the frontman and lead vocalist for the band. Bruce Frost played bass guitar. Gerry Mudry was the bands' drummer, and Dan Ferguson played lead guitar, and shared lead and backing vocals.
On September 21, 1968, the Calgary Herald ran a story with the headline "Rock Bands To Aid United Fund: Gigantic Teen Show Here Sunday." AM-pop radio station CKXL was hosting the event featuring Edmonton recording acts Barry Allan and the Purple Haze. Bands from Calgary included The Other Side, Gainsborough Gallery and the Happy Feeling. "The Happy Feeling is a group of six very talented musicians, who already have a great performance record behind them. In addition to making a recording entitled The Happy Feeling, which will also be released in England, Europe and the U.S., the group's most recent challenge was at (an) International Band Battle, where they walked away with the first prize trophy. Previous to that was a CKXL radio sponsored band battle in which 45 bands from throughout the province competed."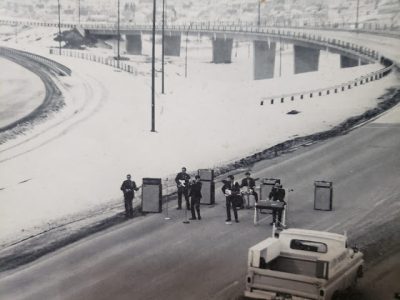 Happy Feeling photoshoot on Calgary's Crowchild Trail
The first single the band recorded was "Happy Feeling", a psychedelic rock tune. It peaked at #1 in Calgary.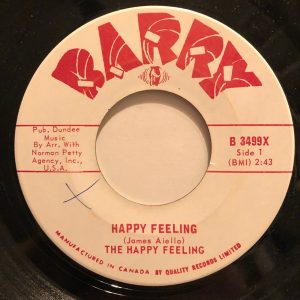 "Happy Feeling" is a song by James Aiello. The guy in the song is having a "happy feeling ever since the day I met you." He predicts one they they will "be as one some day," living together. He doesn't know what she's done to him. He can't quite put his finger on it. But its turned his world around and got him entirely focused on her.
"Happy Feeling" peaked at #1 in Calgary, #4 in Edmonton, #5 in Lethbridge (AB), and on the playlist in both Hamilton and Vancouver.
The B-side, "If There's A Thought", began to chart on CKXL in February 1969. It climbed to #4 on the CKXL chart in March '69.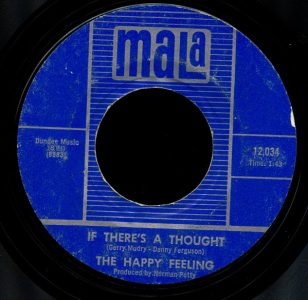 Their second single release in 1969 was "Hey Little Man" possessed some fine acoustic guitar. A third release in January 1970 was "Good Neighbour Day", was described by music writer Michael Pantonin as containing "sunny Beach Boys harmonies and that curiously optimistic naivete so common at the time." But it was their fourth single release that sent them back to the top of the charts in Calgary, "Still Hill". The single peaked at #1 in Calgary, #3 in Medicine Hat (AB), #5 in Lethbridge (AB), the Top Ten in Peace River (AB), and the Top 30 in Edmonton.
The Citizen Freak website notes "As a touring group, they racked up 100,000 miles per year on the road, touring with Roy Orbison, and also performing at rock concerts, festivals and one night stands. They got the nod as guest artists on many concert stages, with artists such as Three Dog Night, and Festival Express headliners The Band, Janis Joplin, and The Grateful Dead, along with many others, until they disbanded in 1971. Their recording sessions took place in Clovis, New Mexico, with the famed producer and engineer, who worked with Buddy Holly, the Fireballs, and many others, Norman Petty."
The Happy Feeling were back in the Top Ten in Calgary in the winter of 1970 with "Sacroiliac Boop". A final hit for the Happy Feeling, "Children", peaked in the CKXL Top Ten in January 1971.
Michael Panontin, writing for Canuuckistanmusic.com, states that the Happy Feeling might be lost to obscurity, except that they recorded with Norman Petty. It was in his Clovis, New Mexico, studio that Petty recorded Roy Orbison, Waylon Jennings and Buddy Holly. Norman Petty got acquainted with some people in the music business in Alberta. This resulted in his recording Alberta recording artists Wes Dakus and the Rebels, Barry Allen, the Gainsborough Gallery, and the Happy Feeling.
In 1970 Happy Feeling received a BMI Writers Award of Distinction. The band split up in 1971.
October 13, 2023
Ray McGinnis
References:
"The Happy Feeling," Citizen Freak.
Michael Panontin, "Happy Feeling," Canuckistanmusic.com.
"Happy Feeling," Calgary Cassette Preservation Society, May 16, 2021.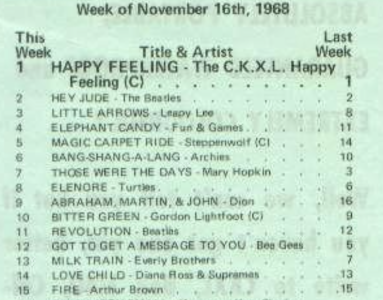 CKXL 1140-AM, Calgary, November 16, 1968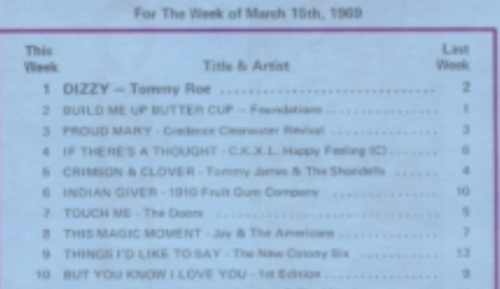 CKXL, 1140-AM, Calgary, March 15, 1969