#5: Hard Sun by Indio
City: Burnaby, BC
Radio Station: CFML
Peak Month: September 1989
Peak Position in Burnaby ~ #7
Peak position in Vancouver ~ did not chart
Peak Position on Billboard Hot 100 ~ did not chart
YouTube: "Hard Sun"
Lyrics: "Hard Sun"
Gordon Peterson was born in 1962 and grew up in Dundas, Ontario. He worked on his grandfather's tobacco farm in Ontario from the age of fifteen. The name Indio came to him while recording the second half of the album Big Harvest in California with Larry Klein. One afternoon, he drove down to Mexico and the last town before he crossed the border was named Indio. At that point Peterson decided he didn't want to use his own name on the album and decided to use Indio. Big Harvest took two months to record. It involved several high-profile artists including Hamiltonian guitar player, Bill Dillon, and Peter Gabriel's guitarist, David Rhodes. Larry Klein played bass. New York singer Brenda Russell sang background vocals, as did Joni Mitchell. Other collaborators included Indian violinist L. Subramaniam. Big Harvest appeared on the RPM 100 Chart in 1989.
The lead single from Big Harvest was "Hard Sun".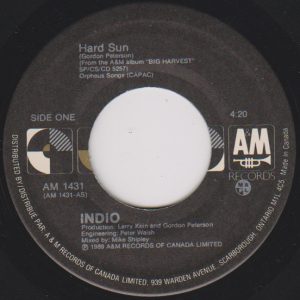 "Hard Sun" describes a merciful, resilient, continuous relationship that restores the singer. He attests "When I walk beside her, I am a better man…" Gordon Peterson told a reporter, "It's written in the guise of a relationship between a man and a woman. The woman represents Mother Earth and she's slipping away from him — and it's about how one person can completely throw off the whole balance. Yet, there are lots of people who just don't get the metaphor."
"Hard Sun" peaked at #7 in Burnaby (BC), #16 in Pembroke (ON), #21 in Vancouver, and #28 in Hamilton (ON).
Peterson, who was sensitive to industry demands, walked away from the business shortly after Indio's release. He was conflicted by a love to create music and the expectations imposed upon him. He wrote to a fan some years later, "The short answer is I did not at the time, have whatever type of personality it required to endure the dark valleys that occur all too often in the business. It overwhelmed me and that was that. I am very much alive, healthy and well. I continue to write and record, and someday I plan to release my work to date but really have no time frame or finality to it. Thank you to all for your wonderful thoughts and well wishes. Gordon"
In 2007, Indio issued a new song, entitled "This Way Down", to a small number of fans and friends. The song features creative, at-home-studio techniques including a unique vocal recording accompanied by an electric guitar.
September 9, 2023
Ray McGinnis
References:
Holly Gleason, "An Exclusive Interview with Indio," International Harvester, August 21, 1989.
"Save For The Memory," Oocities.org, January 26, 2006.