#8: Harlem Lady by Witness Inc.
City: Calgary, Alberta
Radio Station: CKXL
Peak Month: May 1968
Peak Position in Calgary ~#2
Peak position in Vancouver ~ did not chart
Peak Position on Billboard Hot 100 ~ did not chart
YouTube: "Harlem Lady"
Lyrics: "Harlem Lady"
Witness Inc. was a band from Saskatoon, Saskatchewan. They formed in 1967 and won the Saskatoon Teen-Town Band Battle. They immediately became a touring sensation in the western provinces. They released a series of singles which became increasingly pop after the second. The band finally caught on in Ontario after several years and many personnel changes. The original band consisted of Kenny Shields on lead vocals, Ed Clynton on guitar, Dennis Tremeer on bass guitar, Les Bateman on organ and piano, and Craig Kaleal on drums. The website, Citizen Freak, "was surprised to learn that the band traveled to New Mexico to record their first 45, probably at Norman Petty's studio in Clovis." Their first single release was "I'll Forget Her Tomorrow". It peaked at #3 in Regina on CJME in August 1967. The picture sleeve for "I'll Forget Her Tomorrow" features a different band lineup than the group on the recording, with new members Dave Tupper on drums and Allen Ayers on bass.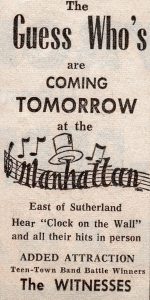 Initially billed as "The Witnesses"
in this early poster as they opened
in Saskatoon for the Guess Who at the
Manhattan club.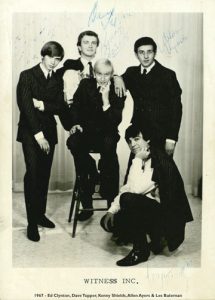 Later in 1967, Witness Inc. had this lineup:
Ed Clynton, Dave Tupper, Kenny Shields, Alan Ayers (l to r)
and Les Bateman (kneeling)
Next out, Witness Inc. released "Jezebel", a cover of the old Frankie Laine standard from 1951. Laine's original recording of "Jezebel" climbed to #2 on the national charts in the USA for four consecutive weeks. It was kept out of the number-one spot by Nat "King" Cole's "Too Young". Laine's recording of "Jezebel" landed it in the #11 spot for the Year-End hit of 1951 on the Billboard Pop chart. In the years that followed, "Jezebel" was covered by a number or recording artists for inclusion on their albums, including Edith Piaf (1951), Gene Vincent (1956), the Everly Brothers (1961) and Herman's Hermits (1967). In 1962, Marty Wilde released a single of "Jezebel" which climbed to #19 on the UK pop chart. Slide guitarist, Rob E.G., recorded an instrumental version of "Jezebel" which peaked at #2 on the Australian pop chart in May 1963. In 1965, Johnny Kendall & the Heralds released a version which reached #29 on the Dutch pop chart. Witness Inc. took "Jezebel" to #1 on the pop charts in Calgary in 1968. The single also cracked the Top Ten in both Edmonton (AB) and Bathurst (NB).
Witness Inc. released their third single, "Harlem Lady", in the spring of 1968.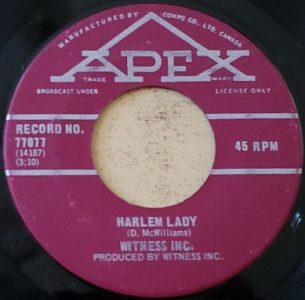 "Harlem Lady" was written by David McWilliams. He was born in suburban Belfast and moved to Ballymena at the age of three. He began playing guitar and writing songs in his early teens. After leaving Ballymena Technical College in 1963, he started an apprenticeship at the Shorts missile factory in Antrim, and also started a local dance band, the Coral Showband. McWilliams was a well-respected football player, and had a trial with the Linfield Football club in south Belfast as a goalkeeper. He released his first single, "God and My Country", in 1966 which was a commercial flop. But in 1967, he released "Harlem Lady" with the double-A-side "The Days of Pearly Spencer", which peaked at #1 in France, #2 in Belgium, #8 in the Netherlands, and had modest chart action in Australia, the UK and West Germany. Between 1967 and 1987, McWilliams released a dozen studio albums. But most of these received limited attention. After a stint in London and rubbing shoulders with executives in the music industry, he moved back to Belfast in 1978. He performed infrequently after that, mostly in local bars, although he also headlined a concert in aid of striking miners in 1984 and occasionally appeared at the Ballycastle Northern Lights Festival. He died of a heart attack at the age of 56 in 2002.
"Harlem Lady" is a song about a "lady" who "walks the dirty streets" of Harlem, but "breaths a breath of spring." She is much too "far out" for the guys who cross her path. Everyone says "she's the prettiest thing." She has style: "she wears a diamond ring", and she seems to be free-spirited, as she "has bells upon her shoes." She has a mind of her own, and men can't buy her with money, because the narrator of the song tells us "she gives her love to nobody but me." The lyrics also state "she's got no home." Perhaps, David McWilliam writing "Harlem Lady" in 1967 meant to suggest she was free-spirited, someone not tied down. Perhaps she was shacking up with friends and moving around. Or maybe she was just testing out things with the singer of the song, and keeping things "casual," even as she gave her love to her boyfriend of the moment. It doesn't seem that the relationship is certain to last, as the guy senses "she is much too good for me." In time, his sense that she's too good for him will likely become apparent to her, and someone more her equal will grab her attention, and she'll move on.
"Harlem Lady" peaked at #2 in Calgary, #8 in Edmonton (AB), and climbed into the Top 20 in Winnipeg. It was also on the Top 40 at KILO in Grand Forks, North Dakota, and received airplay on CKOC in Hamilton (ON).
In the fall of 1968, Witness Inc. released "Visions Of Vanessa". The single climbed into the Top Ten in Lethbridge (AB). By 1969 the band was Shields, Bateman, Bruce Dagenhardt, Derry Stewart, and Bob Ego (formerly of the Daisy Hill Puppy Farm) on drums.
The January 13, 1969 issue of RPM Weekly announced that the band had dropped the 'Inc.' from their name for their fifth single, "So Come With Me", recorded at Sound Canada studios in Toronto. "So Come With Me" charted in the Top 40 in Toronto, Regina (SK), Kirkland Lake (ON), and Hamilton (ON). The band continued to bill themselves as Witness into the early 70s, and split up in 1971.
Craig Kaleal joined the Leigh Ashford band, and later the Regina rock band Wascana. In 1980, Kaleal was part of the Downchild Blues Band and in the studio for their recording of the Road Fever album, and the 1981 album Blood Run Hot.
In 1975, Kenny Shields reformed Witness Inc. The lineup was totally revamped, with only Shields and Craig Kale as the only original bandmates. The new guitar players were Bob Deutscher and George Martin, Ken Sinnaeve was on bass guitar, Craig Kaleal was brought back on the skins, and Daryl Gutheil was the new keyboardist. Before long though Shields got back in touch with Bob Ego, who replaced Craig Kaleal as the drummer.
But by the mid-70s, times had changed, musical tastes in the buying public had changed with them, and Shields was unable to recapture the magic. He soon closed the book on Witness Inc. In 1976, Kenny Shields formed Streetheart, which also featured Sinnaeve and Gutheil. Bob Ego would go on to join Painter, Paul Hann and Mavis McCauley (ex of One Horse Blue) and do session work for a number of performers. In 1979, Ego then reunited with Shields and others to join Streetheart.
Craig Kaleal latter joined the Jacques Lussier Band who released an album in the early 90s.
October 2, 2023
Ray McGinnis
References:
"Witness Inc.", Citizen Freak.
David Friend, "Streetheart lead singer Kenny Shields Dies," Globe and Mail, Toronto, July 21, 2017.
Kenny Shields bio, Crazy 4 Streetheart blogspot, February 16, 2008
Darren Bernhardt, "He Was Magic": Canadian Rock Legend Kenny Sheilds Dies," CBC, July 21, 2017.
"Loverboy to Join Kenny Shields Tribute 8/29," Broadway World.com, July 28, 2017.
"David McWilliams," The Independent, March 16, 2002.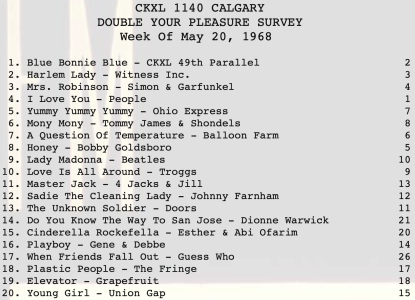 May 20, 1968 CKXL 1140 Calgary Top 20