#1185: Hawaii by Gene Pitney
Peak Month: August 1964
5 weeks on CFUN chart
Peak Position #9
Peak Position on Billboard Hot 100 ~ did not chart
YouTube.com: "Hawaii"
Gene Pitney was born in 1940 in Hartford, Connecticut. He was a songwriter who became a pop singer, something rare at the time. Some of the songs he wrote for other recording artists include "Rubber Ball" for Bobby Vee, "He's A Rebel" for The Crystals and "Hello Mary Lou" for Ricky Nelson. Pitney was more popular in Vancouver than in his native America. Over his career he charted 14 songs into the Top Ten in Vancouver, while he only charted four songs into the Top Ten on the Billboard Hot 100. Curiously, only two of these songs overlap: "(The Man Who Shot) Liberty Vallance" and "I'm Gonna Be Strong". Surprisingly "Only Love Can Break A Heart", which peaked at #2 in the USA, stalled at #14 in Vancouver, and "It Hurts To Be In Love" stalled at #11 in Vancouver while it peaked at #7 south of the border.
Pitney fronted a doo-wop group in his teens at high school called Gene & The Genials and for his next group called The Embers. He was influenced by the doo-wop group, The Crows, and by R&B singer Clyde McPhatter who was the lead singer for The Drifters.
(Signed to songwriter Aaron Schroeder's newly formed Musicor label in 1961, Pitney scored his first chart single, which made the Top 40, the self-penned "(I Wanna) Love My Life Away," on which he played several instruments and multi-tracked the vocals. He followed that same year with his first Top 20 single, the title song from the film Town Without Pity starring Kirk Douglas. Written by Dimitri Tiomkin and Ned Washington, the song won a Golden Globe Award and was nominated for an Academy Award for Best Song, but lost the award to "Moon River." Pitney performed the song at the Oscars ceremony on 9 April 1962 (honoring the film year of 1961).
Pitney is also remembered for the Burt Bacharach–Hal David song "(The Man Who Shot) Liberty Valance," which peaked at No. 4 in 1962. Though it shares a title with a 1962 John Ford western with the same title, The Man Who Shot Liberty Valance, starring John Wayne, the song was not used in the film because of a publishing dispute between Famous Music and Paramount Pictures).
Pitney's highest-charting hit in the USA, "Only Love Can Break a Heart", was kept out of the #1 position by The Crystals recording of Pitney's composition, "He's A Rebel". While he enjoyed a string of Top 40 hits in both Canada and the USA between 1961 and 1965, his star began to fade. Pitney was very much identified with the Brill Building sound and increasingly seen as a pre-British Invasion pop singer out of step with the times. One of the Top Ten hits Pitney enjoyed in 1964 was the B-side to "It Hurts To Be In Love". The song was titled "Hawaii". It was a romantic tune about an exotic state in the USA that Vancouverites began traveling to on commercial flights since Hawaii had been given official status as a state in 1959.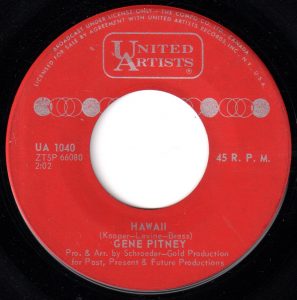 (Palm trees reach out to the sky up above,
circling and swimming in a wonderland of love)
Hawaii, holding hands on the sands of
Hawaii, my wahine and me in…
I remember her like it was yesterday,
lovely as the moonlight on O'ahu Bay.
Her suntanned face, her long black hair,
those warm brown eyes that seemed to say:
Hawaii, love is right here in Hawaii.
Must it end with a tear in..?
All at once I found her tender lips on mine,
love was sweet but we were running out of time.
One last embrace, and then goodbye,
it broke my heart to see her cry.
And when I go back to Hawaii,
by the blue coral sea
will her arms welcome me to Hawaii?
Hawaii. Hawaii.
"Hawaii" is a song about a tropical romance and the fleeting hopes of enduring love after kindling a flame while visiting O'ahu and then returning home. The song is full of romantic images of moments shared on the island paradise. Wahine is a Hawaiian and Maori name for woman. And it is a wahine that the tourist to Hawaii has met who has stirred attraction and desire long after leaving Hawaii. She is heartbroken to see him go and he wonders if she's be there to welcome him when he returns.
On August 21, 1959, Hawaii became the 50th state in the United States of America. a romanticized idea of Hawaii spread like wildfire, complete with tiki torches, bright aloha shirts and beautiful, tanned hula dancers swaying to lazy slack-key melodies. The tourist mecca was born and the following decade saw unprecedented growth and change. Prior to 1960, the pineapple and sugar industries were the top revenue producers in the islands. However, with tourism, between 1960 and 1970 the growth in visitors to the new state was exponential. Tourist numbers to the state over the decade grew from 296,000 per year to 1.7 million. The year Pitney's single, "Hawaii" was released in 1964, the influx of tourists to Hawaii was over 750,000.
An influence on popularizing Hawaii was Elvis Presley who starred in Blue Hawaii in 1961 and Girls, Girls, Girls in 1962. The popularity of the Kahiki Supper Club, in Columbus, Ohio, for instance, is a prime example of how the island lifestyle became emblematic of a happy, more relaxed attitude. Founded in 1961, the Kahiki checked every stereotype off the list: thatched roofs, totems, seashell lamps, skull-shaped mugs and flaming drinks. In the minds of Americans Hawaii was a south seas Camelot. Vice-president Richard Nixon famously wore a Hawaiian Aloha patterned shirt at a luau in Hilo, Hawaii, in August 4, 1960. He was one of many celebrities to be seen wearing Hawaiian shirts on return from Hawaii.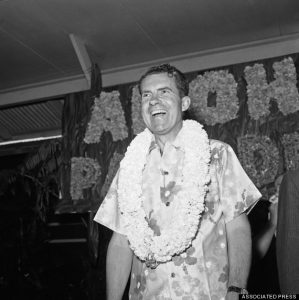 In addition, in 1962 a WWII Valor in the Pacific National Monument was opened in O'ahu. It attracted many tourists from the lower 48 states wanting to pay their respects to the fallen sailors when Pearl Harbor was bombed on December 7, 1941. In addition, surf culture was popularized by pop groups like The Beach Boys ("Surfing' USA" and "Surfer Girl") and Jan and Dean ("Surf City").
Back in the 60's passengers dressed up to fly on a plane. There were no cargo shorts and flip-flops. Men wore suits, women dresses, sometimes accessorized with corsages. There were fewer people flying in the 60s, so there was probably a greater chance of being next to an empty seat in economy than today. Some economy seats were better than others and most offered the regulation 34″ pitch, putting most of today's carriers to shame. But with limited in-flight entertainment and no free drinks, it was hardly that much better than economy travel today. It was more a question of attitude. Flying itself was exciting. There was also on-board smoking. A flight from San Francisco to Honolulu in 1964 might cost around $150 in US dollars. In inflation adjusted dollars that is equivalent to $1,172 in US funds in 2017. Clearly, a flight from any West Coast city like Vancouver, Seattle or Los Angeles, was prohibitive for most middle class families.
"Hawaii" is a song written by Al Kooper, Bob Brass and Irwin Levine. The songwriting team would compose "I Must Be Seeing Things" for Pitney in 1965, which climbed to #14 in Vancouver and went Top 40 in the USA. They also wrote "This Diamond Ring" for Gary Lewis & The Playboys, which climbed to #1 on the Billboard Hot 100 and in Vancouver in 1965. Kooper got his start at age 14 when he played guitar as a member of the Royal Teens in 1958 on their Top Ten novelty hit "Short Shorts". Kooper played the memorable organ riffs on Bob Dylan's 1965 hit, "Like A Rolling Stone". Kooper would later form Blood, Sweat and Tears. Simultaneously, he was appearing as a session musician on the Jimi Hendrix album, Electric Ladyland, The Rolling Stones album Let It Bleed and on The Who album Who's Next.
Irwin Levine went on to pen Tony Orland's international hits in the early 1970's: "Tie A Yellow Ribbon Round The Old Oak Tree", "Knock Three Times", "Say Has Anybody Seen My Sweet Gypsy Rose" and "Candida", as well as "I Woke Up In Love This Morning" for The Partridge Family. While Bob Brass didn't have any notable single successes outside the songwriting teams several hits, he did get his songs recorded by The Shirelles, The Jarmels, Zager & Evans, Lulu, Tom Jones and others.
"Hawaii" peaked at #9 in Vancouver, while the A-side, "It Hurts To Be In Love" stalled at #11 on our local charts. "Hawaii" only climbed higher in Sydney (#8). In Hawaii itself, the song peaked in Honolulu at #10. Pitney had two more songs reach the Top 40 on the Billboard Hot 100. "Last Chance To Turn Around" peaked in the USA at #13 and #7 in Vancouver, while in 1968, "She's A Heartbreaker" reached #16 on the Billboard charts and #5 in Vancouver. After that Gene Pitney faded from view, at least in North America. In 1974 he had a #2 hit with a song called "Blue Angel" in Australia (this was not a remake of the Roy Orbison hit from 1960). Pitney's last hit on the UK charts came in 1989, after an absence of 15 years, when he and Soft Cell singer Marc Almond recorded a duet version of "Something's Gotten Hold of My Heart" by British writers Roger Cook and Roger Greenaway. The song had been a UK No. 5 for Pitney in 1967. The duet brought him his first UK No. 1, in late January 1989. The single remained at the top for four weeks, and also went to No. 1 elsewhere in Europe.
Pitney died of a heart attack in 2006, at the age of 66.
July 2, 2017
Ray McGinnis
References:
Gene Pitney bio, Gene Pitney.com
Adam Sweeting, "Gene Pitney: Chart-topping Singer and Songwriter Whose Quavering Tenor Won him a Loyal Fan Base," Guardian, April 6, 2006.
"Hello Mary Lou", Song Facts.com
Gene Pitney, Rock and Roll Hall of Fame.com
Alex Petridis, "Life After Tulsa," Guardian, May 14, 2003.
WWII Valor in the Pacific National Monument, National Park Service, USA.
Kahiki Supper Club Story, Kahaiki.com
Norman Taurog, Blue Hawaii, Paramount Pictures, 1961
Jennifer Latson, "How Statehood Changed Hawaii's Economy," TIME, August 21, 2015
W.H. Lawrence, "Hawaii Becomes 50th State; New Flag Shown," New York Times, August 21, 1959.
"C-FUNTASTIC FIFTY," CFUN 1410 AM, Vancouver, BC, August 8, 1964.
For more song reviews visit the Countdown.