#980: Hello Hello by The Sopwith Camel
Peak Month: January 1967
6 weeks on Vancouver's CKLG chart
Peak Position #5
Peak Position on Billboard Hot 100 ~ #26
Lyrics: "Hello Hello"
The Sopwith Camel was a psychedelic rock band involved with the San Francisco hippie scene of the late 1960's. The Sopwith Camel is remembered for being the second San Francisco band to get a recording contract with a national record label. They were the first San Francisco band from the psychedelic rock scene to have a Top 40 hit. In 1965, vocalist and lyricist, twenty-one-year-old Peter Kraemer, had conjured the name The Sopwith Camel for a band he wanted to form. Kraemer's name was based on The Sopwith Camel, a British First World War single-seat biplane fighter aircraft introduced on the Western Front in 1917. It was developed by the Sopwith Aviation Company and became one of the most iconic fighter aircraft of the First World War.
When Peter Kraemer came up with the name for a band in late 1965, he was living in Haight-Ashbury at 1090 Page Street. This was a twenty-five-room Victorian house that featured a basement ballroom where Big Brother and the Holding Company rehearsed and performed. Kraemer met twenty-one-year-old guitarist Terry MacNeil at a bookstore, and in just one week the pair had composed eight songs, including "Hello, Hello." They soon got other musicians to join the band: twenty-two-year-old guitarist William Sievers, twenty-three-year-old drummer Norman Mayell and eighteen-year-old bass player Martin Beard. The Sopwith Camel got a gig appearing in concert at the Matrix, among the first venues to feature psychedelic rock.
As it happened, The Lovin' Spoonful's twenty-six-year-old producer, Erik Jacobsen, traveled to San Francisco looking for new talent for his label, Kama Sutra. When he heart The Sopwith Camel perform "Hello, Hello," he was thrilled. He produced the single and helped turn it into the first hit record for a hippie band in America. The band's first album, and the vaudevillian "Hello, Hello" in particular, sounded more like songs by The Lovin Spoonful than the emerging psychedelic rock from bands like The Jefferson Airplane. Kraemer and MacNeil penned the tune.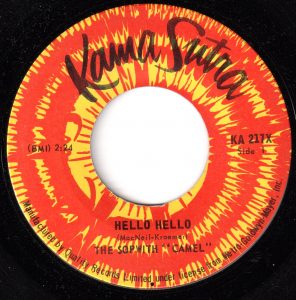 "Hello Hello" borrows from Vaudevillian musical styles for its inspiration. Other Vaudeville hits from the late 1880's to 1910's included "Take Me Out To The Ballgame" and "Ta-Ra-Ra-Boom-De-Ay". Vaudevillian lyrics were often upbeat, innocent and optimistic. In the same way, "Hello Hello" begins with one person meeting another, after having noticed this person before and uncertain how to get to meet them and tell them they loved them. (It was love at first sight). There is a confession of liking the other person's smile, liking their hair, interest in talking and an offer of a tangerine. Eating a tangerine, such a simple activity. The scent of the tangerine, the smiling faces. And a promise to never be mean.
In her 1997 book, The Simple Living Guide, Janet Luhrs commented "much of what is missing in a hurried life is the simple act of nurturing. We're too busy to nurture ourselves and definitely too busy to nurture those around us. Often we get so caught up in our own drive to succeed and accomplish that we neglect our human relationships ~ and it is these relationships that can give us the most depth and meaning. Nurture is like nourishment ~ we all need it to survive. Nurture is taking care. Nurturing takes time. In order to nurture other people, we need to be fully present and, better yet, fully real. When we let down our guard, we can get closer to people, and…we can move into a relationship of deeper care."
In "Hello Hello", there is simple act of offering a tangerine to share slices of the fruit and have nothing else to have to do but slowly eat it together. It was a way to be in the moment, to be real, to be unhurried. To just be and see if the other person could be at ease in that simple moment of togetherness.
For San Francisco's psychedelic Sopwith Camel, life as a Sixties pop sensation ended as quickly as it began. In February of 1967, "Hello Hello" became their only single to make the Billboard Hot 100, peaking at #26. The song climbed to #5 in Vancouver. "Hello Hello" also charted well in San Jose (#2), San Diego (#3), San Fransicso, California, and Louisville, Kentucky (#4) and San Antonio, Texas, and Boston (#5).
The tune was part of a revival of interest in Vaudevillian musical styles and popular music standards from the 1920's and 30's. Some other examples on the pop charts in the mid to late 60's include "Winchester Cathedral" by the New Vaudevillian Band, "Tiptoe Through The Tulips" by Tiny Tim, and "Dream A Little Dream Of Me" by Mama Cass. In addition, songs by numbers of recording artists from the UK drew on British Music Hall styles, similar to Vaudeville in the USA. Examples would include "Dead End Street" by The Kinks, "The Ballad of Bonnie And Clyde" by Georgie Fame, "Those Were The Days" by Mary Hopkin and "Yellow Submarine" by The Beatles.
The Sopwith Camel had a follow up single titled "Postcard From Jamaica" which climbed to #22 in Vancouver. It peaked at #8 in Arlington Heights, Illinois, #8 in Provo, Utah, #12 in Lansing, Michigan, and #13 in West Palm Beach, Florida. A third single, "Saga Of The Low Down Let Down", only had a Top 30 appearance in San Francisco in the fall of 1967. Shortly after the third single release, The Sopwith Camel disbanded and was off the radar of the Top 40 AM listening audience. But having a hit record didn't prevent the band members from squabbling offstage, and the Camel soon disbanded. Sievers, who quit to pursue a brief, ill-fated solo career, chalks it up to immaturity. "We were not the kind of seasoned musicians and performers that it would have taken to maintain on that level," he says. "We fell prey to the various temptations of the Sixties. We did hit it big fast but didn't get a lot of money out of it." By December 1967 their debut album carried a sticker reminding buyers, REMEMBER HELLO, HELLO!
Martin Beard and Norman Mayell became session musicians for Erik Jacobsen at Kama Sutra in the late Sixties and early Seventies. They were session musicians on Norman Greenbaum's hit single, "Spirit in the Sky". Mayell also joined Blue Cheer from 1969-1970.
After a couple of years off the grid, Kraemer and MacNeil began composing songs again in 1970. This led to a decision to re-form the band. By 1973 they'd been back to the studio and had a second album, The Miraculous Hump Returns from the Moon. However, their tour was a bust. The truck carrying their music and sound equipment caught on fire.
Today Beard, 40, is an electronics technician for a Silicon Valley company, and Mayell, 45, owns a successful typesetting company with his wife, Judy. Sievers, 44, markets condominiums for San Francisco's Pacific Union Company.
Kraemer, 43, lives on a converted ferryboat in Sausalito, California, with his kids, Michael, 16, and Zolee, 14. His post-Camel gigs have included ditch digging, carpentry, house painting, landscaping and nightclub management. He also paints on canvas, and some of his art was shown at a San Francisco café last year.
Terry MacNeil became a follower of Gurudeva Sivayasubramuniyaswami in the late Sixties and changed his name to Nandi Devam ("Every band had to have one of those," says Mayell, laughing). In 1987 Devam was living with his wife, Surina, and their three daughters. In an interview with Rolling Stone, Devam reflected "As far as I'm concerned, everything is perfect the way it happens. It always happens for a reason."
On the other hand Peter Kraemer told Rolling Stone, while standing on a wooden bridge by the ferry, "If I had only hit the big time, I could have a condo on the hill and a Porsche and cocaine and a limitless stream of blondes."
October 17, 2017
Ray McGinnis
References:
Bruno Ceriotti, The Sopwith Camel, Bruno Ceriotti.com.
Peter Kraemer, Terry MacNeil, Norm Mayell, Martin Beard and William Sievers. Sopwith Camel – History, Sopwith Camel.com
Michael Goldberg, "Sopwith Camel: Where Are They Now?," Rolling Stone, September 10, 1987.
Stephen Sherman, Sopwith Camel: Successful and Versatile British Fighter of WWI Ace Pilots.com, April 16, 2012.
Janet Luhrs, The Simple Living Guide: A Sourcebook for Less Stressful, More Joyful Living, (Broadway Books, 1997).
"Boss 40," CKLG 730 AM, Vancouver, BC, January 14, 1967.
For more song reviews visit the Countdown.